Pumpkin Streusel Muffins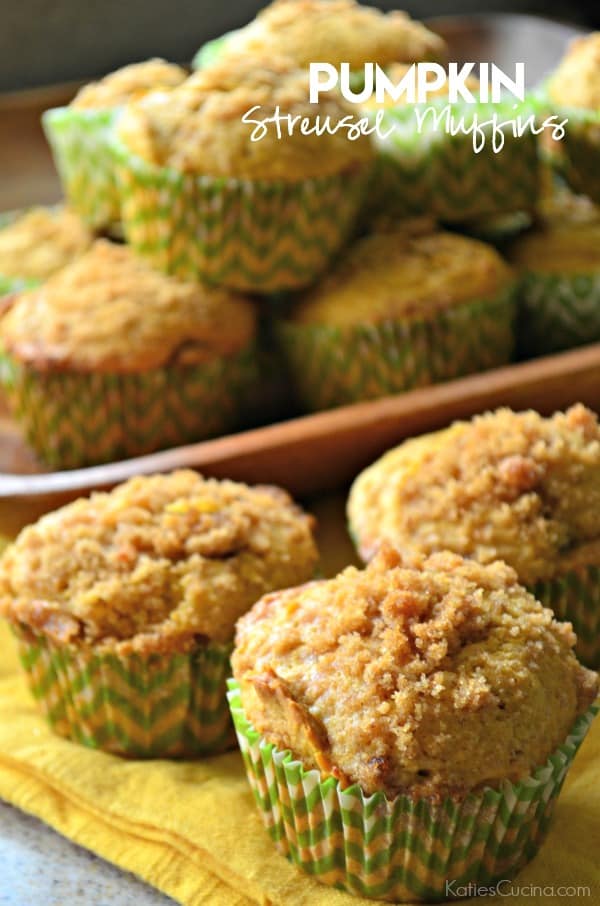 As promised, I'm sharing another pumpkin recipe today. I've come to learn that a good pumpkin muffin is the gateway "drug" into all things pumpkin. I never liked pumpkin growing up; however, the exception was my mom's pumpkin bread. I looked forward to it (and still look forward to it) each fall. After enjoying only her pumpkin bread each year, a few years ago while I was pregnant I had the most amazing Pumpkin Streusel Muffins and my life was forever change. And then I started to slowly go down the pumpkin rabbit hole. Easy as that! And now I'm one of those crazy people who craves a good iced pumpkin coffee.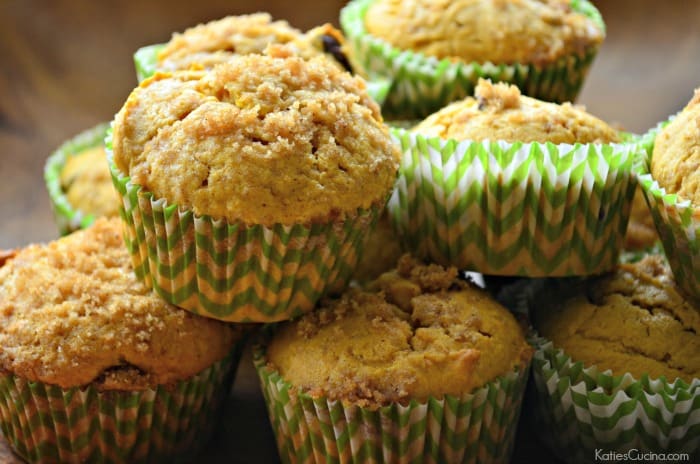 I'm not a good scratch  baker. I can't take credit for coming up with this recipe. I've tested countless recipes and I feel like these are the most moist Pumpkin Streusel Muffins and gives the perfect balance of pumpkin flavors. It's not too overwhelming yet you still know your biting into a pumpkin muffin. You can add as much or as little of the streusel topping on the muffins as your heart desires too. When I made this batch I made a dozen large muffins and made a few dozen mini muffins so my son, and his toddler pals could enjoy the muffins. I also omitted the streusel topping on the mini version.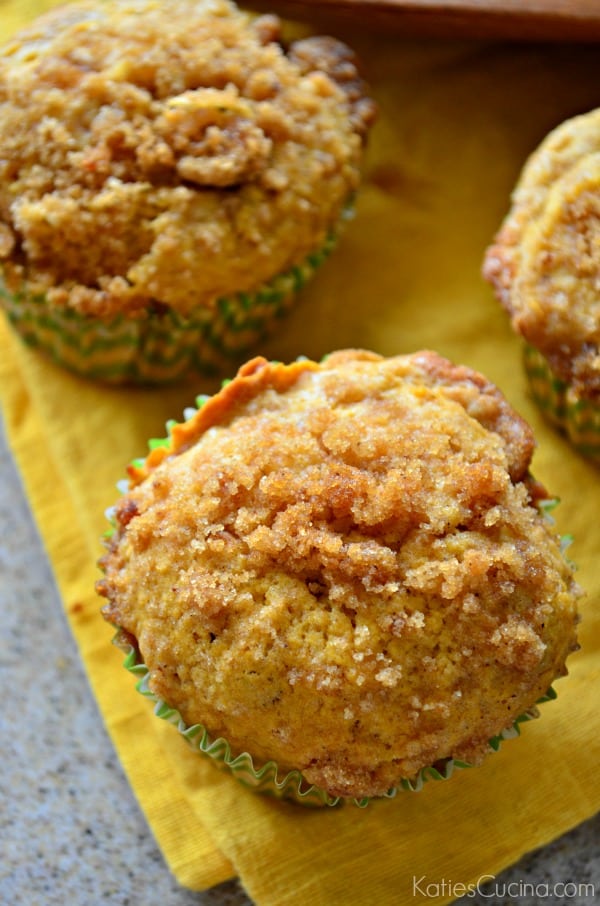 Even my husband who is pretty anti-pumpkin really liked these muffins. Because this recipe makes so many muffins I sent him to work with a dozen muffins as well. His co-workers loved it. A few of them went back for second and thirds. The muffins are easy to make too. I made the streusel topping first, just by mixing in a bowl. Then, I used my KitchenAid stand mixer and let it do all the work. Adding in ingredients to the recipe as needed.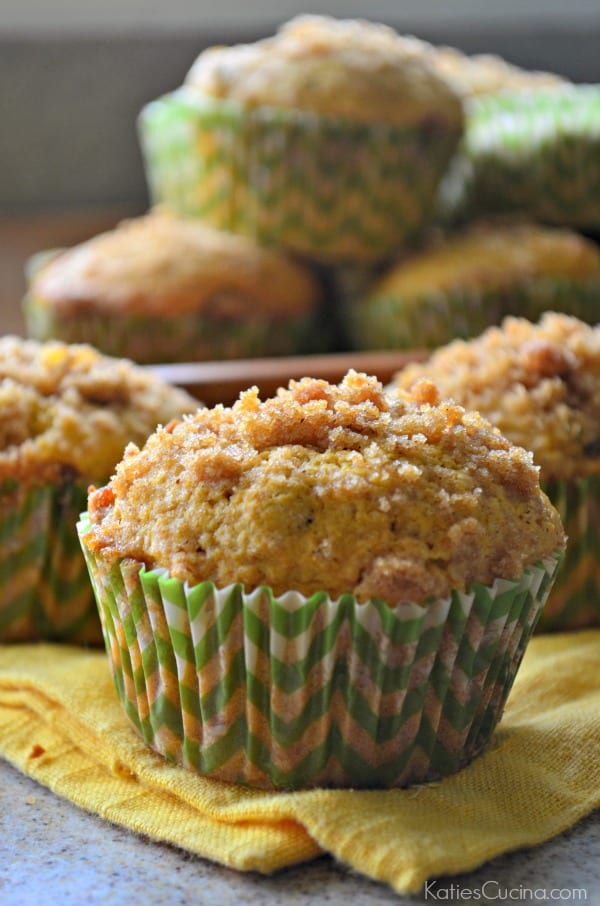 So if your craving good Pumpkin Streusel Muffins or maybe still a little unsure of all things pumpkin flavored, this is the recipe for you. I promise you'll thank me for it later.

Pumpkin Streusel Muffins
Yield: 30
Prep Time: 15 minutes
Cook Time: 40 minutes
Total Time: 55 minutes
Ingredients:
For the Streusel Topping:
1/2 cup firmly packed light brown sugar
1 tablespoon all-purpose flour
1 tablespoon butter, melted
1/4 teaspoon pumpkin pie spice
3/4 cup butter, softened
1 8-oz. package cream cheese, softened
1 cup granulated sugar
1 cup firmly packed light brown sugar
2 large eggs
3 cups all-purpose flour
1 teaspoon pumpkin pie spice
1/2 teaspoon baking powder
1/2 teaspoon baking soda
1/2 teaspoon table salt
1 16oz. can of pumpkin puree
1/2 cup raisins
1/2 teaspoon vanilla extract
Directions:
Preheat the oven to 350°.
Make the streusel topping by combining the brown sugar, all purpose flour, pumpkin pie spice, and melted butter. Mix well until crumbly and set to the side.
Using an electric stand mixer, beat butter and cream cheese at medium speed until creamy. Gradually add brown and granulated sugar, beating until light and fluffy. Add eggs, 1 at a time, beating just until blended after each addition.
Stir together flour, pumpkin pie spice, baking powder, baking soda, and salt; gradually add to butter mixture, beating at low speed. Stir in pumpkin, raisins, and vanilla extract.
Spoon batter into 2 lightly greased (12-cup) muffin pans, filling two-thirds full. Sprinkle with streusel topping.
Bake at 350° for 25 minutes or until a wooden pick inserted in center comes out clean. Cool in pans on wire racks 5 minutes; remove from pans to wire racks, and cool 20 minutes.
Warning
: Use of undefined constant rand - assumed 'rand' (this will throw an Error in a future version of PHP) in
/home/kjasiewicz21/webapps/katiescucina/wp-content/themes/katiescucina/single.php
on line
74
2 Responses to "Pumpkin Streusel Muffins"
Leave a Comment