Pumpkin Spice Krispie Treats
Bring the flavors of fall to these Pumpkin Spice Krispie Treats recipe. Perfect dessert recipe for easy entertaining!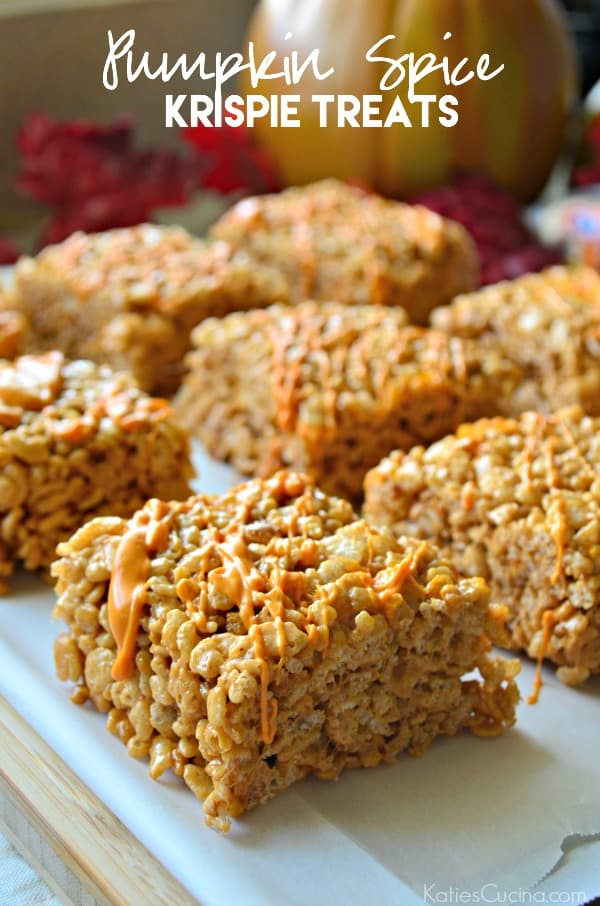 While browsing the aisles of Walmart last week I came across pumpkin spiced mallows and pumpkin spiced white chocolate chips. It instantly hit me that I wanted to make a batch of Pumpkin Spice Krispie Treats (ok maybe a few batches). It's been forever since I've created a new krispie treats recipe. They were calling my name so I had to make them.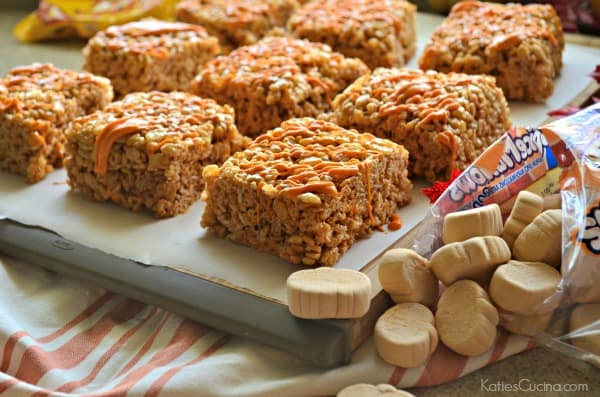 While making this Pumpkin Spice Krispie Treats it dawned on me that my son had never had one. Which is probably a good thing. The kid loves strong flavors. I figured he would love these. I let him nibble on half of a pumpkin spiced mallow which he loved and kept coming back for more. That was also a first for him. And then I let him have a tiny bite of the krispie treat and he liked it but wasn't begging me for more. I'll admit I was kind of happy. I'm doing my best keeping him away from as many sweets as possible until he's a little older. I've even went to the extent to buy organic lolly pops, gummy bears, and graham cracker cookies for Halloween this year. In hopes that I can lure him with those verse all the chocolate he will receive between all the parties we are going too. Praying I can get by one more year without him begging me to eat candy bar after candy bar.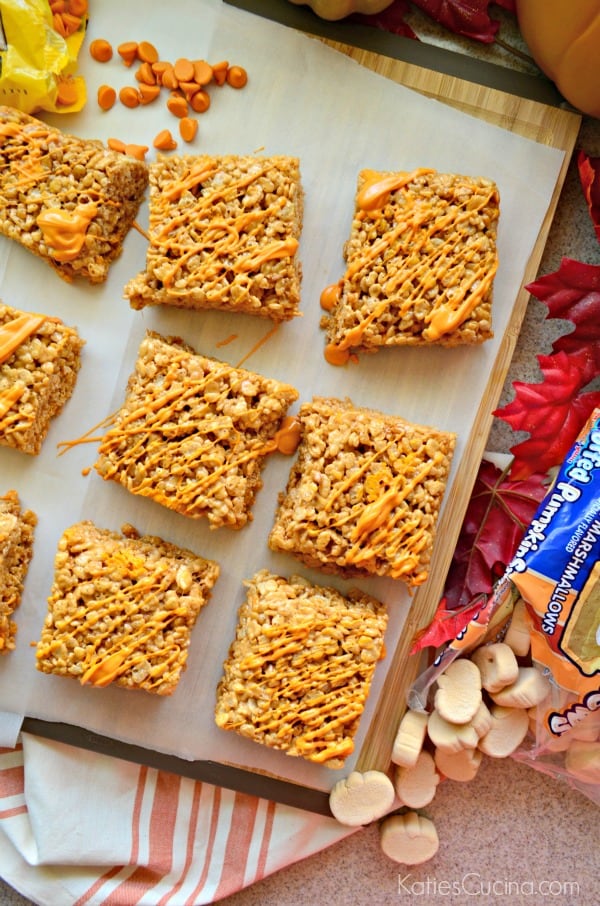 The morning I made these Pumpkin Spice Krispie Treats I brought them to his play group. Some of the kids tried them, but it was mostly the parents who were snacking on the treats. One of my friends even made the comment to Ryder that he's gonna be a lucky little boy that will be bringing all sorts of home baked goods to class when he gets older. And that statement is very true. Of course he's lucky, but oh-yes will this kid have all sorts of home baked goods that he will share with his friends. I'm sure he will develop quite the reputation (in a good way, I hope)! If the kids have a Halloween party later this week or maybe your entertaining a few friends on Halloween then I highly recommend you make my recipe for Pumpkin Spice Krispie Treats.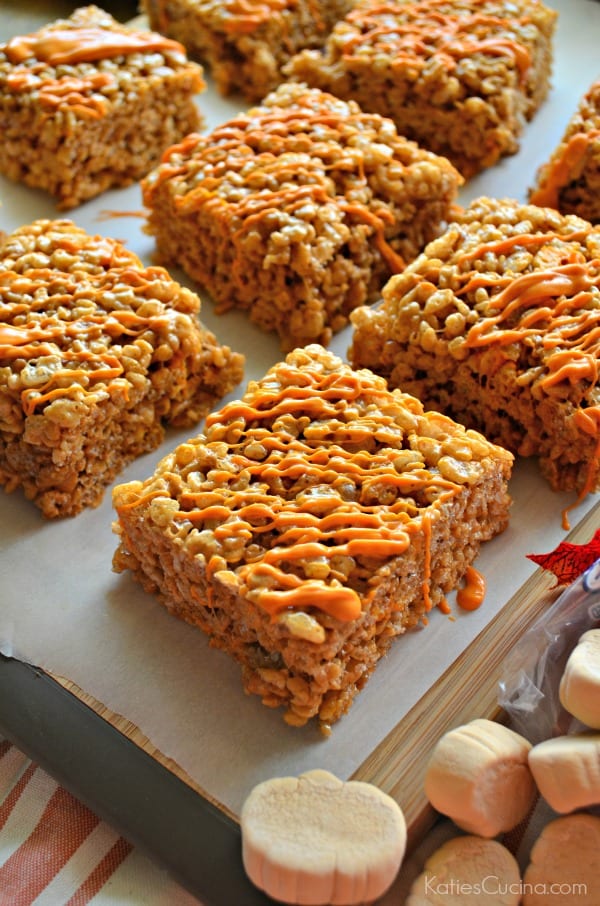 Pumpkin Spice Krispie Treats
Yield: 9
Prep Time: 25 minutes
Cook Time: 5 minutes
Total Time: 30 minutes
Ingredients:
4 tablespoons unsalted butter
8 oz. Pumpkin Spice Mallows
1 teaspoon Pumpkin Pie Spice
6 cups Rice Krispies Cereal
1/2 cup Pumpkin Spiced White Chocolate Chips, Divided
Cooking spray
Directions:
In a large pot, melt the butter on medium-high heat. Once the butter is melted add the pumpkin spice mallows. Reduce the heat to low, and mix with a silicone spatula until the marshmallows are just about melted. Then mix in the pumpkin pie spice.
Remove the pot from the heat and begin mixing in the 6 cups of rice krispies. Once half way incorporated into the melted marhsmallows mix in 1/4 cup of the pumpkin spiced white chocolate chips. Mix well then spray a 9x9 baking dish with cooking spray. Pack the rice krispies tightly into the pan using the spatula.
Cover the treats with plastic wrap and place in the refrigerator for at least 15 minutes.
Remove the treats from the fridge. Cut into 9 pieces (or cut the 9 in half to yield 18 pieces). Then, melt the remaining 1/4 cup of pumpkin spiced white chocolate chips in the microwave. Using a spoon drizzle the white chocolate on top of the pumpkin spice krispie treats. Place in the refrigerator for an additional 5 minutes so that the white chocolate can harden. Eat immediately or place in a sealed container for up to 2 days.
Warning
: Use of undefined constant rand - assumed 'rand' (this will throw an Error in a future version of PHP) in
/home/kjasiewicz21/webapps/katiescucina/wp-content/themes/katiescucina/single.php
on line
74
Leave a Comment