Pumpkin Spice Frappé
This shop has been compensated by Collective Bias, Inc. and its advertiser. All opinions are mine alone. #MyToraniFrappe #CollectiveBias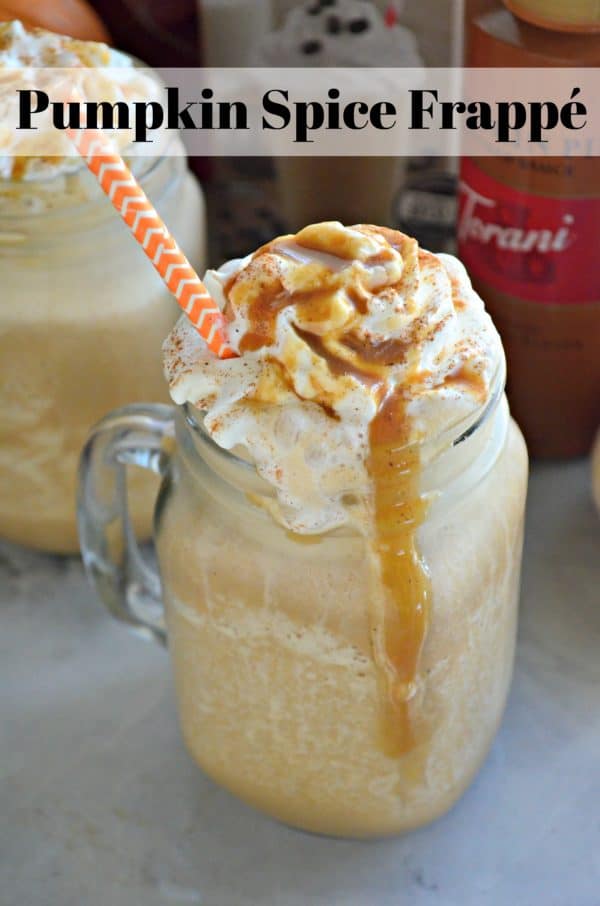 Calling all my pumpkin spice lovers. I'm so excited to share my crazy easy recipe for Pumpkin Spice Frappé, and I have a secret ingredient it's the NEW Torani Real Cream Coffee Frappé Mix! This new product on the market has natural ingredients, like pure cane sugar, real cream, natural flavors and no preservatives. Best of all, it delivers a rich, velvety, creamy texture, just like what you get at your favorite café.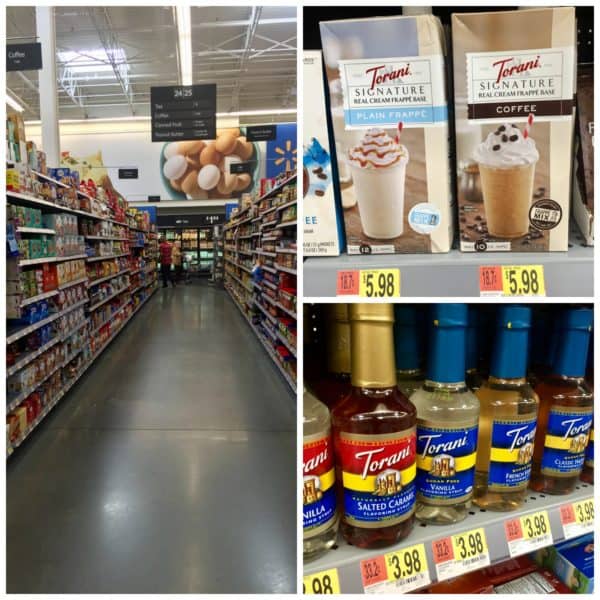 Simply pour over ice and blend. Add Torani Syrups and Sauces to customize your frappé the way you like it. The possibilities are endless! So you might be wondering, where can I find this magical coffee frappé mix. Why, you can find it at your local Walmart in the coffee isle! You can save $2 on one (1) Real Cream Frappé Mix at Walmart from 11/1/17 – 11/24/17 or while supplies last!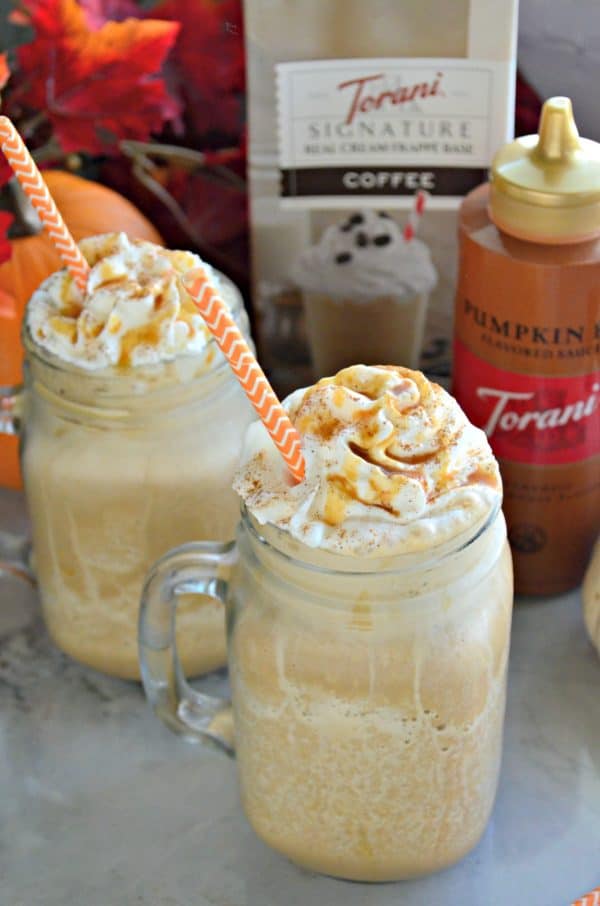 Let's talk about making these frappés. They are EASY and oh so delicious. A take on my iced pumpkin spice coffee that I shared over two years ago (using the same Torani Pumpkin Pie Syrup) but this time turned into a blended frozen coffee aka the frappé. Because the frappé mix has cream and sugar in it already, you don't need to add any cream or additional sugars (of course an ounce of syrup or finishing sauce will add the delicious flavor like this pumpkin spice version).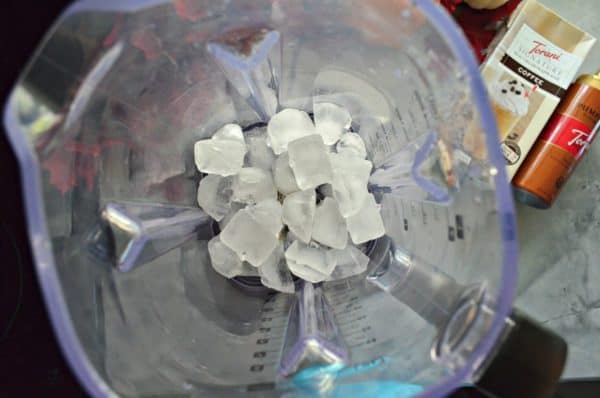 I'm telling you… the NEW Torani Real Cream Frappe makes making frappe's a breeze in just a few easy steps! First add in 2 cups of ice!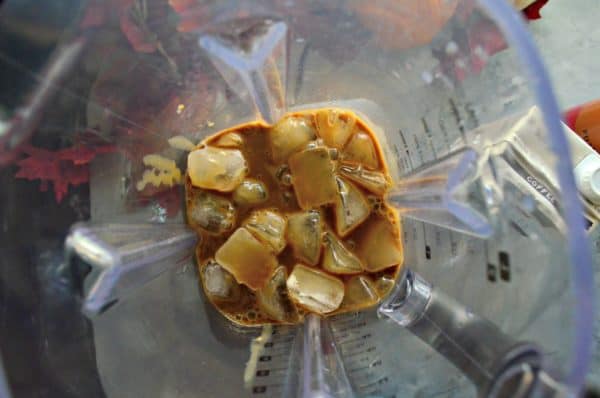 Next, add in 5 ounces of the NEW Torani Real Cream Frappe and an ounce of Torani Pumpkin Pie Syrup. Place the lid on top and blend until smooth. I used the smoothie setting on my high-power blender (it's a 45 second timer tahat goes from slow to fast speed).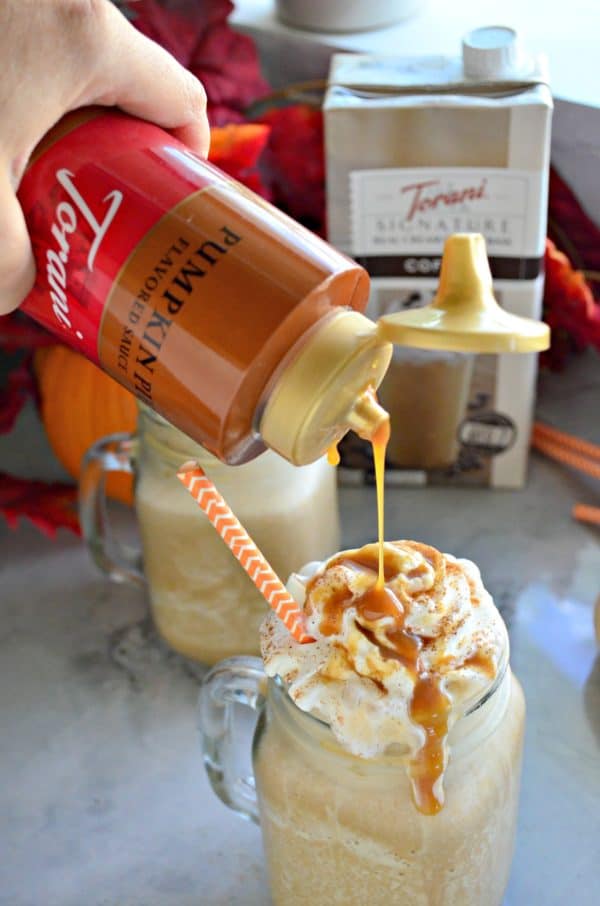 Then, if you want to get crazy like a coffee shop you can drizzle a little more of that Torani Pumpkin Pie Syrup into each of the two glasses (or one giant glass for yourself–no one is judging here). Pour in the frappe blend and then top with whipped cream a sprinkle of pumpkin pie spice. Then to make this frappe over the top and very coffee house chic drizzle on additional Torani Pumpkin Pie Syrup!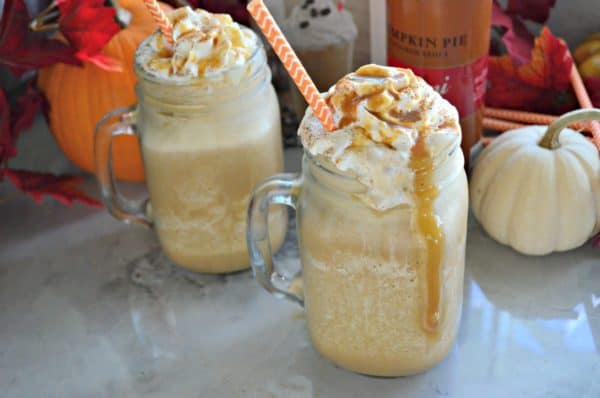 Bring the coffee house to your house and start making your own Pumpkin Spice Frappés at home. As you can see they are super easy to make and much more cost effective then going out to grab one. Best of all–you can customize and make them your own making all sorts of delicious flavor combinations.
Follow Torani on Facebook, Twitter, Pinterest, and Instagram.

Pumpkin Spice Frappé
Yield: 2
Prep Time: 5 minutes
Total Time: 5 minutes
Ingredients:
2 cups ice
5 oz Torani Real Cream Coffee Frappé Mix
1 oz. Torani Pumpkin Pie Syrup + additional for topping
Whipped Cream
Dash of Pumpkin Pie Spice
Directions:
Place the ice in a blender followed by the Torani Real Cream Coffee Frappé Mix and Torani Pumpkin Pie Syrup. Close the blender and blend for 45 seconds or until smooth.
Next, drizzle in a little of the Torani Pumpkin Pie syrup into each glass, then divide the frappé between the two glasses. Top with whipped cream, a dash of pumpkin pie spice and a healthy drizzle of Torani Pumpkin Pie Syrup.
Save
Save
Save
Save
Save
Save
Save
Warning
: Use of undefined constant rand - assumed 'rand' (this will throw an Error in a future version of PHP) in
/home/kjasiewicz21/webapps/katiescucina/wp-content/themes/katiescucina/single.php
on line
74
3 Responses to "Pumpkin Spice Frappé"
Leave a Comment