Thank you to the non-profit Partnership for Food Safety Education for sponsoring today's recipe. As always, all opinions are my own.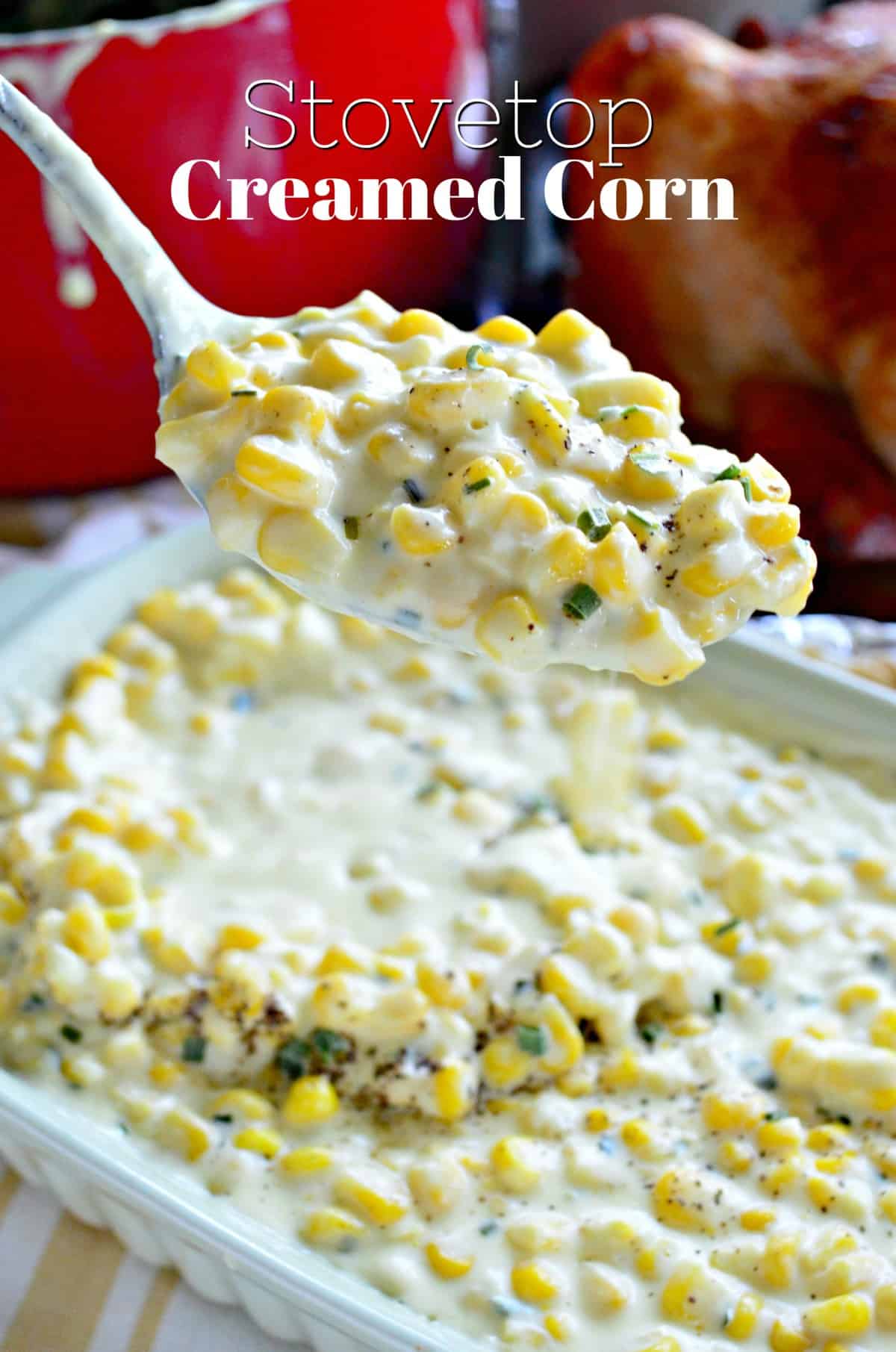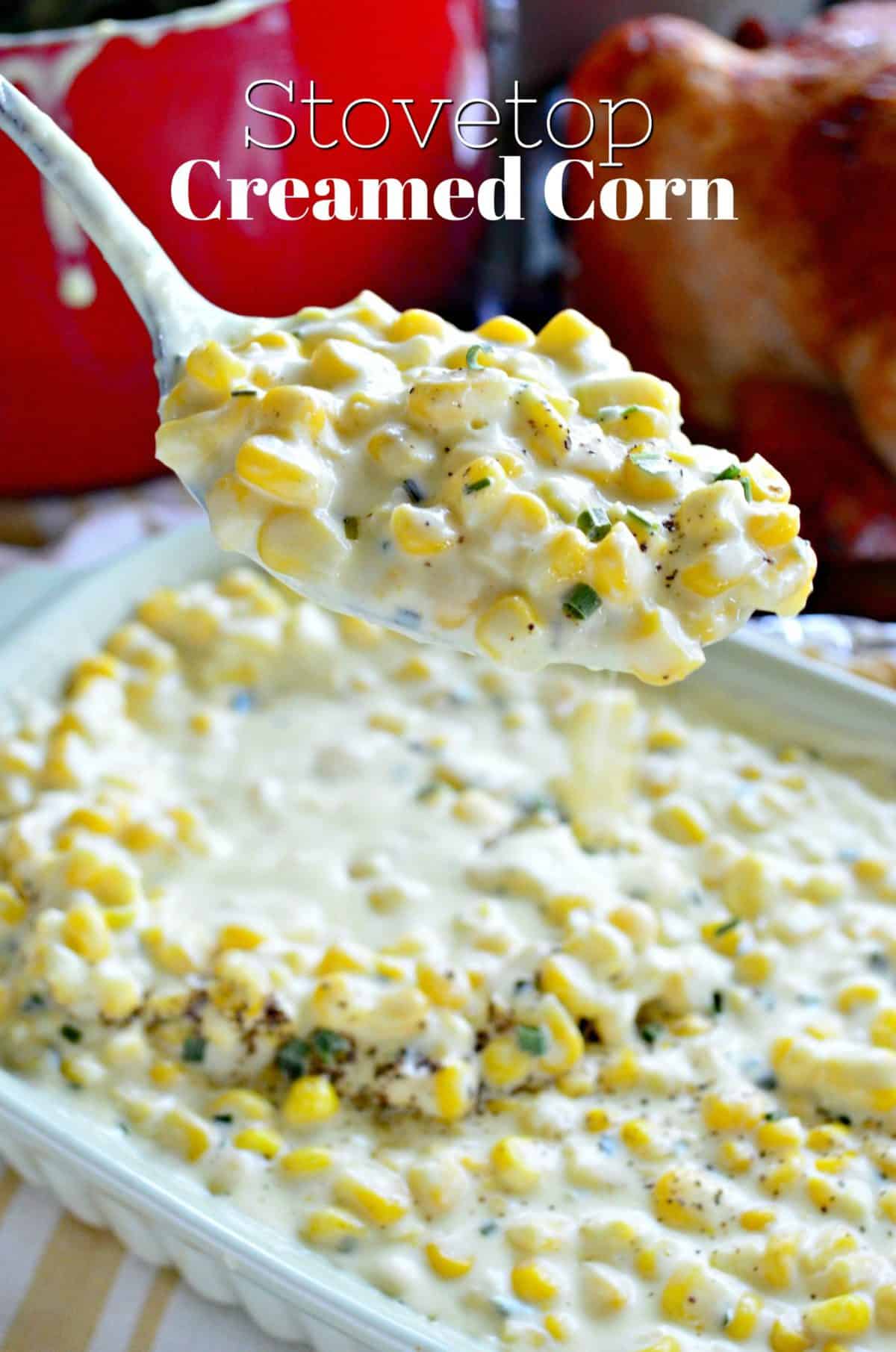 The holidays are around the corner and I've already begun menu planning. One recipe that is always requested by family members is my from-scratch creamed corn. No cans here my friends—just good old frozen corn nibblets with a lot of butter and heavy cream. Let's face it—it's what the holidays are made of. It's the time of year we indulge a little and enjoy some richer food. With all the food comes food safety. Fun fact, years ago, I worked a part time job for a food prep company where customers came in and all the ingredients were prepped—they just had to put together their meals, take them home and cook. It was an awesome concept. Thanks to that job, I became Food Safety Manager certified. I learned all about the proper handling and storing of food. Since then, I've become a big advocate for safe food handling.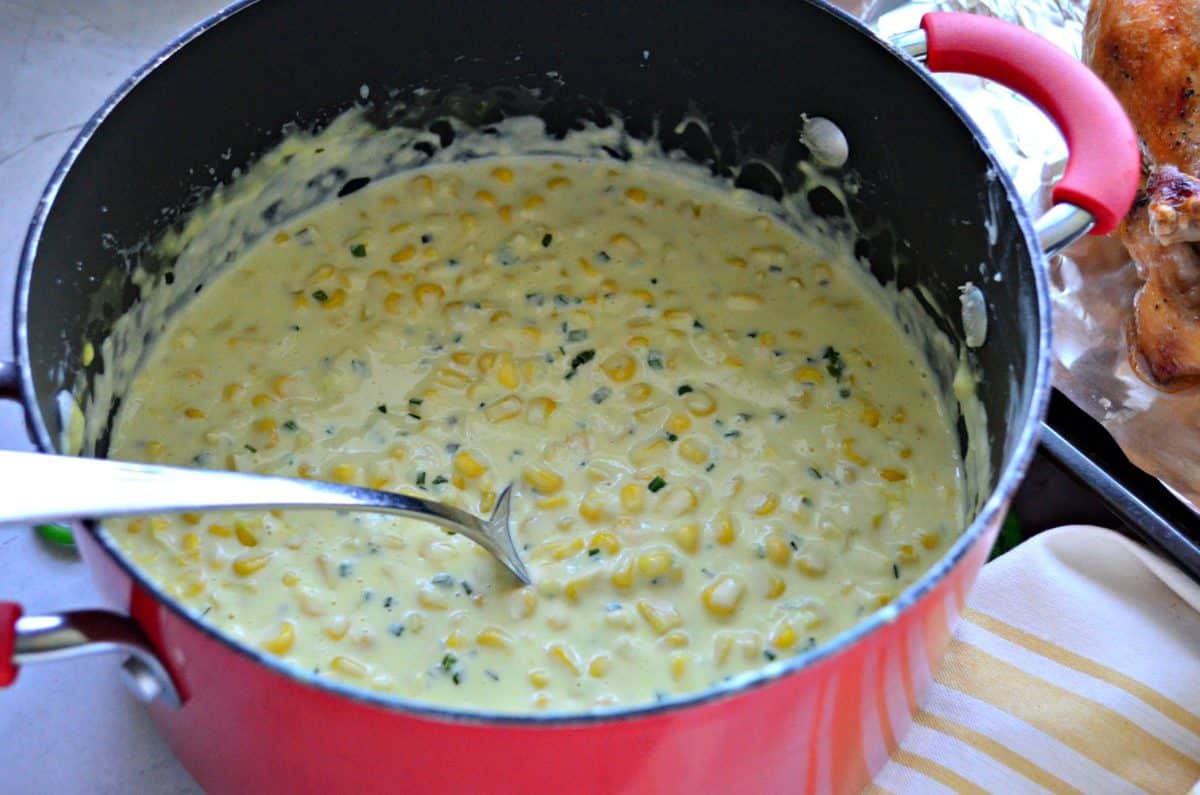 Food safety starts from the point where food is grown and is important at every part of the food chain – from processing to transportation to reaching your grocer's shelves. Then when the food goes to be manufactured they also have rules to follow as well as the distributors and grocers. Once the food is in your home it then becomes your responsibility for good food safety practices. Every role, plays an important role in food safety. It's not just with you, which I feel like we all forget about.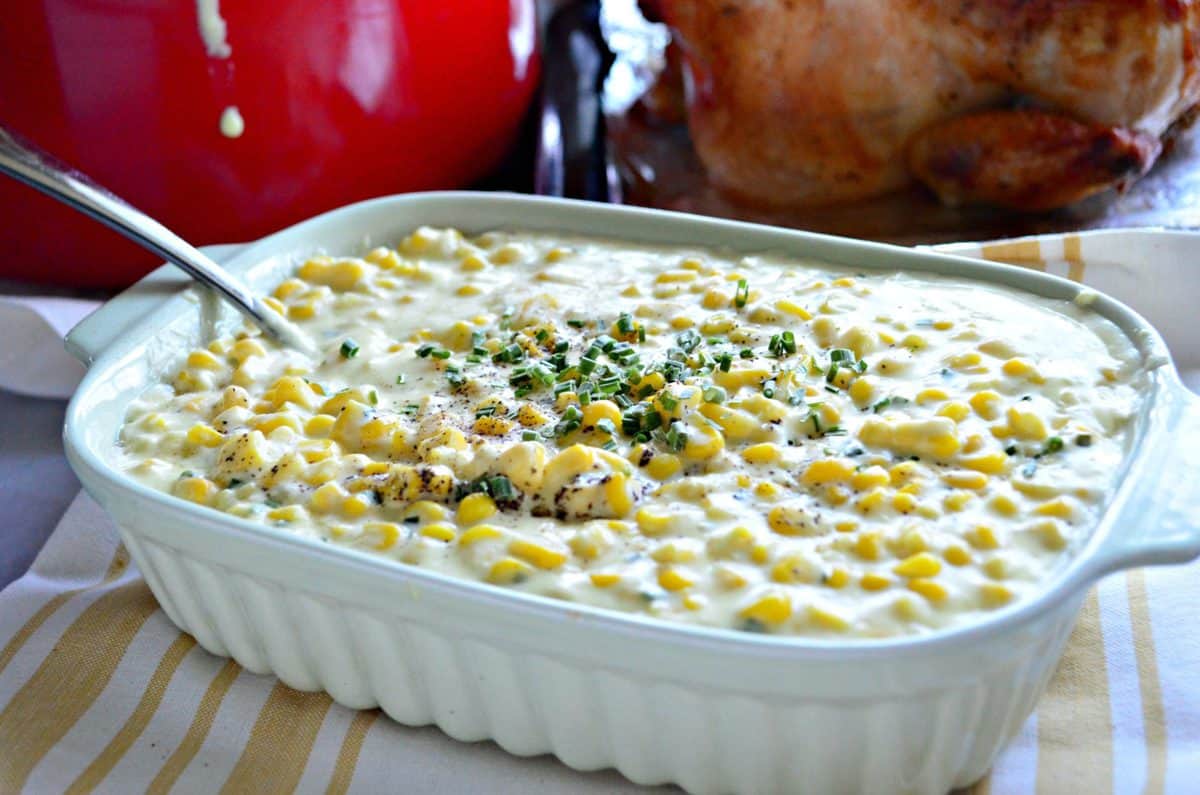 Here are the Core Four Food Safety Practices:
Clean: Wash hands and surfaces often. Bacteria can be spread throughout the kitchen and get onto hands, cutting boards, utensils, counter tops and food.
Separate: Don't cross contaminate. Cross-contamination is how bacteria can be spread. Improper handling of raw meat, poultry, seafood and eggs can create an inviting environment for cross-contamination. As a result harmful bacteria can spread to food and throughout the kitchen. **On a side note: NEVER leave measuring cups in containers like flour and sugar. The germs from your hand stay on the handles of the cups and then move throughout the store food making it harmful for you, your family, and friends. So always remember to separate the measuring utensils from the food (same goes with leaving a knife in with a batch of brownies—yes convenient to just cut as you go and not have to dirty up more knives; however so so dangerous for cross-contamination).
Cook: Cook to the safe internal temperature. Food is safely cooked when it reaches a high enough internal temperature to kill the harmful bacteria that cause foodborne illness. Use a food thermometer to measure the internal temperature of cooked foods.
Chill: Refrigerate promptly. Keeping a constant refrigerator temperature of 40°F or below is one of the most effective ways to reduce the risk of foodborne illness.
Make sure you check out the 2-minute animated video and they even have kid-friendly downloadable placemats that emphasize food safety and other health-focused information. You can never start teaching your kids too early about food safety! You can also learn more about simple actions you can take to reduce the risk of food borne illness at The Story of Your Dinner webpage.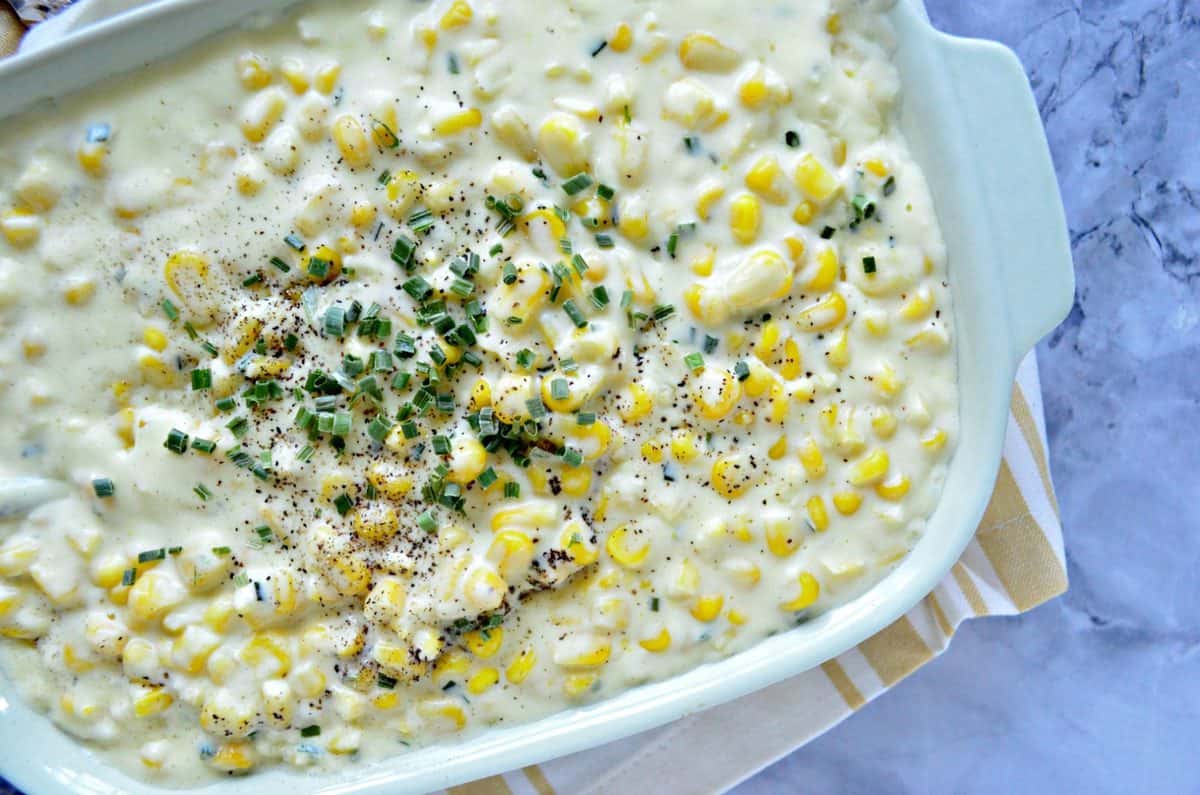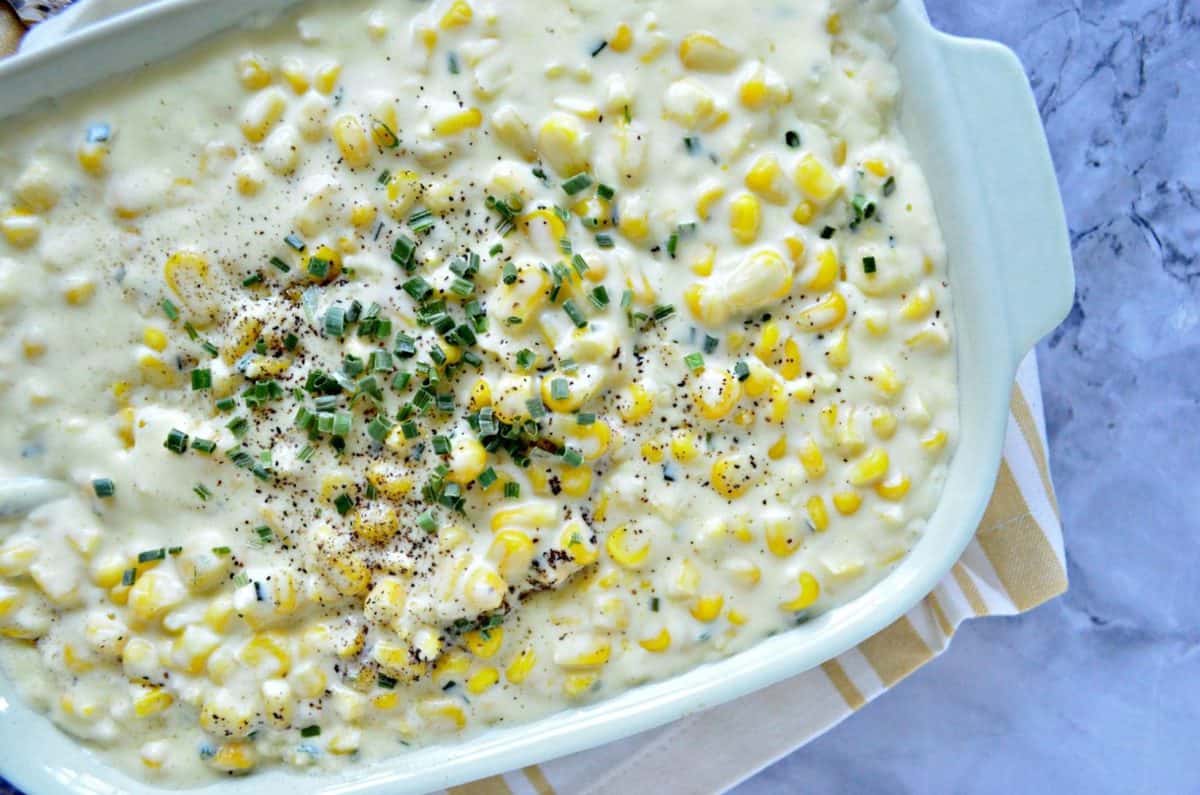 This stove top creamed corn comes together in 20 minutes and best of all once you make it you can keep it resting on low until you're ready to serve. The key is not to keep it off the heat—or else it becomes unsafe if it sits too long without staying at a constant temperature. As you're planning your holiday menu make sure you add my stovetop creamed corn and don't forget the core four food safety practices as you put together your delicious meal for family and friends.
Save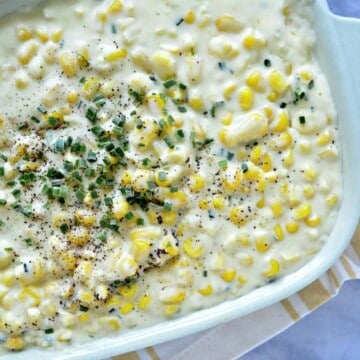 Stovetop Creamed Corn
One recipe that is always requested by family members is my from-scratch creamed corn. No cans here my friends—just good old frozen corn nibblets with a lot of butter and heavy cream.
Print
Pin
Rate
Ingredients
½

stick

unsalted butter

32

ounces

frozen corn

½

cup

2-percent milk

1

teaspoon

salt

1

tablespoon

granulated sugar

1

tablespoon

dried chives

plus additional for garnish

8

ounces

whipped cream cheese

½

cup

heavy cream

Cracked pepper

for topping
Instructions
Start by washing your hands with warm water and soap for at least 20 seconds before and after handling food.

Wash your cutting boards and counter-tops with hot soapy water.

Prepare corn according to package cooking instructions. Drain.

In a large pot on medium-high heat, melt the butter.

Pour corn kernels in the pot along with ½ cup of milk. Season with salt, sugar and dried chives and mix well.

Then reduce the heat to medium-low and add in the whipped cream cheese. Continue stirring until the cream cheese has melted into the corn (about 5 minutes).

Begin stirring in the heavy cream and reduce the heat to low. Stir for 5 minutes and then turn the burner off.

Place 1 cup of corn mixture in a high-power blender. Blend for 30 seconds until smooth.

Pour the puréed corn back into the pot, mix well and top with additional salt if needed and cracked black pepper.

Garnish with additional dried chives if desired and serve immediately.

Store leftovers in shallow containers within 2 hours of serving. Leftovers will last in the refrigerator up to 3-4 days.
Notes
This can be made before your other dishes and kept on the stove on low until ready to serve.
Nutrition
Calories:
364
kcal
|
Carbohydrates:
41
g
|
Protein:
8
g
|
Fat:
22
g
|
Saturated Fat:
12
g
|
Cholesterol:
71
mg
|
Sodium:
533
mg
|
Potassium:
539
mg
|
Fiber:
4
g
|
Sugar:
4
g
|
Vitamin A:
842
IU
|
Vitamin C:
11
mg
|
Calcium:
80
mg
|
Iron:
1
mg