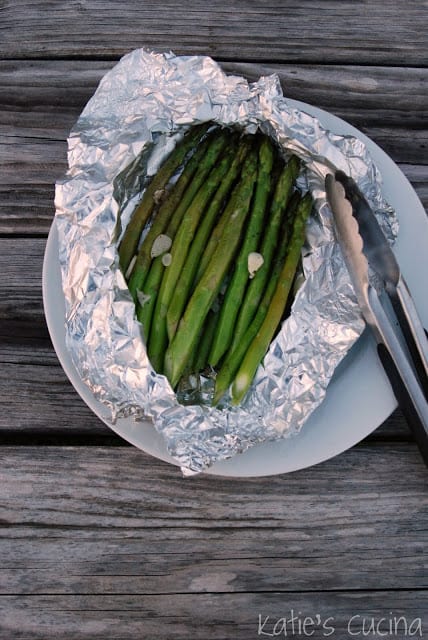 When I think of grilling vegetables I think of my childhood. My dad use to make tinfoil pouches and load them to the gills with onions and mushrooms and tons of butter. As a child I did not eat a lot of fresh vegetables–yet I was practically vegetarian. I lived on canned veggies. I had no idea that they started out "fresh" until I was a freshmen in high school. I can't remember when I fell in love with asparagus. I'd have to say probably some time in high school.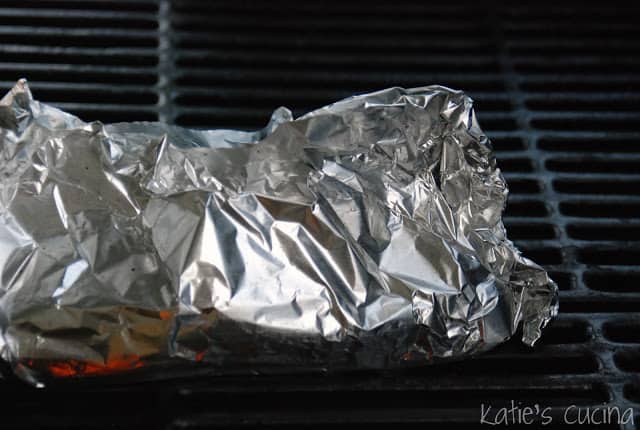 The tinfoil steams the asparagus without having to turn on the stove or dirty up any pots! This is ideal for a hot summer day when the last thing you want to do is cause your house to become hotter than it already is. Depending on how many veggies you've stuffed into this packet will determine your length of time. I've made this side dish over-and-over again. There is no true method to the madness. I peak into the tinfoil pouch every 10 minutes or so. Shake the pouch around to make sure that the olive oil and garlic is incorporated throughout, and look at the color and firmness.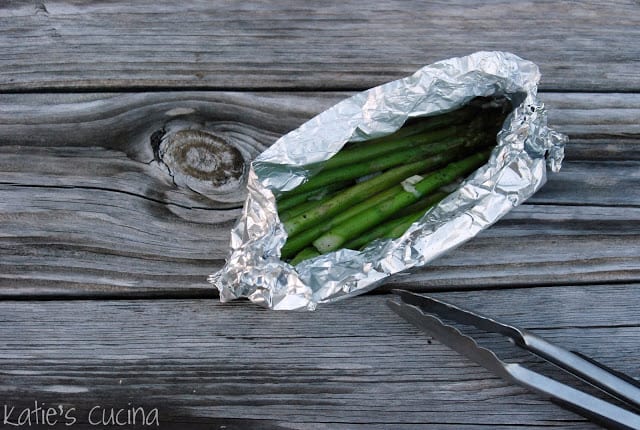 Ingredients:
1 bunch thick cut asparagus
2 cloves of garlic, thinly sliced
1 tbsp of olive oil
salt and pepper
Tinfoil


Directions:
1. Preheat grill to a medium flame. While grill is preheating, clean asparagus, chop the ends off.
2. Take a large sheet of tinfoil, and place the asparagus in the middle of it. Gather the sides together and then bring the tops together. Don't seal just yet. Add your olive oil, garlic, and salt and pepper. Close the pouch and gently shake, so that everything is incorporated. Peak back in the pouch to make sure the asparagus is covered with a smidge of olive oil. If not add a little more (eyeball it).
3. Add the pouch to direct heat on a grill for about 20 minutes. Half way through check on the asparagus… give it a little shake (and a peak–be careful of the steam) to make sure it's not sticking to the bottom of the tin foil or in worst case scenario burning (this has never happened to me).
4. Once the asparagus is done cooking carefully remove it from the grill, serve, and enjoy!