Grilled Southwestern Pork Chops with Mango Peach Salsa
Fire up the grill and make my delicious recipe for Grilled Southwestern Pork Chops with Mango Peach Salsa for dinner tonight!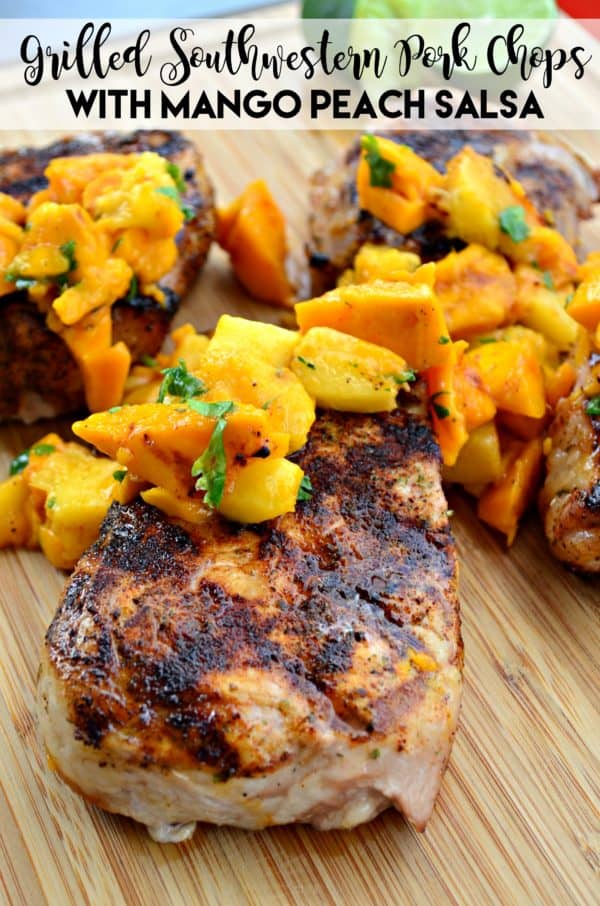 We love to grill in my home. You'll find us (well, really it's me) firing up the grill at least 1-2 times a week and during the summer months maybe 3-4 times a week! I'm excited to share my recipe for Grilled Southwestern Pork Chops with Mango Peach Salsa. I love grilling fruit in the summer time, and it pairs perfectly with pork chops! This is definitely a twist on the classic pork chops and apple sauce but grilled and there's no applesauce here. Just a fresh and vibrant grilled mango peach salsa!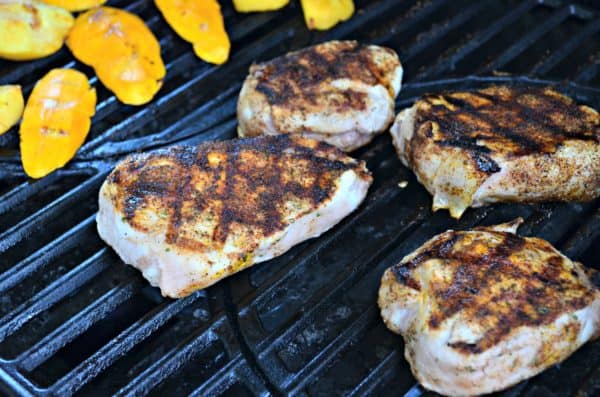 Let's talk about seasoning the pork chops. You'll make a rub with a combination of chili powder, brown sugar,  garlic powder, salt, and ground cumin! Then, you'll rub the seasoning mixture all over the pork chops. I preheat my STOK Quattro Grill screaming hot. That's how I'm able to achieve those gorgeous grill marks. For this recipe, I kept the traditional grill grate inserts in my grill. No need to change them out. If you wanted, you could add the vegetable basket for the fruit, but I found as long as I cut the fruit large enough it didn't fall through the grates.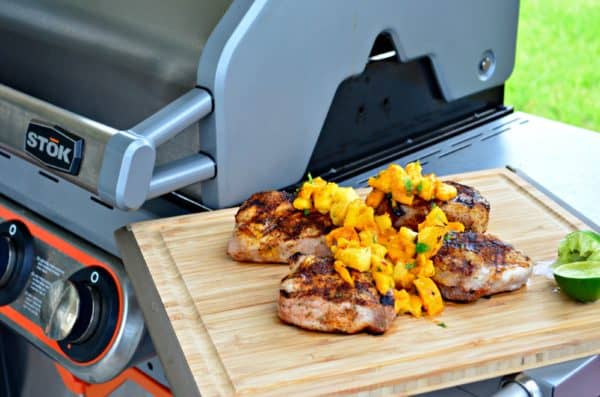 I'm going to let you in on a little secret on how to obtain perfect grill marks.
You need a super hot grill, like ranging over 500 degrees Fahrenheit.
You want to do the 10 and 2 method. You'll place the chops diagonal like they are at 10:00 on the clock then turn them to 2:00 on a different side of the grill where the grill grates are super hot. Then, you'll do the same thing once you flip them over. Think of your grill as 4 zones. By the end of your grilling experience you will have used every zone. Or pair it down if you have other items on the grill.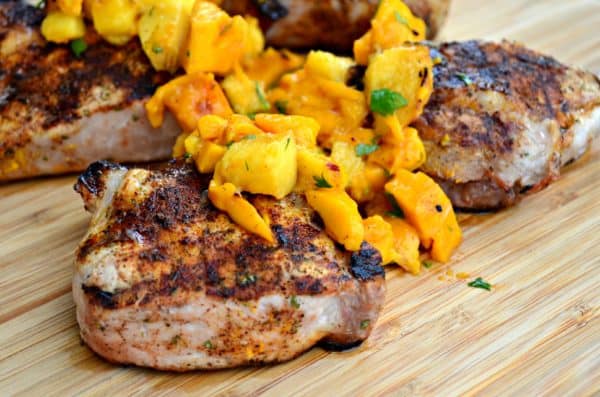 Okay, so now that I've divulged my perfect grill mark secrets. Let's talk about the process of this meal. You'll grill the pork chops first. During the last 5 minutes of cook time you'll throw the fresh peaches and mangoes. Once they have a slight char to them you'll remove them from the grill, dice them up and serve the fruit salsa on top of the southwestern pork chops.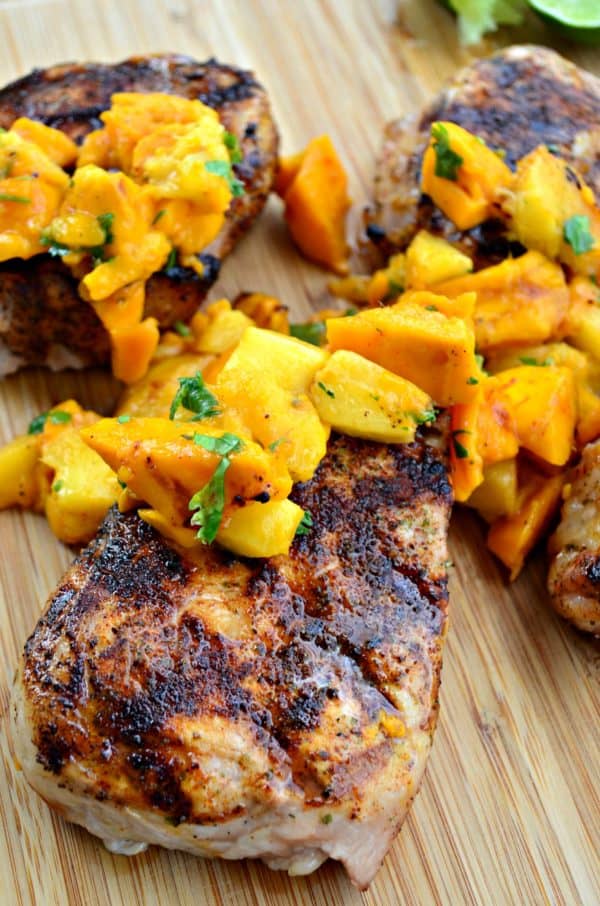 The ultimate sweet and savory mix. I can't get enough of this recipe. I've made this a few times over the past month and it's definitely one of my families new favorite go-to grilling dinners for the summer months while both peaches and mango's are in season. I serve it with brown basmati rice, black beans, and steamed green beans or grilled squash. Whatever I have in the fridge the night I make this meal.


Grilled Southwestern Pork Chops with Mango Peach Salsa
Yield: 4
Prep Time: 10 minutes
Cook Time: 15 minutes
Total Time: 25 minutes
Ingredients:
4 boneless pork loin chops, 1/2 inch thick
1 teaspoon chili powder
1 teaspoon brown sugar
1/2 teaspoon garlic powder
1/2 teaspoon salt
1/2 teaspoon ground cumin
1/2 teaspoon dried cilantro
2 tablespoons lime juice, divided
2 ripe peaches, peeled and halved
2 ripe mangos, peeled and halved
 1 thick 1-inch slice of red onion
1 tablespoon chopped fresh cilantro
Directions:
Heat gas grill on high heat.
Mix together the chili powder, brown sugar, garlic, and salt. Rub chili powder on both sides of each pork chop. Set to the side, then peel the peaches and mango, slice and half.

Place pork on grill over medium heat. Cover grill; cook 6 to 9 minutes, turning once, until pork is no longer pink in center and internal temperature reads at least 145 degrees Fahrenheit. Remove the pork from the grill, set on a plate and tent with foil.

Place the peaches, mango's, pepper, and onion on the grill. Cover nad cook for 5 minutes, turning once. Remove from the grill, and chop plus add 1 tablespoon fresh cilantro, and 1 tablespoon lime juice.

Serve pork chops topped with mango peach salsa, or serve salsa on the side.
Save
Save
Save
Save
Warning
: Use of undefined constant rand - assumed 'rand' (this will throw an Error in a future version of PHP) in
/home/kjasiewicz21/webapps/katiescucina/wp-content/themes/katiescucina/single.php
on line
74
Leave a Comment