One Pot Kielbasa & Broccoli Pasta
Enjoy a flavorful One Pot Kielbasa & Broccoli pasta dinner in less than 30 minutes with simple ingredients that can be found in your pantry and refrigerator!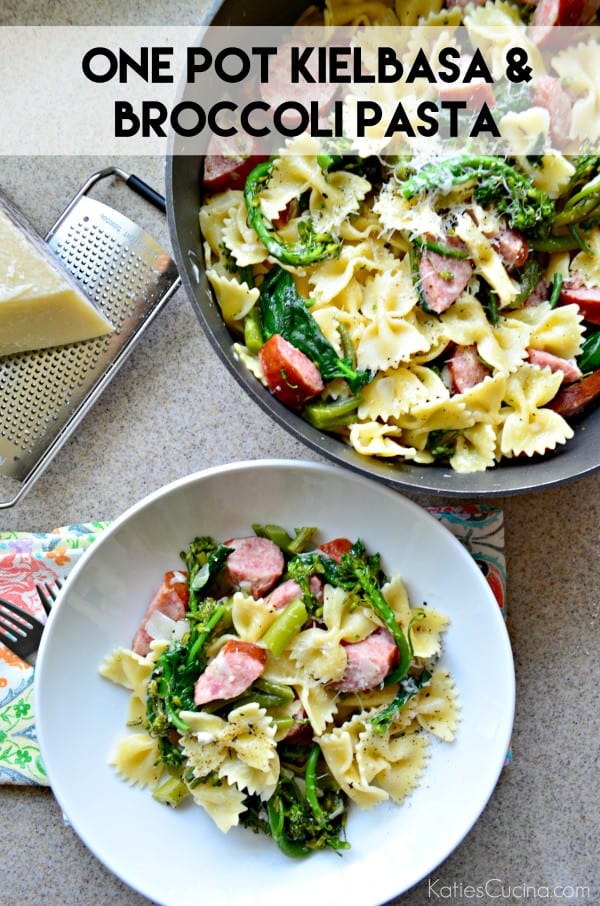 It's 4:00 and my house is a mess. Dishes have not been done, and my toddler is on the train to crazy–bouncing off the walls and impatiently waiting for dad to get home so he can go "fish". It's about this time every day during the work week that I dread. Insert one pot meal! Your welcome right now. I gather the remaining energy I have to do dishes and clean up the house–maybe even fold a load of laundry after I've hit it on "refresh" about 4 times during the day. Then I start to think about dinner. Most weeks I have my menu planned so that it's one last thing I need to think about. I try to prep dinner by 5:00, but some days I just can't get the meal prep done before 5. What I love so much about this one pot kielbasa and broccoli pasta dinner is that I can get this prepped and cooked in 30 minutes.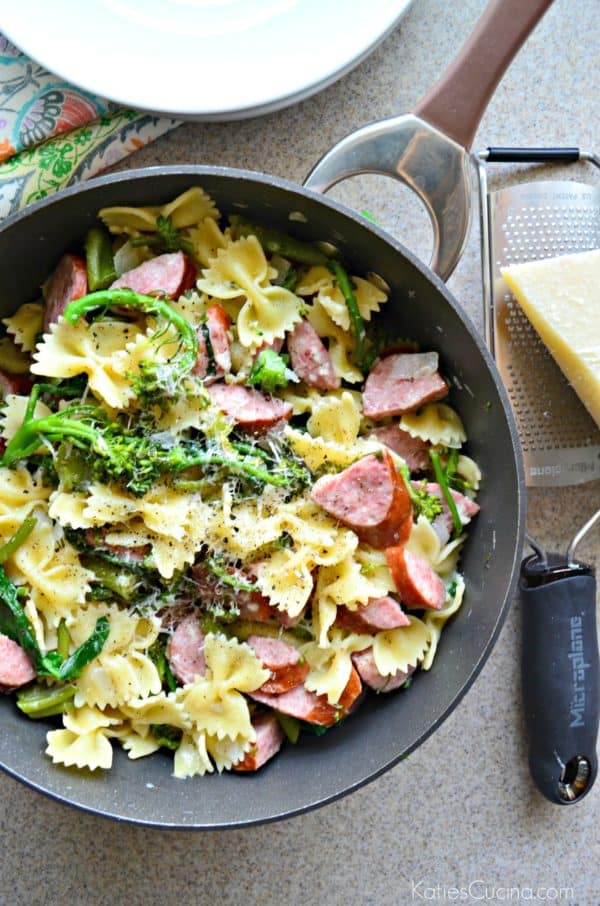 Yes, you read that right. Can you imagine minimal dishes, and a flavorful dinner on the table in 30 minutes? My husband and I are both Polish, so kielbasa is a staple ingredient in our diet. We love to grill it, or just boil it and eat it with pierogies. However, most recently I've been adding it to pasta dishes and it has amplified the flavors of our meal. The past on it's own is good but when you add in the kielbasa it amplifies it like no ones business.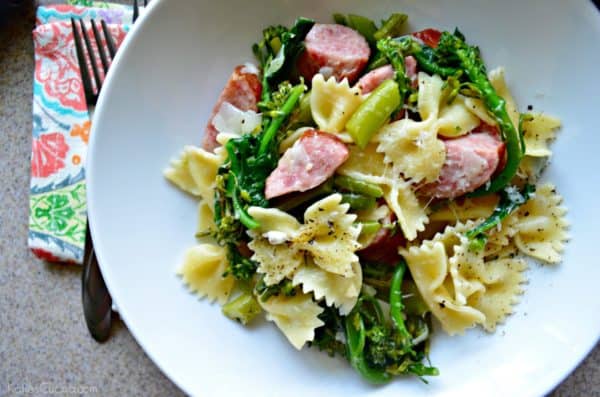 I used baby broccoli for this recipe; however, regular broccoli would be fine. And if you don't have fresh broccoli on hand you could use frozen. Just add the frozen broccoli in during the last 5 minutes of cooking. I typically like to add in 2 cups of spinach or some sort of leafy green (like a power blend). It just depends on what I have on hand. Either work well, and if you don't like the leafy greens then don't add them. That's what is great about a recipe you can always add in or take away ingredients depending on your palate. So if your looking to simplify your weeknight dinner plans try my recipe for One Pot Kielbasa & Broccoli Pasta.
Warning
: Use of undefined constant rand - assumed 'rand' (this will throw an Error in a future version of PHP) in
/home/kjasiewicz21/webapps/katiescucina/wp-content/themes/katiescucina/single.php
on line
74
2 Responses to "One Pot Kielbasa & Broccoli Pasta"
Leave a Comment