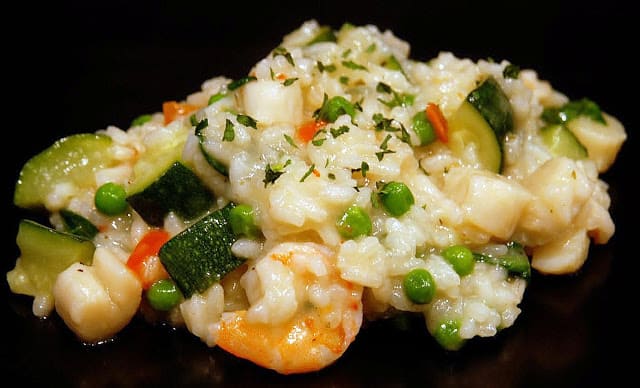 Last week I was at a loss as to what to make for dinner until I decided that I wanted something homey. That's when I decided to make some risotto. I had frozen shrimp and bay scallops in the freezer and figured I would concoct a seafood style risotto. It turned out wonderful and I'll definitely be making this again sometime soon!
Ingredients
2 1/2

cups

low-sodium chicken broth

4

tbsp

butter

1

cup

frozen/fresh shrimp

peeled, deveined, tails removed

1

cup

frozen/fresh bay scallops

1

zucchini

cut into chunks

1/2

cup

frozen green peas

1/4

cup

red bell pepper

diced

1/2

of an onion

finely chopped

1 1/2

cups

arborio rice

1/2

cup

dry white wine

3/4

cup

grated Parmesan cheese

1/4

cup

finely chopped parsley

Salt and pepper
Instructions
In a saucepan, bring the 2-1/2 cups chicken broth to a boil; cover and keep at a simmer.

Meanwhile, in a large saucepan, melt 1 tablespoon butter over medium heat. Add the zucchini & red bell pepper and cook, stirring frequently, until soft, about 5 minutes; transfer to a bowl. Add 2 tablespoons butter and the onion to the saucepan and cook, stirring, over medium heat until the onion is softened, about 8 minutes. Add the rice and stir until lightly toasted, about 2 minutes. Add the wine and cook, stirring constantly, until evaporated, about 2 minutes.

Stir in 1/2 cup of the hot broth mixture, bring to a simmer and cook, stirring and adjusting the heat as necessary to maintain a low simmer, until the liquid is absorbed, about 2 minutes. Repeat, adding 1-1/2 cups of the remaining broth mixture at a time and allowing the liquid to be absorbed, until the rice is tender, about 18 minutes.

Add the frozen peas, scallops, and shrimp. Stir and add a little more broth. Put a lid on the risotto and let it stand for 3-5 minutes. Stir, and repeat if needed. Once the seafood is almost cooked through add the cooked zucchini & red bell peppers and the remaining 1 tablespoon butter. Stir in 1/2 cup Parmesan and the parsley; season with salt and pepper. Serve immediately, place the remaining 1/4 cup Parmesan at the table if your guest desire more cheese.