Simplify dinner and enjoy a delicious and hearty dinner of Baked Risotto with Green Peas. Very little stirring required thanks to the magic of the oven!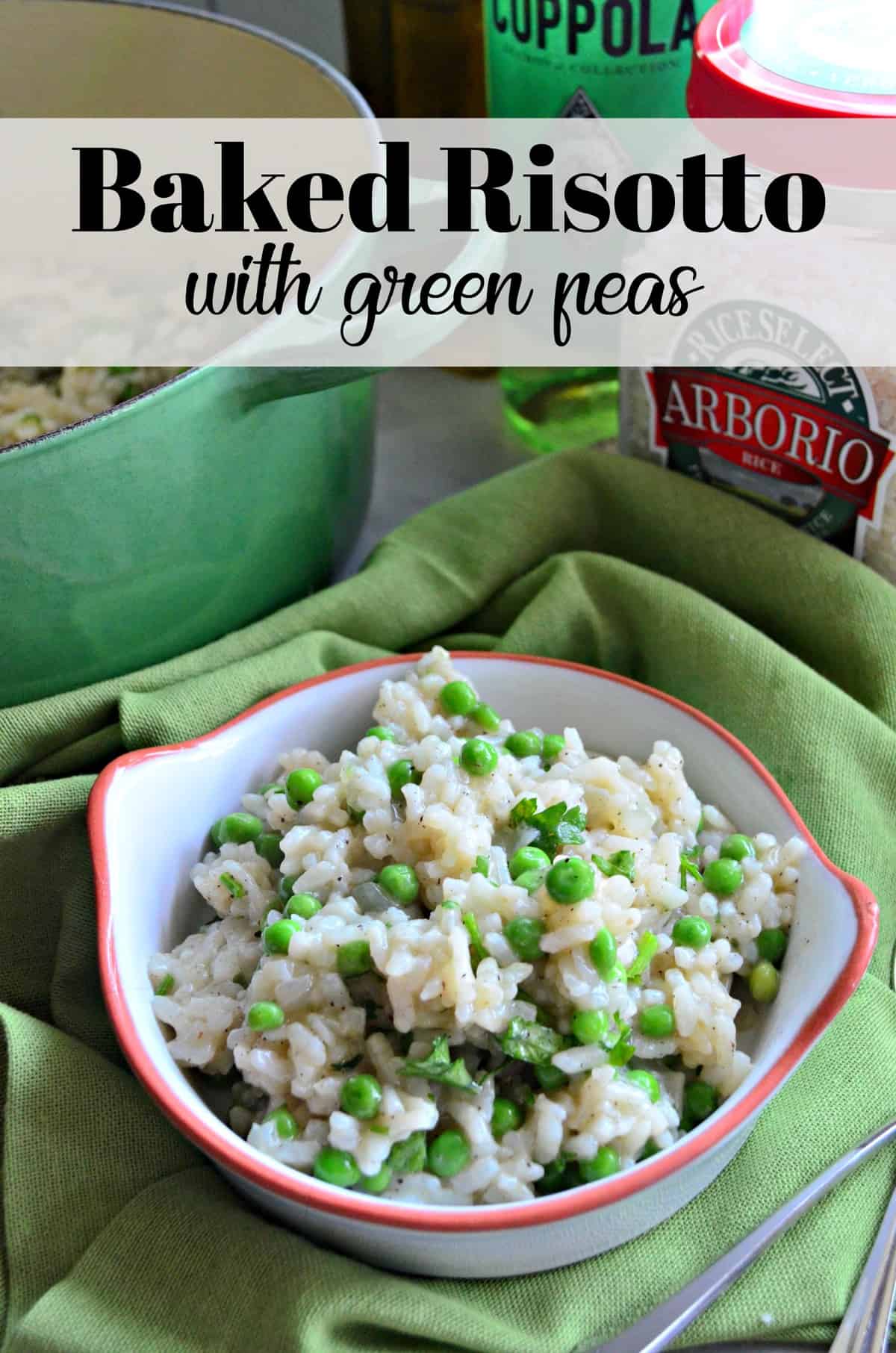 I love risotto, but let's face it–it's definitely a meal that requires a lot of labor and time. Time is one thing that I lack these days. I'm all about quick and easy meals. It was a cold winters night and I was craving the ultimate comfort food, risotto. I really didn't want to stand at the stove for over a half hour stirring. My baby is not so baby these days–she is on the go and loves crawling from the family room right into my kitchen, and then to make matters worse she loves pulling up on my pants to stand up. I have a love hate relationship with this age/stage of life. I love watching her grow, but I also want her to stay little and non-mobile. So now that I have a baby on the move I decided to give baking my risotto a try.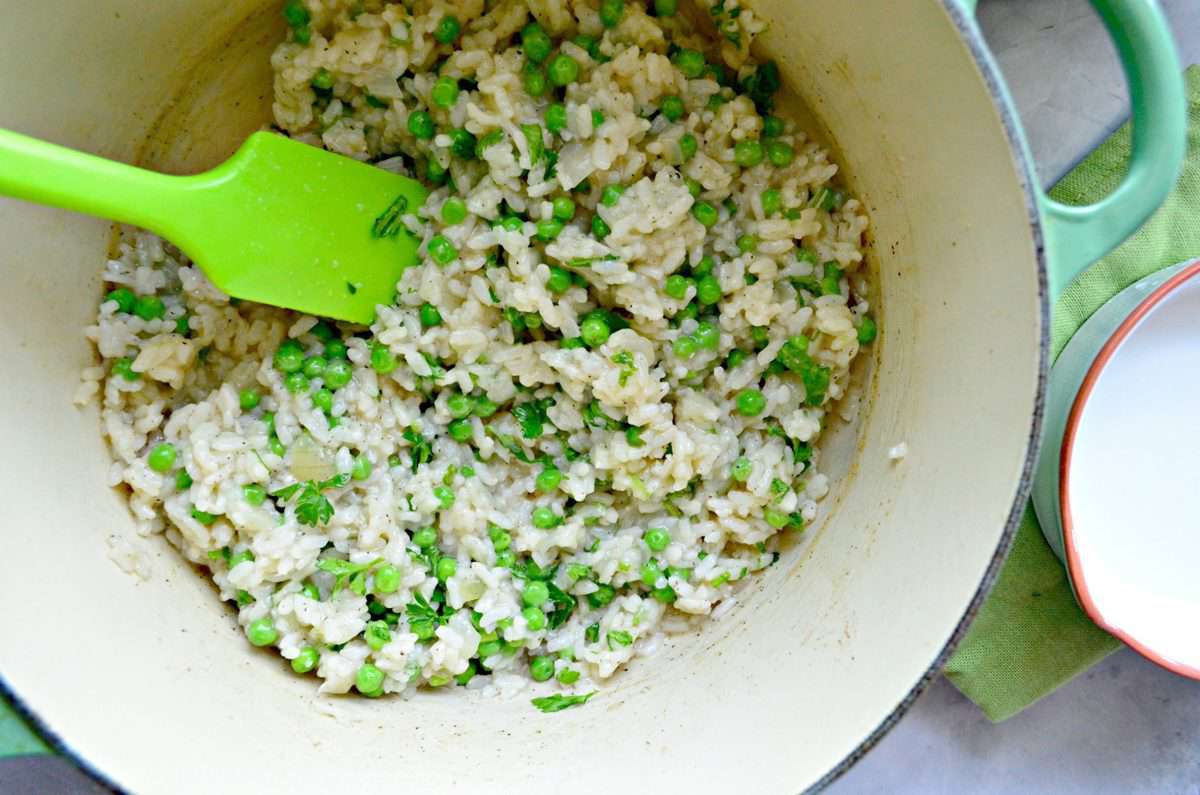 I did the same prep work you would normally do when making risotto–sweat onions and garlic, toast the arborio rice, and then hit the dutch oven with some white wine. The alcohol cooks out leaving the rice with that delicious rich wine flavor. Then give it a stir, add in the salt, pepper, broth and some hot water. Hot water is key to keep the risotto rapidly cooking. You can heat in the stove top or in the microwave while your toasting the arborio rice. Once you have all the liquid in the pot you'll bring it to a boil, give it one last stir and then place the lid on. Into the oven your risotto goes and it bakes for 25 minutes. Once the time is up you'll stir in the frozen peas, cheese, and fresh parsley. Stir it a few times and then place the lid on so the peas can cook. This takes about 5 minutes, and then it's time to plate and enjoy for dinner.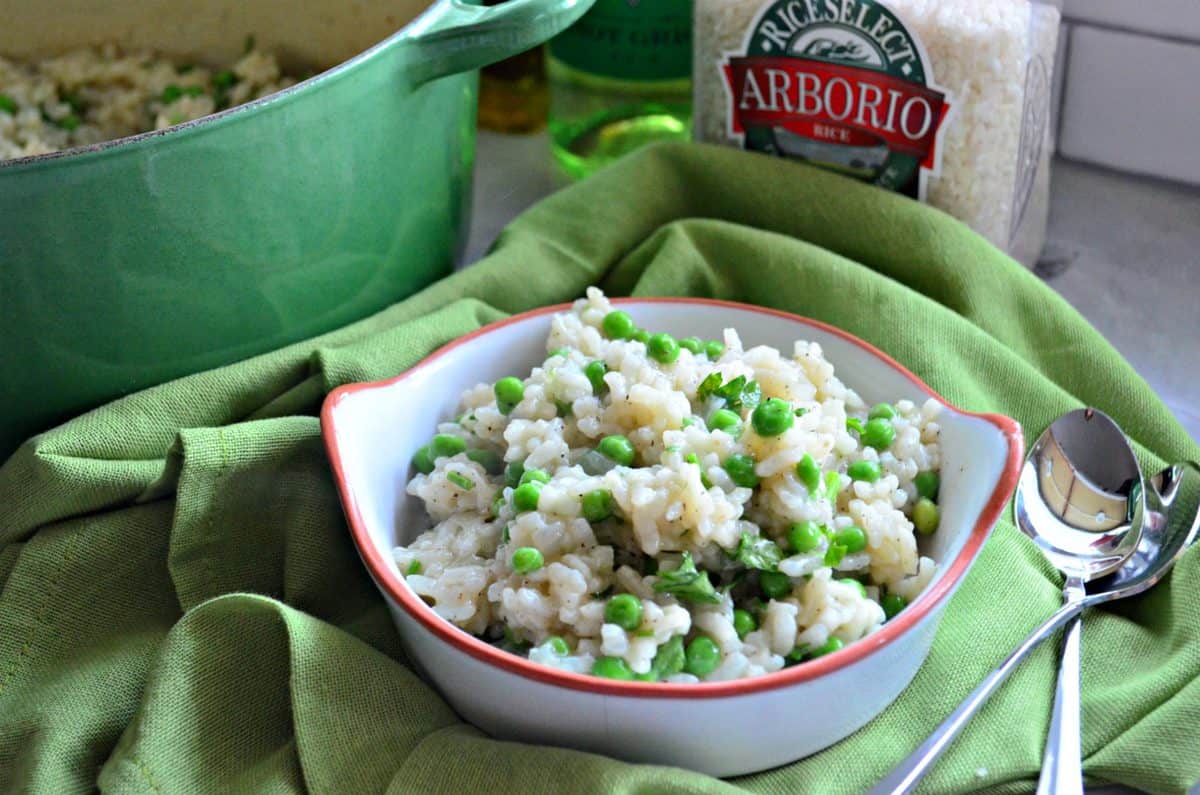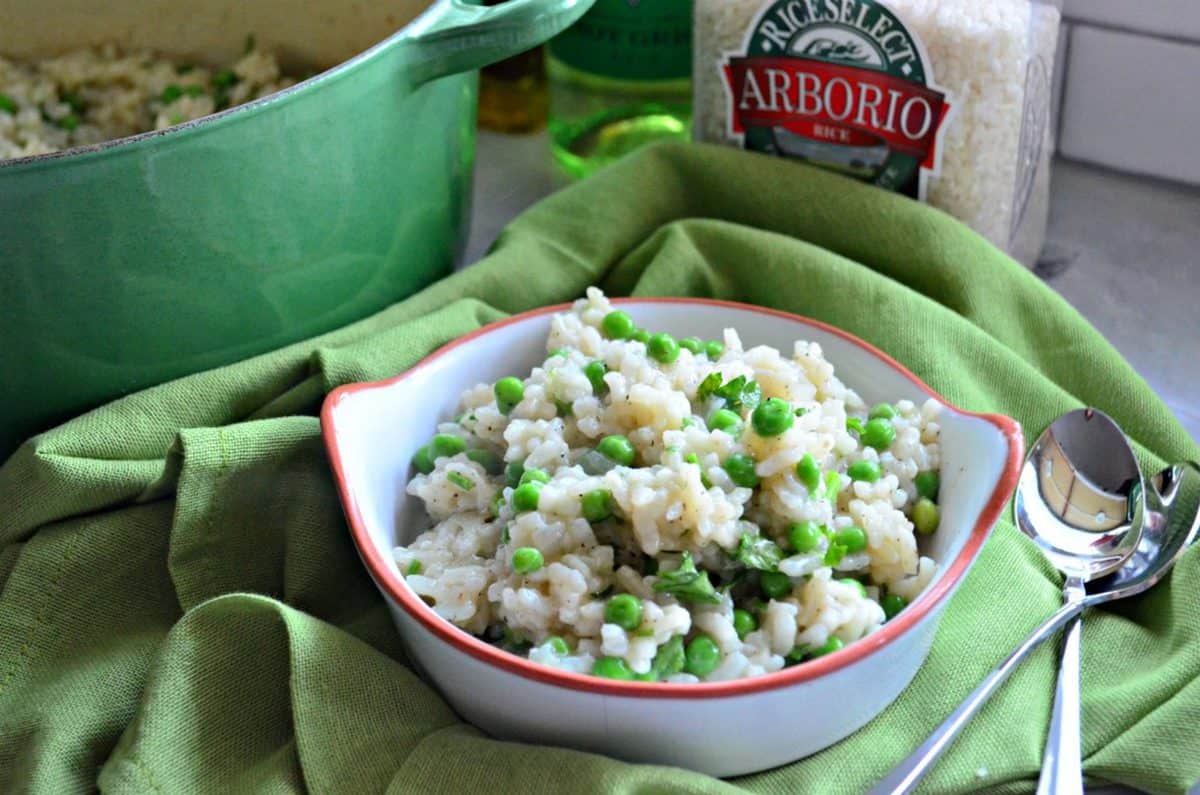 The night I made this I paired the meal with baked sausage and peppers. It was the perfect hearty and comforting meal for a very cold Florida night (it was in the 30's which is way too cold for Florida). My toddler loved this meal, and so did my not-so-baby. She was squealing for more and we also learned that she loves peas. So now I have something else that is easy to prepare for her (frozen peas–and of course this risotto). I feel like risotto will be making an appearance on our menu at least 1-2 times a month since it's so incredibly easy to make. If you love risotto but hate all the labor that comes with making it–try baking risotto in the oven.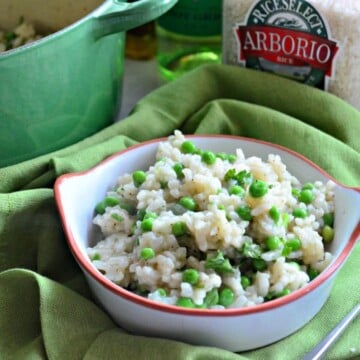 Baked Risotto with Green Peas
Simplify dinner and enjoy a delicious and hearty dinner of Baked Risotto with Green Peas. Very little stirring required thanks to the magic of the oven!
Print
Pin
Rate
Ingredients
1

tablespoon

olive oil

½

medium white onion

diced

2

cloves

garlic

minced

1

cup

Arborio Rice

½

cup

white wine

2

cups

hot water

1

cup

chicken broth

½

teaspoon

salt

⅛

teaspoon

black pepper

1

cup

frozen green peas

½

cup

grated pecorino romano cheese

1

tablespoon

fresh parsley

minced
Instructions
Preheat oven to 425 degrees Fahrenheit.

In a Dutch oven, pour the olive oil in the pot over medium-high heat. Add the onion and garlic cook until translucent about 3-4 minutes. Add the arborio rice and cook coating rice with the oil and toasting about 1 minute. While rice cooks heat water in the microwave until hot and set to the side.

Stir in the white wine and cook until it has completely evaporated (about 2 minutes). Stir in the hot water, chicken broth, salt, and pepper. Bring to a boil, stir, and cover with a lid. Then, transfer to the oven and bake until most of the liquid has been absorbed by the rice about 25 minutes.

Remove the pot from the oven. Stir the risotto then add in the frozen green peas, cheese, and parsley. Place lid on top of dutch oven and let rest for 5 minutes. Stir one more time and serve immediately.
Notes
This gives you all the same flavor as stirring constantly on the stove but is hands off for the majority of the time. Serve with sausage for a full meal.
Nutrition
Calories:
323
kcal
|
Carbohydrates:
48
g
|
Protein:
10
g
|
Fat:
7
g
|
Saturated Fat:
3
g
|
Cholesterol:
13
mg
|
Sodium:
667
mg
|
Potassium:
226
mg
|
Fiber:
3
g
|
Sugar:
3
g
|
Vitamin A:
413
IU
|
Vitamin C:
21
mg
|
Calcium:
158
mg
|
Iron:
3
mg