For my last day of guest bloggers I have my friend (in real life) Terri from Love & Confections! She is an extremely talented pastry chef. When I have technical cooking/baking questions I turn to Terri. For over a year now we have talked about having a bread class, because as some of you may know I'm scared to death of working with yeast. My last two times were a giant flop… so maybe after I get back from vacation Terri and I will finally be able to get together and conquer my fear of working with yeast. Without further ado… here is Terri!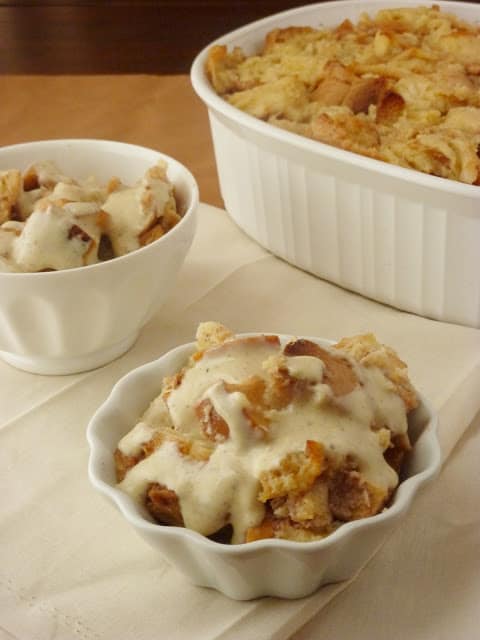 Hey everyone. I'm Terri from Love & Confections and am thrilled that Katie asked me to do a guest post for all the Katie's Cucina readers. I am a Pastry Chef here in Central Florida and love all things baking & pastry. Some of my all-time favorite pastries to make are Key Lime Cupcakes, Tarts and Zucchini Bread.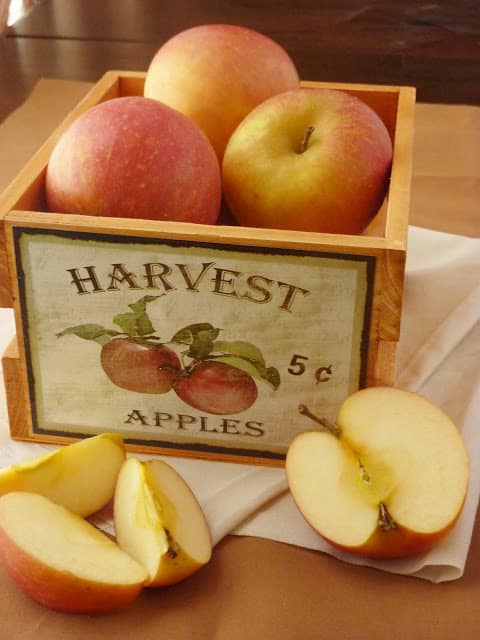 For many food bloggers, the Fall season is packed with apple and pumpkin recipes. Pictures of red, orange and yellow leaves dot blog pages and Instagram feeds. We have 2 seasons here in Florida, "Hurricane Season" & "Not Hurricane Season". I love the changing of the Seasons, live vicariously through those amazing photos and treasure the visits to my Parents' house is North Carolina.
Fall Leaves in my Parents' neighborhood in Raleigh, NC.
What is better than warm apple pie? I decided to do a twist on the classic. When I was a kid, I loved waiting in my Grandmother's kitchen while she baked apple pie. "One apple slice for the pie… one apple slice for Terri". I watched as she mixed the apples with the spices, delicately laid the crust on top and popped it into the oven. As an impatient child, I wandered off while it baked, but as soon as the smell of freshly-baked apple pie wafted through the house, I came running to the kitchen. Usually we had to wait until after dinner to eat the pie, but there was one or two occasions when she caved and let us has a before-dinner snack.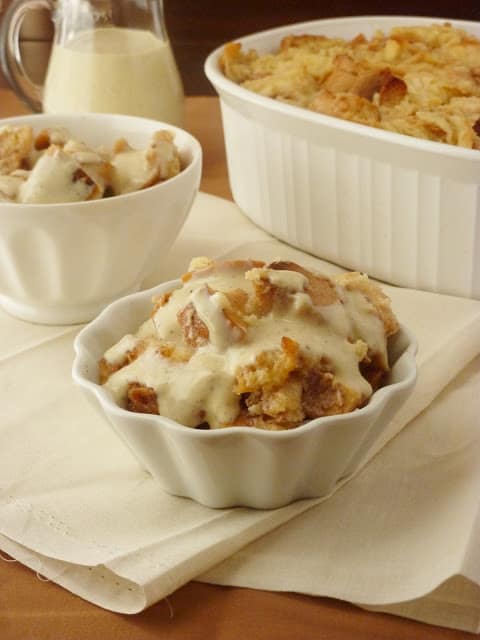 This recipe has the spices and warmth of freshly-baked apple pie with the all the appetizing qualities of a moist and rich bread pudding. I hope you enjoy!
a Love & Confections original recipe
Ingredients
2

teaspoons

Cinnamon

3/4

teaspoon

Nutmeg

1/4

teaspoon

Allspice

2

cups

Granulated Sugar

separated

4

cups

Whole Milk

6

Eggs

1

large loaf of crusty Bread

Italian or Country

5

small Apples

or 3 medium Apples

1

tablespoon

Lemon Juice

4

cups

hot tap water
Instructions
Combine the Cinnamon, Nutmeg and Allspice and set aside. Cut the Bread into inch-sized cubes and set aside.

In a medium saucepan, scald the Whole Milk but do not bring it to a boil. While the Milk is heating, crack the Eggs into a large bowl and whisk vigorously with 1 & 1/2 cups of Granulated sugar.

Once the Milk is warm, slowly pour into the Egg and Sugar mixture while whisking constantly (called Tempering, so the Eggs don't curdle/scramble). Once all the Milk is added, whisk in 1 & 1/2 teaspoons of the homemade apple pie Spice Mix.

Place all the bread into the large bowl so it can soak up the mixture. You can toss it with a spoon and press down to make sure all the bread touches liquid. Leave it to "soak" for 30 minutes.

Heat the oven to 300F. Wash and dice the Apples into 1/2 inch cubes. I prefer the skin on for an added texture, but you can peel them if you do not like the skin. Place the apples in a bowl and add the Lemon Juice, the rest of the Spice Mix and stir until the apples are completely coated.

Using a 2.5 quart Corningware or deep casserole dish (or if you prefer, individual portioned dishes) layer the soaked Bread and the Apple Mixture in 5 layers, beginning and ending with the Bread.

One of the most important steps when making bread pudding is to use a water bath, or Bain Marie. Place a large dish or pan (big enough to fit the casserole dish and about 4 cups of water) on the rack in the middle of your oven. Place the casserole dish inside and then add the water - this is the easiest way so you don't create a big mess by moving the already full water bath into to oven.

Cook for 45-55 minutes. The top will look slightly crisp and the bread should be moist, but cake-like with no excess liquid around the edges. Very carefully, and if you can, take the bread pudding out of the water bath and let it cool slightly before eating. If you can't grab the casserole dish, take both containers out of the oven and let the water cool, until you can get the casserole out of the water bath. Again, please be careful, because the water bath is extremely hot!

Best served warm with either vanilla ice cream or homemade Creme Anglaise
Notes
Original Recipe from Love and Confections
Until next time,
LOVE & CONFECTIONS!