Turkey & Stuffing Dumpling Soup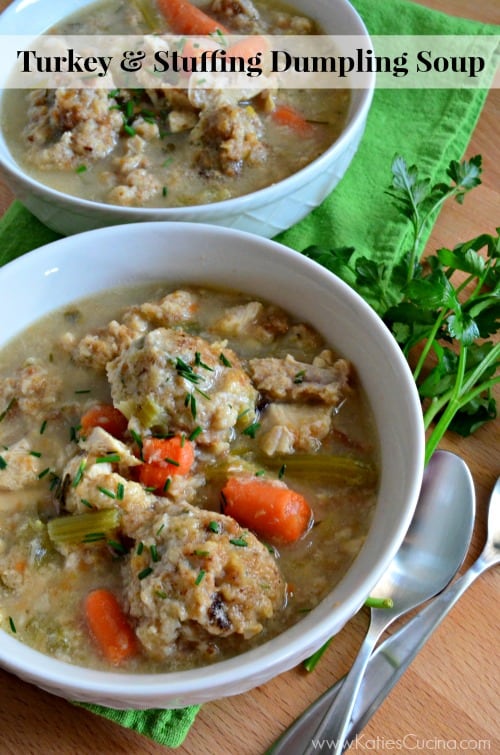 Do you struggle to use up your leftovers after the holidays? Over the next few days I'll be sharing 3 recipes that will help you do just that–use up those leftovers and transform them into something amazing! Today, I'm sharing with you an easy recipe to make Turkey & Stuffing Dumpling Soup. If you had Turkey for Christmas and remembered to save the prized carcass you are in luck! Oh and of course have some leftover stuffing to go along with it. You might be thinking… 90 minutes? I have to be in the kitchen that long? No, not really–your water just needs to boil down to create a flavorful turkey stock. I started making this at 10 am after breakfast and by lunch time we had a comforting lunch waiting for us. Plus, who doesn't love the smell of turkey soup simmering on the stove top?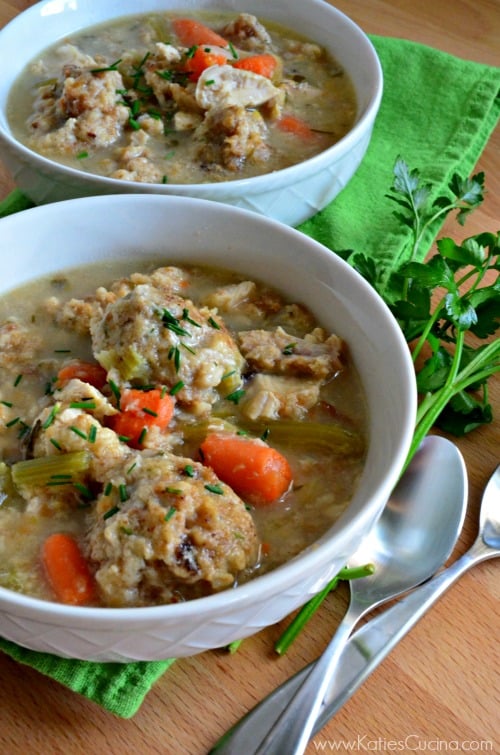 I just did a rough chop to my veggies and let them boil down with the turkey carcass. They absorbed all the turkey flavors, which were deliciuos. The dumplings aren't your traditional dumplings. Some will fall apart others will remain whole. This isn't a pretty meal, but its delicious and at the end of the day that is what counts by my standards. When I made this everyone in our home was asking for seconds. I had to fend them off from the last two bowls (pictured above) so I could photograph the recipe. So if you made a turkey this holiday season and still have that carcass give my recipe for Turkey & Stuffing Dumpling Soup a try.

Turkey & Stuffing Dumpling Soup
Yield: 8
Prep Time: 15 minutes
Cook Time: 75 minutes
Total Time: 90 minutes
Ingredients:
1 turkey carcass (7lb breast)
12 cups water
1 onion, peeled and sliced
1 cup carrots, chopped
2 stalks celery, diced
3 cloves garlic
1 bunch fresh parsley
1 tbsp salt
1/4 tsp black pepper
2 cups leftover cooked turkey, chopped
For the dumplings:
1/3 cup flour
2 eggs 2 cups leftover stuffing
1 tbsp chives, minced + extra for garnish
Directions:
In a large soup pot, boil 1 (7lb) turkey carcass with 12 cups of water, onion, carrots, celery, garlic, fresh parsley, salt and pepper. Bring to a boil then cook on medium heat for 1 hour. Remove turkey carcass from the soup pot, skim to make sure no bones are left behind. Remove the bunch of parsley from the pot as well and discard.
To the stock pot add in 2 cups of cooked leftover turkey. Reduce heat to low.
While the turkey is cooking with the stock and vegetables make the dumplings. Combine flour, stuffing, two eggs beaten, and chives. Mix well until all the ingredients are blended well together. The dumplings will be sticky--it's ok. That is normal. Make small golf ball like size balls and begin to carefully drop the dumplings into the soup pot. Repeat until you've used half the batter. Wash your hands, and carefully stir the soup. Raise the temperature up to medium heat and then proceed to finish dropping in the remainder of the stuffing dumpling mixture. Cook for 10 minutes and then ladle soup into bowls. Top with additional chives if desired.
Warning
: Use of undefined constant rand - assumed 'rand' (this will throw an Error in a future version of PHP) in
/home/kjasiewicz21/webapps/katiescucina/wp-content/themes/katiescucina/single.php
on line
74
28 Responses to "Turkey & Stuffing Dumpling Soup"
Trackbacks/Pingbacks

Leave a Comment