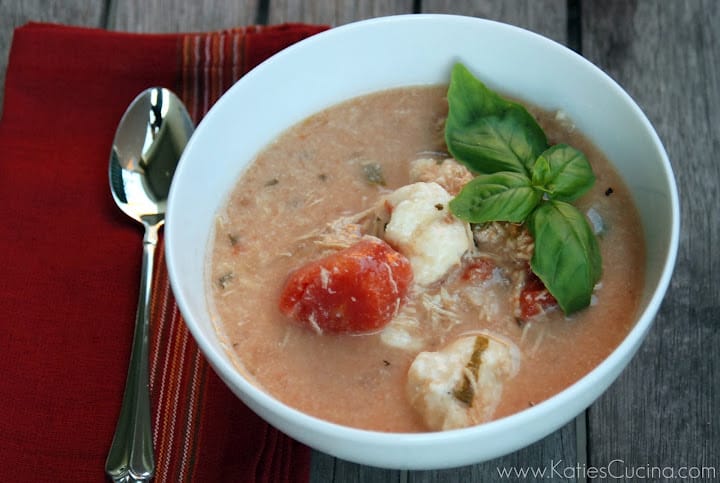 I love soup. I could eat soup in the middle of summer when its over 100 degrees here in sunny Florida. In the past few years I've began loving dumplings in soup. In the January/February issue of Rachael Ray Magazine they had a full 10 recipe spread of different variations of soup. They made what they called a Chicken Parmesan soup. I'm not a huge fan of Chicken Parm, but I'll eat it if that's my option. My husband on the other hand is the worlds biggest Chicken Parm fan–so much that we served that as one of our food choices at our wedding! I knew he would love this soup and I would love it thanks to the ricotta dumplings! Yes, these aren't chop up refrigerated biscuit dumplings… these are homemade cheesy-goodness dumplings. Best of all the ricotta dumplings were incredibly easy to make. After some major tweaking of the recipe Italian Style Chicken & Herbed Dumpling Soup was born!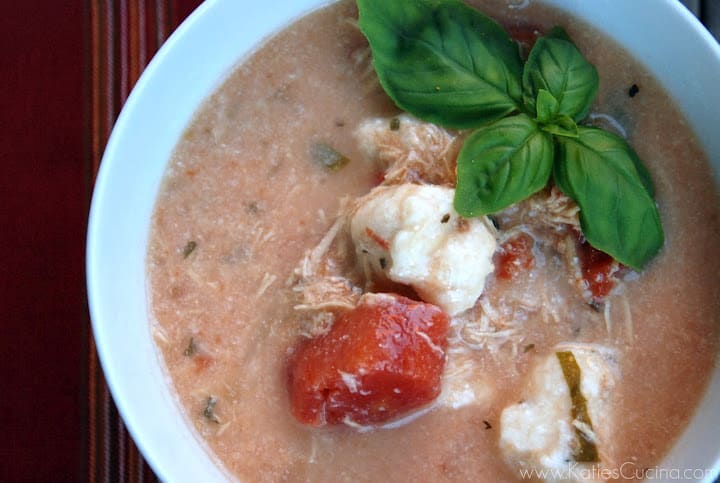 Inspired by: January/February EveryDay with Rachael Ray Magazine
| | | |
| --- | --- | --- |
| Italian Style Chicken & Herbed Dumpling Soup | | |
Author:
Ingredients
2 tablespoon extra virgin olive oil
4 boneless, skinless chicken breast
Salt and freshly ground black pepper
3 cloves garlic, chopped
1 large onion, diced
1 teaspoon crushed red pepper flakes
1 14.5 oz can of chopped stewed tomatoes
2 cups chicken stock
2 cups water
2 tablespoon basil, chopped + more for garnish
1-¼ cup grated Parmigiano Reggiano cheese
1 cup ricotta
½ cup flour
1 tablespoon each fresh chopped basil, parsley, and thyme
Instructions
Place a large pot over medium-high heat and add 2 tablespoons olive oil. Add the chicken to the pot along with 2 cups of water, 2 cups of chicken broth, onions, and garlic. Bring to a boil and cook for 10 minutes. Reduce to medium heat and cook for an additional 10-15 minutes or until chicken is tender enough to shred.
Remove the chicken from the pot, and shred. Keep to the side.
In the mean time add the can of stewed tomatoes (you may have to chop them a little more than what they already are in the can), 2 tablespoons fresh basil, and red pepper flakes to the pot and season with salt and pepper to taste if needed. Add the chicken back to the soup pot.
Begin making the ricotta dumplings. In a large bowl mix ricotta, 1 cup parmesan, flour, and 1 tablespoon each chopped basil, parsley, and thyme. Add salt and pepper to taste and mix well until all ingredients are combined.
Begin rolling dumplings into a half-dollar size ball and add to the simmering broth. Let dumplings cook 5 minutes or until puffy.
Serve the soup topped with a generous helping of Parmigiano Reggiano and more basil.