Strawberry Simple Syrup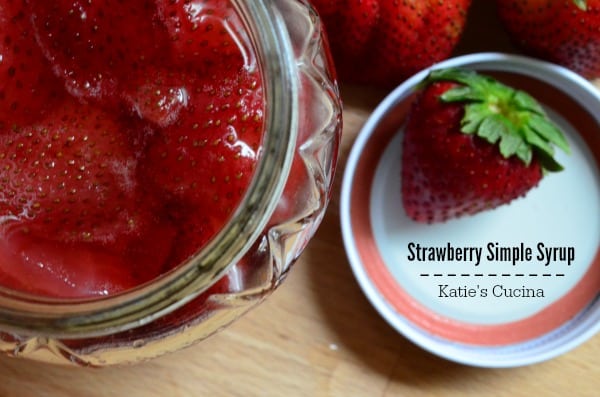 The official start of summer is this Saturday. Summer to me means fresh berries. Lots of fresh berries! Two years ago I shared with you my recipe for mint-infused simple syrup and today I'm sharing with you my easy recipe for strawberry simple syrup. We've been making mojito's like crazy since our mint is growing like a weed and well, we don't want to be wasteful, so instead we make mojitos!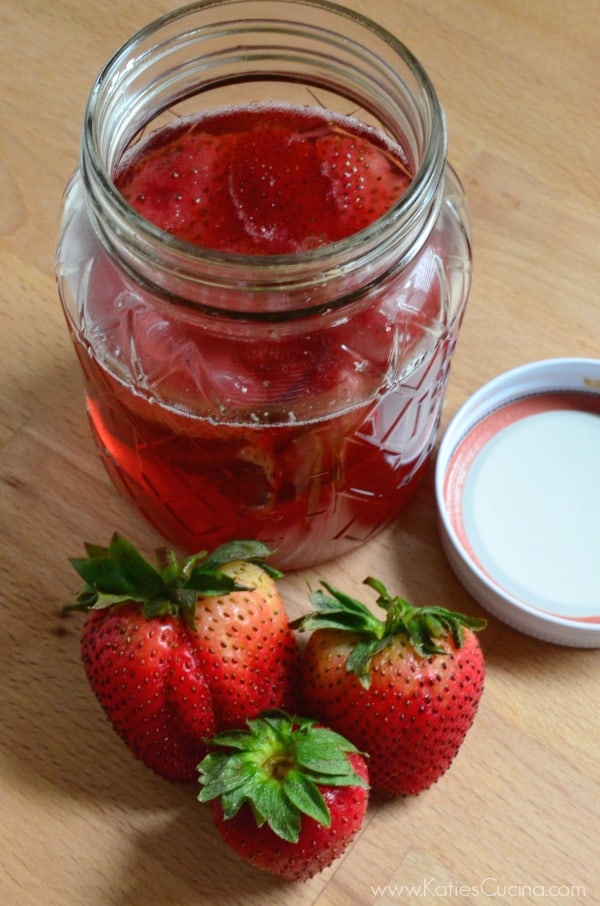 I was tired of the traditional mojito, so I decided I would mix it up and make a strawberry mojito (recipe coming). Instead of using the traditional simple syrup I decided to let a few strawberries cook in with the simple syrup. I love that the strawberry simple syrup isn't too over powering. It has just a subtle hint of strawberry. I did do some experimenting and if you want a more robust strawberry flavor, puree the simple syrup once its cooled in a blender or food processor. If you don't like the seeds just run the simple syrup through a strainer to remove all the seeds. Easy as that–and if you serve this at your next party I'm sure all of your friends will be super impressed with this easy three-ingredient simple syrup recipe!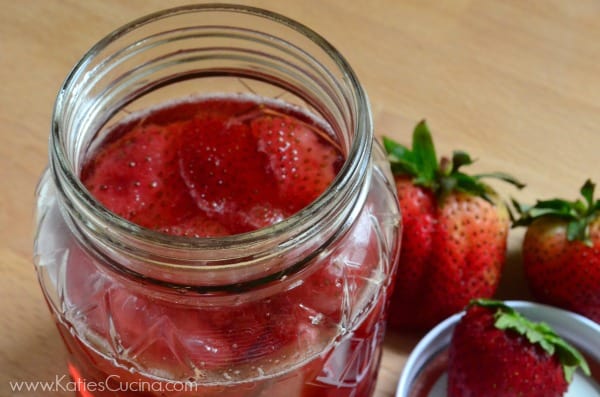 Katie Original Recipe
Ingredients
1 cup White Granulated Sugar
1 cup Water
1 cup Strawberries, Sliced
Directions
In a medium pot, combine sugar, water, and strawberries and bring to a boil. Once the mixture reaches a boil, lower the flame to medium-low. Stir occasionally and let cook for 10 minutes until sugar has dissolved and strawberries are no longer firm. Let the strawberry simple syrup cool to room temperature, then pour into a mason jar. Refrigerate and use up to one week.
https://www.katiescucina.com/strawberry-simple-syrup/
This recipe is brought to you by Katie Jasiewicz of Katies Cucina
Warning
: Use of undefined constant rand - assumed 'rand' (this will throw an Error in a future version of PHP) in
/home/kjasiewicz21/webapps/katiescucina/wp-content/themes/katiescucina/single.php
on line
74
8 Responses to "Strawberry Simple Syrup"
Leave a Comment