Thank you Torani for sponsoring today's recipe. As always, all opinions are our own.#AToraniBrunch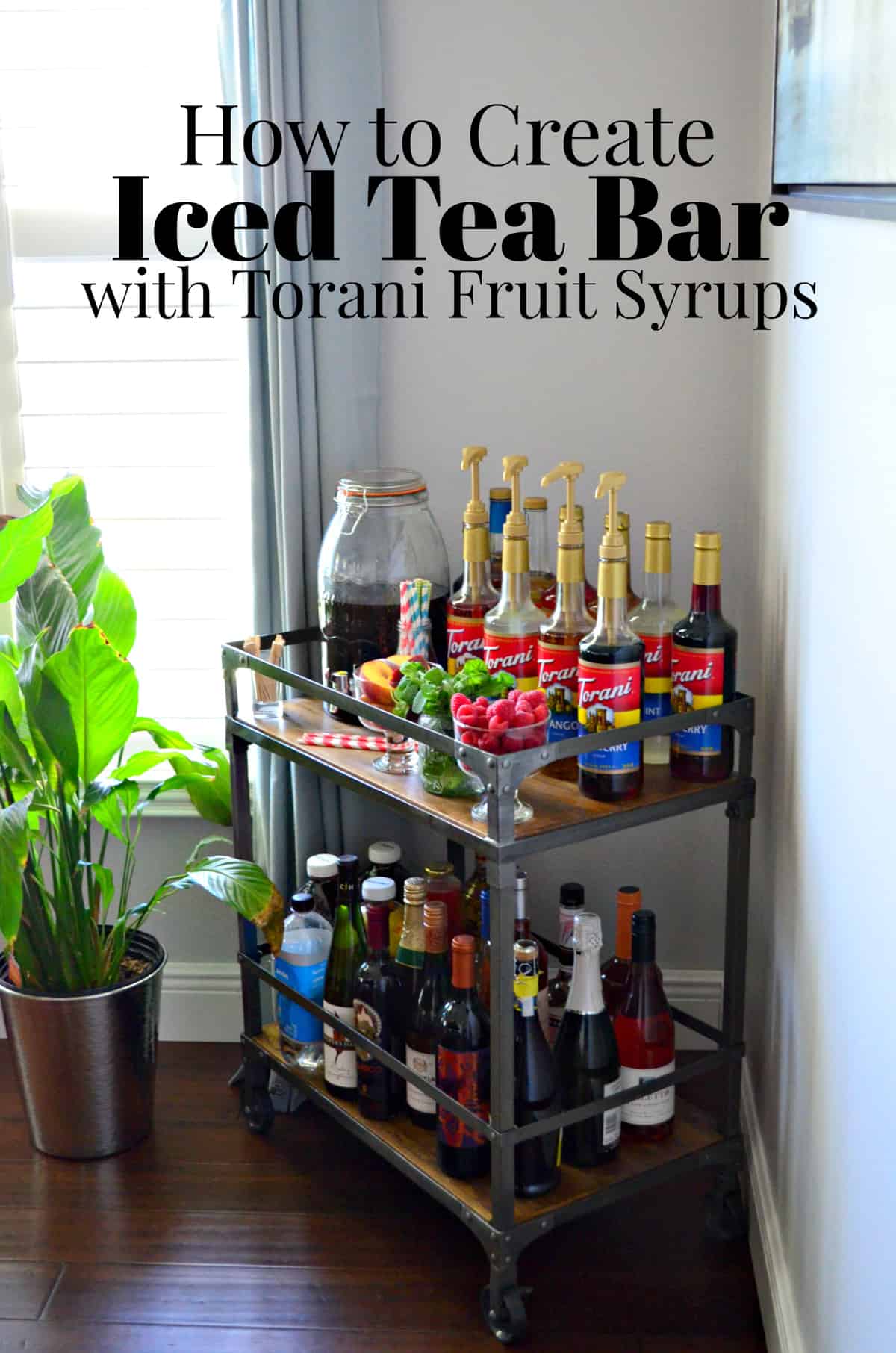 It's brunch season my friends. Weekends full of great food and good friends. There is nothing more that I love to do then entertain for my friends and family. Over the years, I've learned how to simplify brunching and entertaining in general. I also have found that I love to create "bars" whether it's food or drinks. I let my guest get involved in serving themselves what they want. Today, I'm going to share with you a favorite of mine… how to create an Iced Tea Bar! It's so simple and yet rarely do I see anything like this when I go out to other friends house.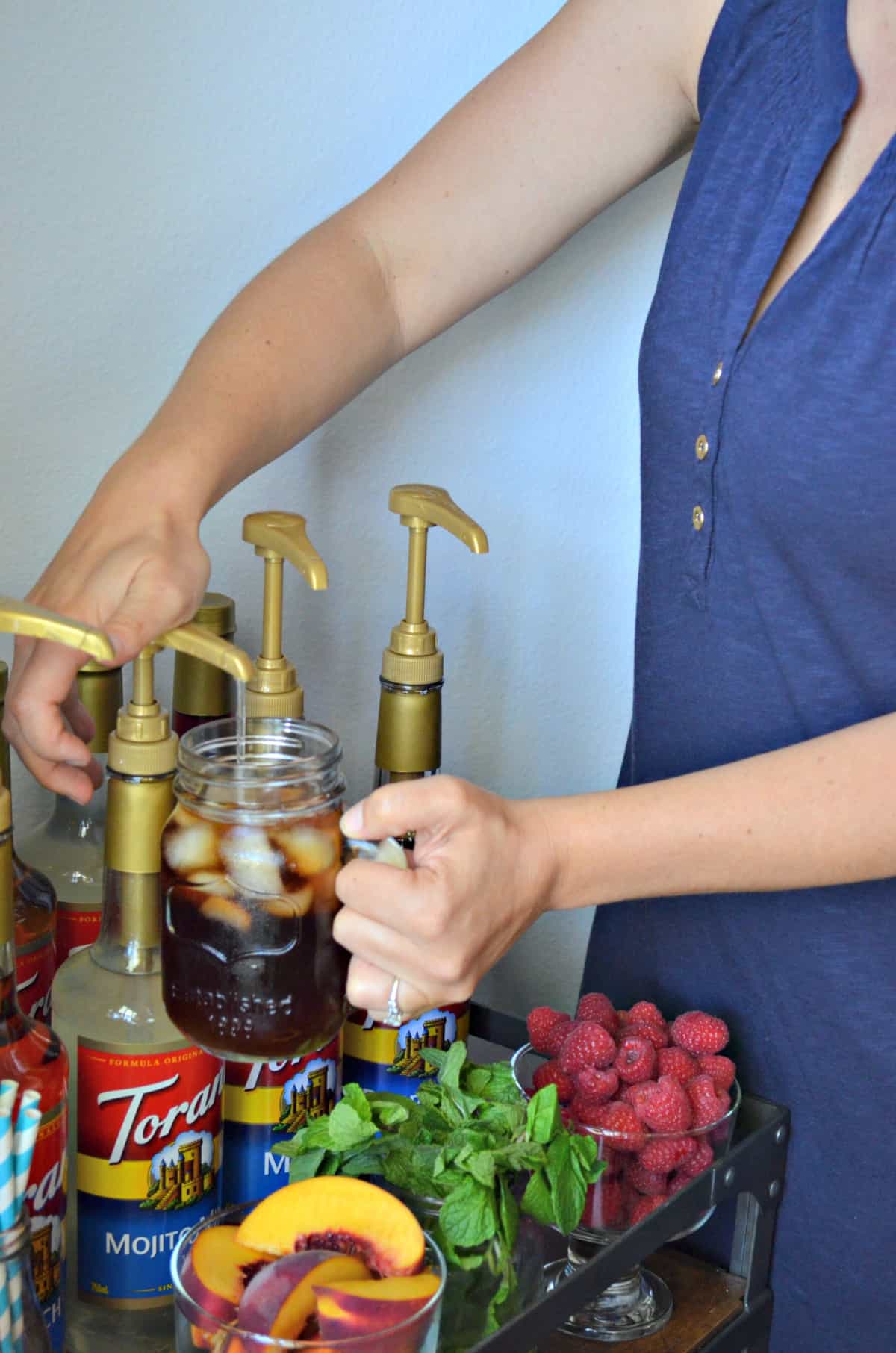 When we had friends over for brunch the other weekend they were shocked when I told them about the wide-variety of Torani syrups. Everyone I have ran into has always associated Torani with authentic coffeehouse flavors not fruity flavors for handcrafted refreshments. I too, am guilty! Up until a few years ago when I saw the fruit flavored syrups in the store. If you head over to Torani.com you'll see they have 52 handcrafted fruity flavors! They contain no high-fructose corn syrup and are always made with pure sugar cane. They also offer sugar-free varieties as well. On top of the delicious Torani Fruit Syrups, I also have a wide variety of paper straws, containers with freshly cut fruits, fresh mint, and toothpicks to pick up all the fruit. Everything is laid out for my guest. Then it's up to them what flavor they want in their tea.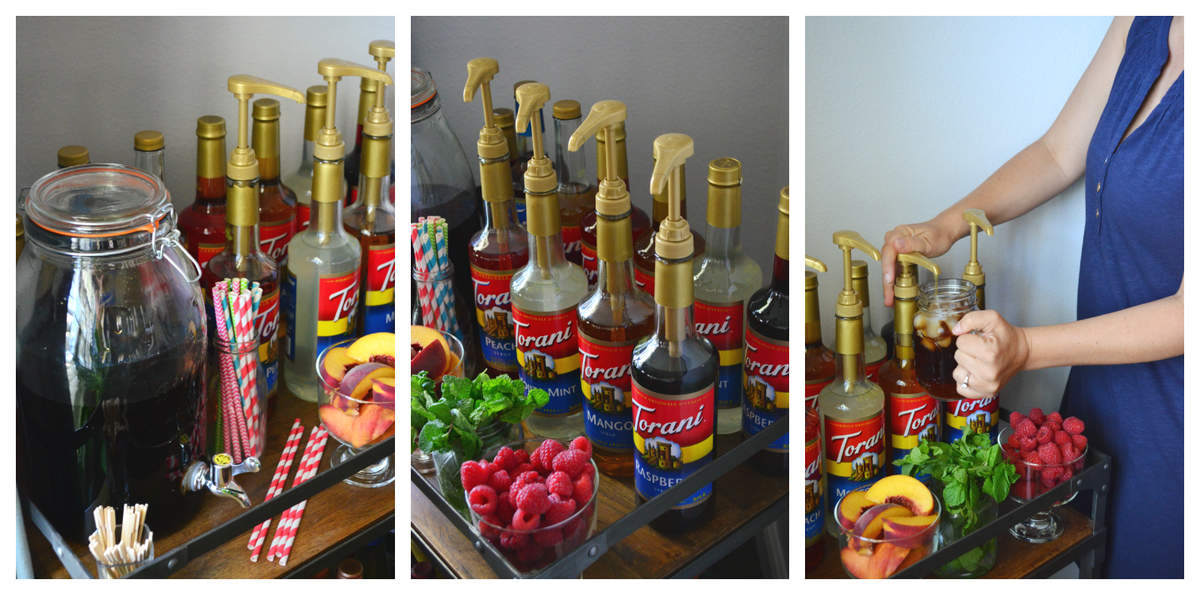 My friends at Torani want everyone to enjoy the iced tea bar plus other delicious flavors. They have created an exclusive opportunity for Katie's Cucina readers. You can enjoy 15% OFF + Free Shipping on orders up to $300. You guy's this is awesome and HUGE since typically Free Shipping is only offered to customers who purchase over $59! You can order the 4 bottles seen in this recipe, get 15% off and enjoy the free shipping. All while not having to leave the comfort of your own home. You better believe I took advantage of this deal and stocked up my bar cart! This offer expires April 30, 2018. You must use Promo Code: Katie15 to get this special offer.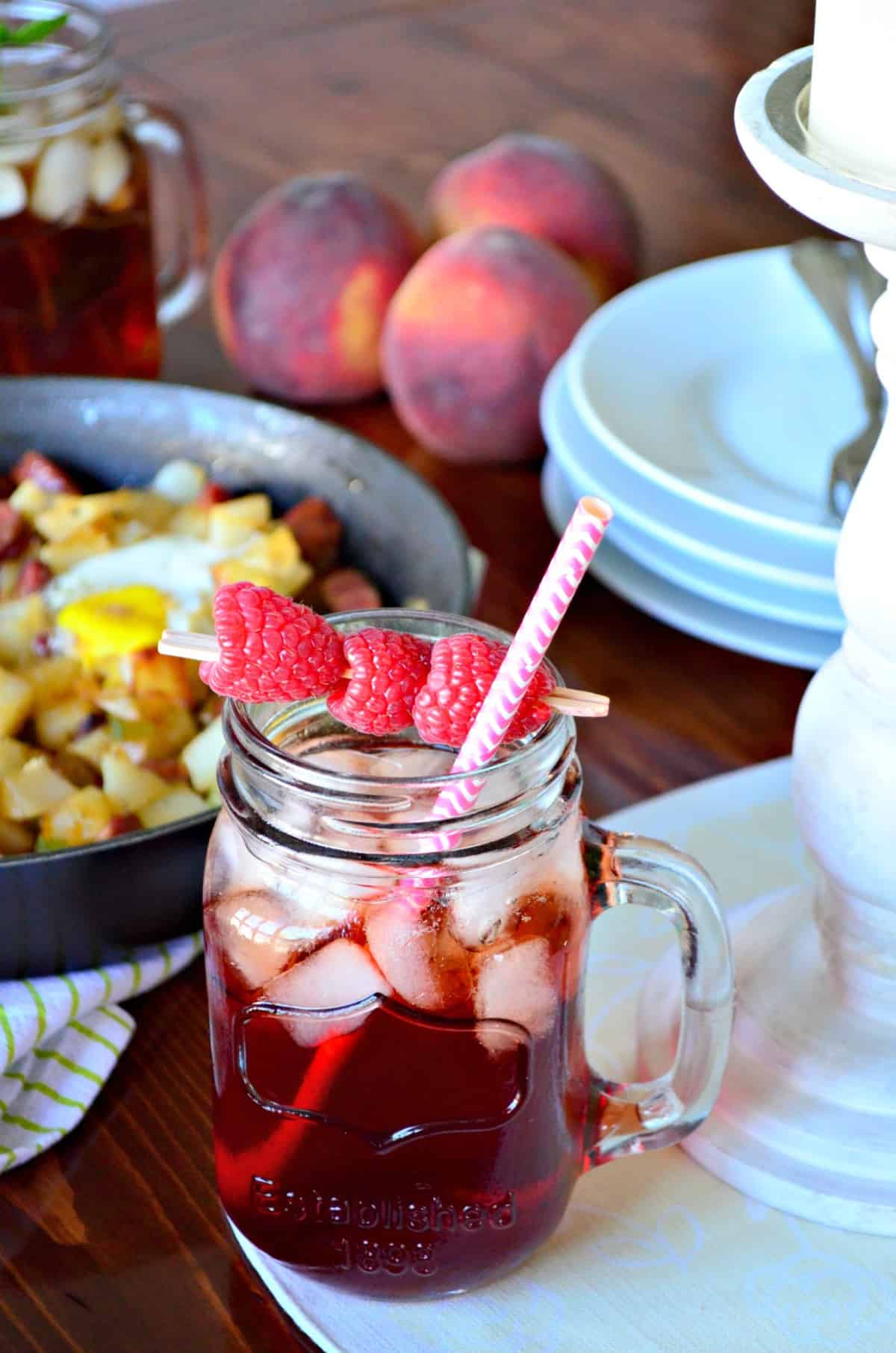 Let's talk about the step-by-step process on how you can achieve the same Iced Tea Bar of your dreams!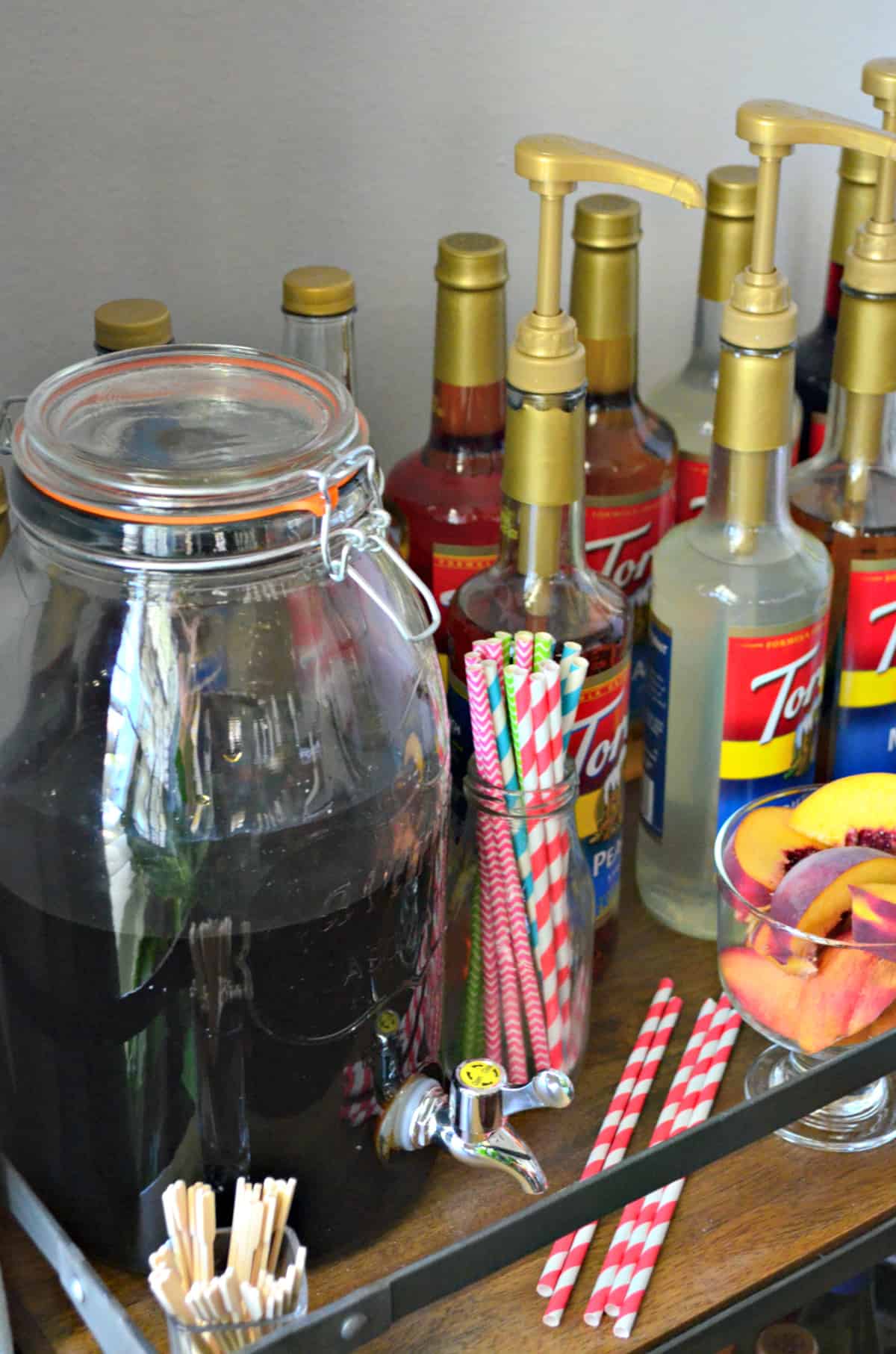 First you'll need to brew at least 3-4 gallons of tea. This is really easy and can be done a day or two in advanced. I brewed 4 gallons in a large pot on my stove (steeped 15 tea bags for 5 minutes). Then I removed the tea bags, let the tea cool and added in about 4 cups of ice. I like to put it in a pour spot glass container; however, a few pitchers works just as well. Don't go out of your way or spend excess money–just use what you have on hand.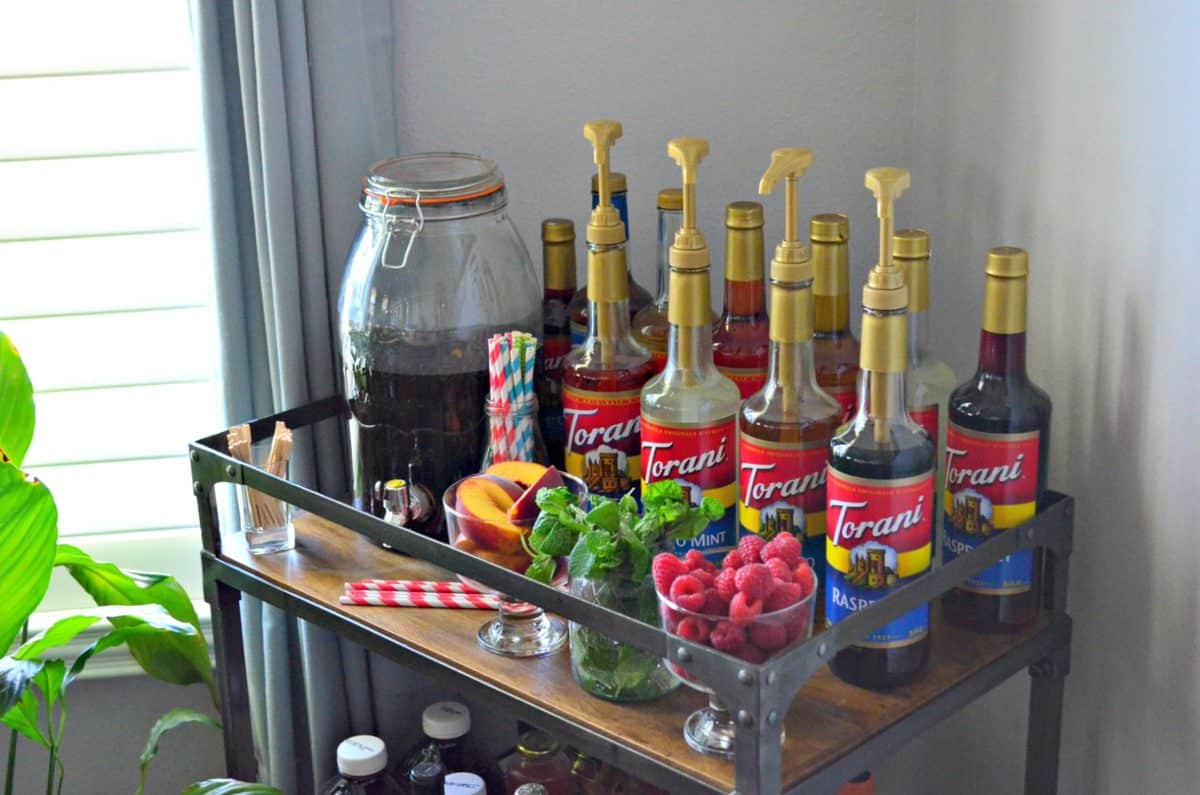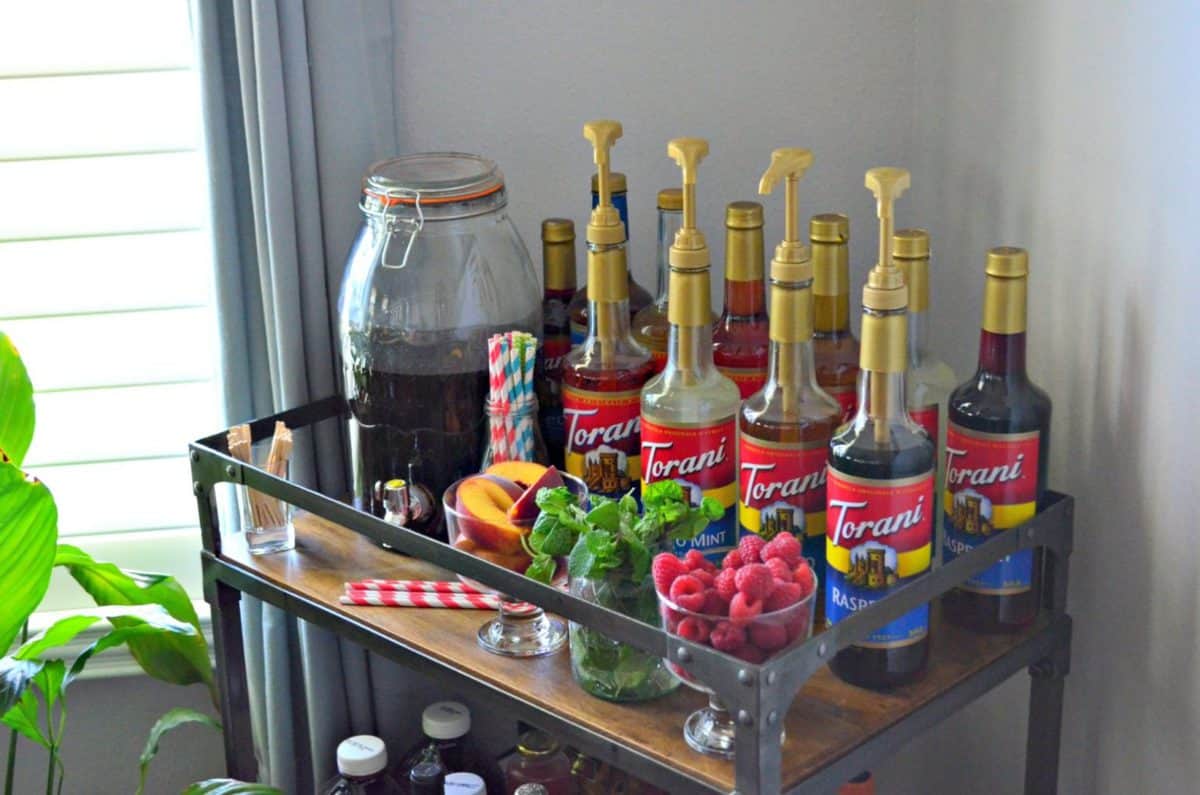 Next up come the delicious Torani flavors. Remember, you want to keep your tea unsweetened since you'll be adding different flavors into your tea that already contain pure cane sugar.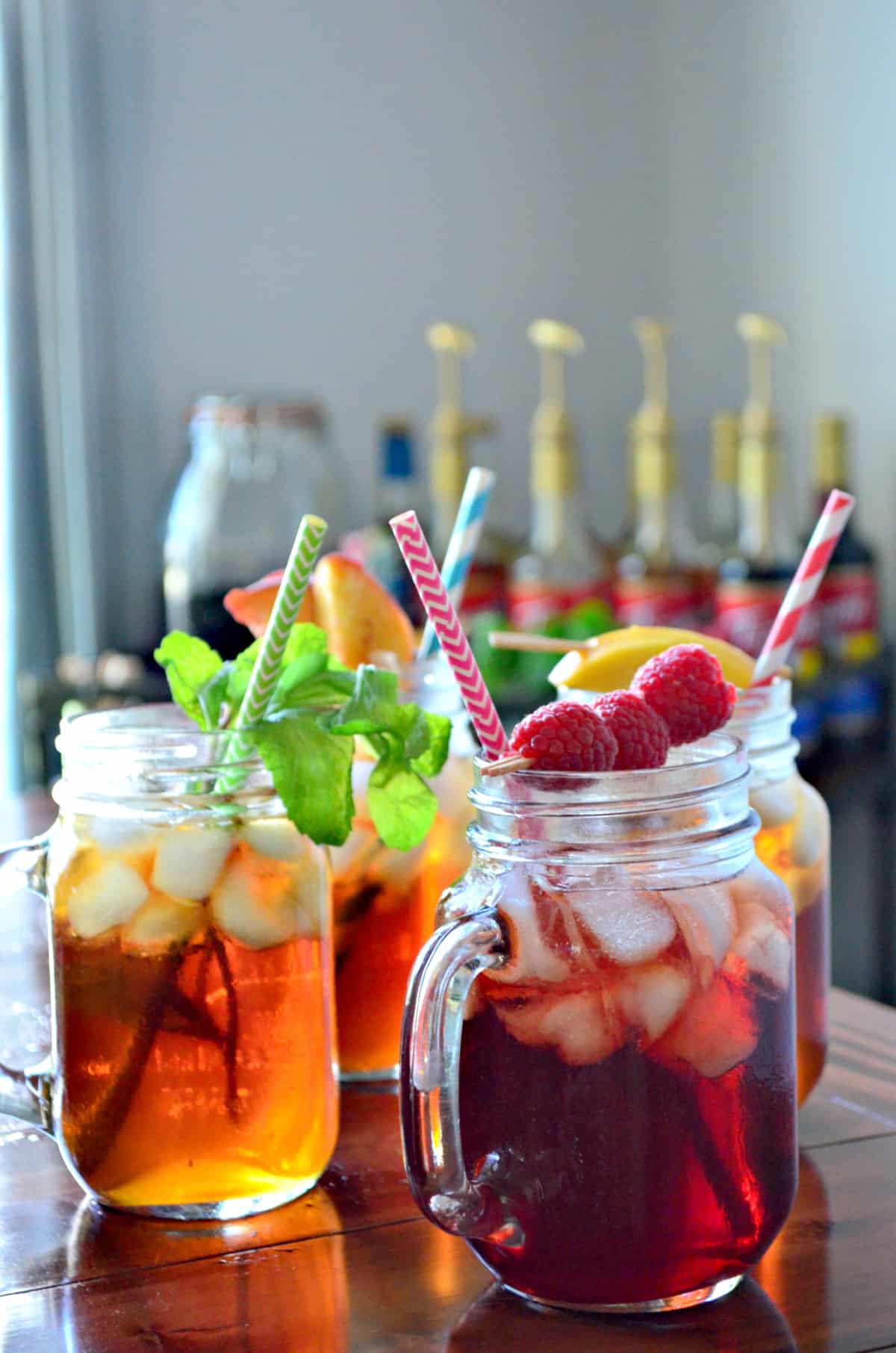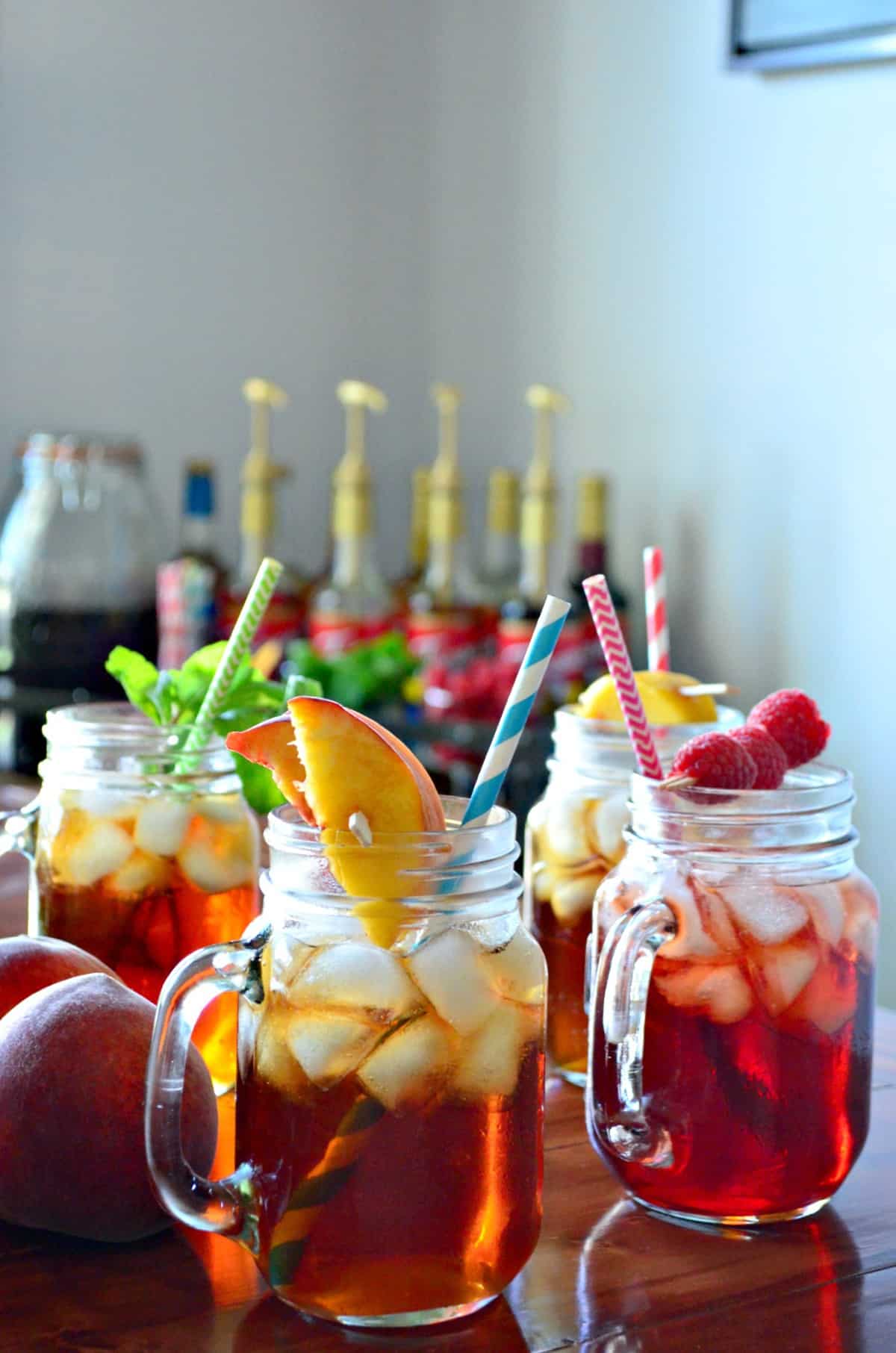 For Raspberry Iced Tea: Pour 8 ounces of tea over ice, add 4 pumps (or 2 tablespoons) Torani Raspberry Syrup plus garnish with fresh raspberries. Intense berries drive the all-natural fresh flavor of this gem. A splash of Raspberry Syrup instantly takes whatever you're making to the next level – and that level is fresh, bright, and inviting. This is my favorite flavored iced tea. My husband likes this one too and only does 3 pumps. Totally up to you on how sweet you want your tea.
For Peach Iced Tea: Pour 8 ounces of tea over ice, add 4 pumps (or 2 tablespoons) Torani Peach Syrup plus garnish with freshly cut peaches. The Peach Syrup has fresh, ripe peach aromatics and a flavor profile that's peachier than before.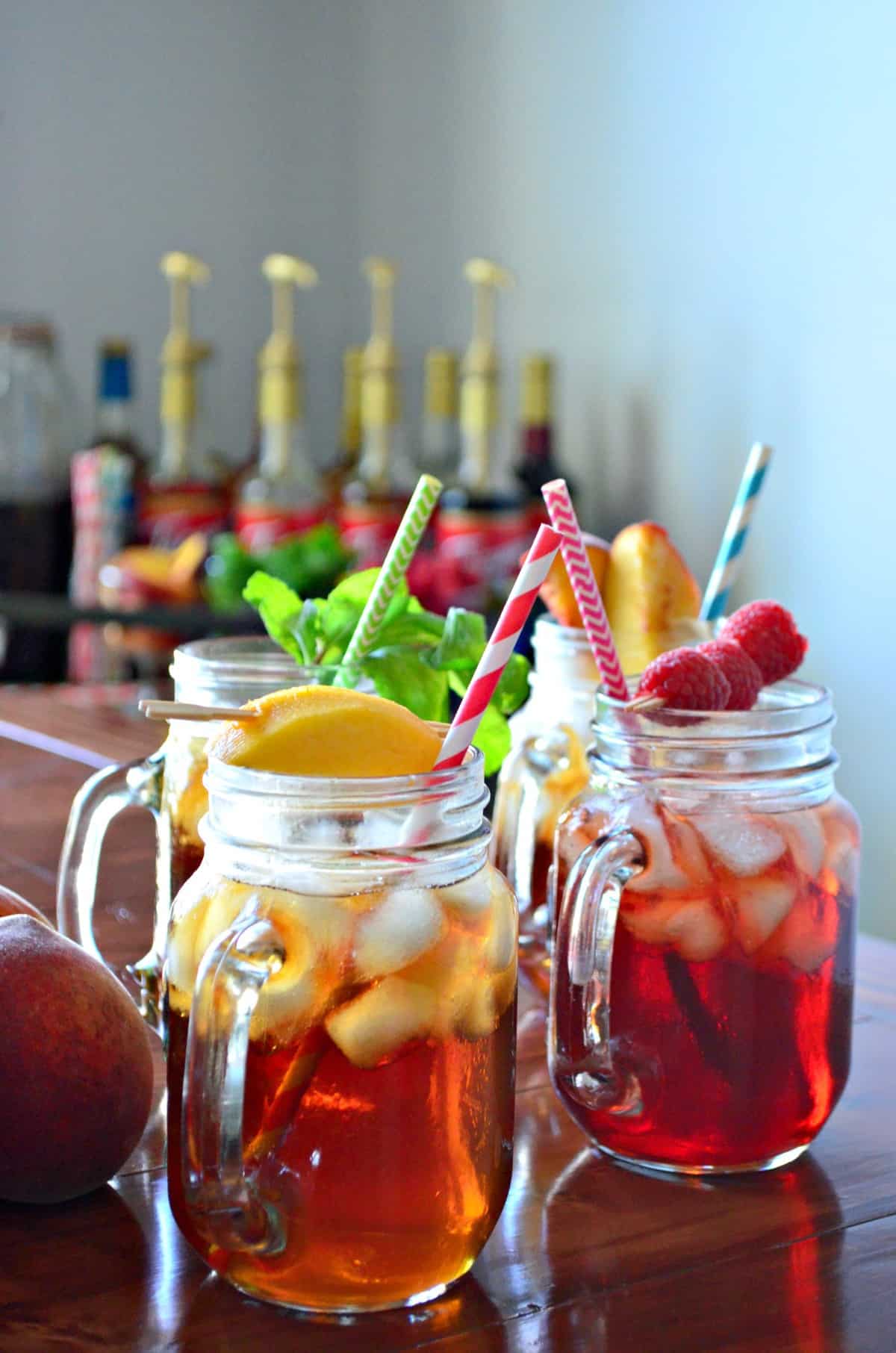 For Mango Iced Tea: Pour 8 ounces of tea over ice, add 4 pumps (2 tablespoons) Torani Mango Syrup plus garnish with fresh mango. The Mango Syrup now has a more enhanced aroma and flavor profile reminiscent of a fresh, ripe and juicy mango.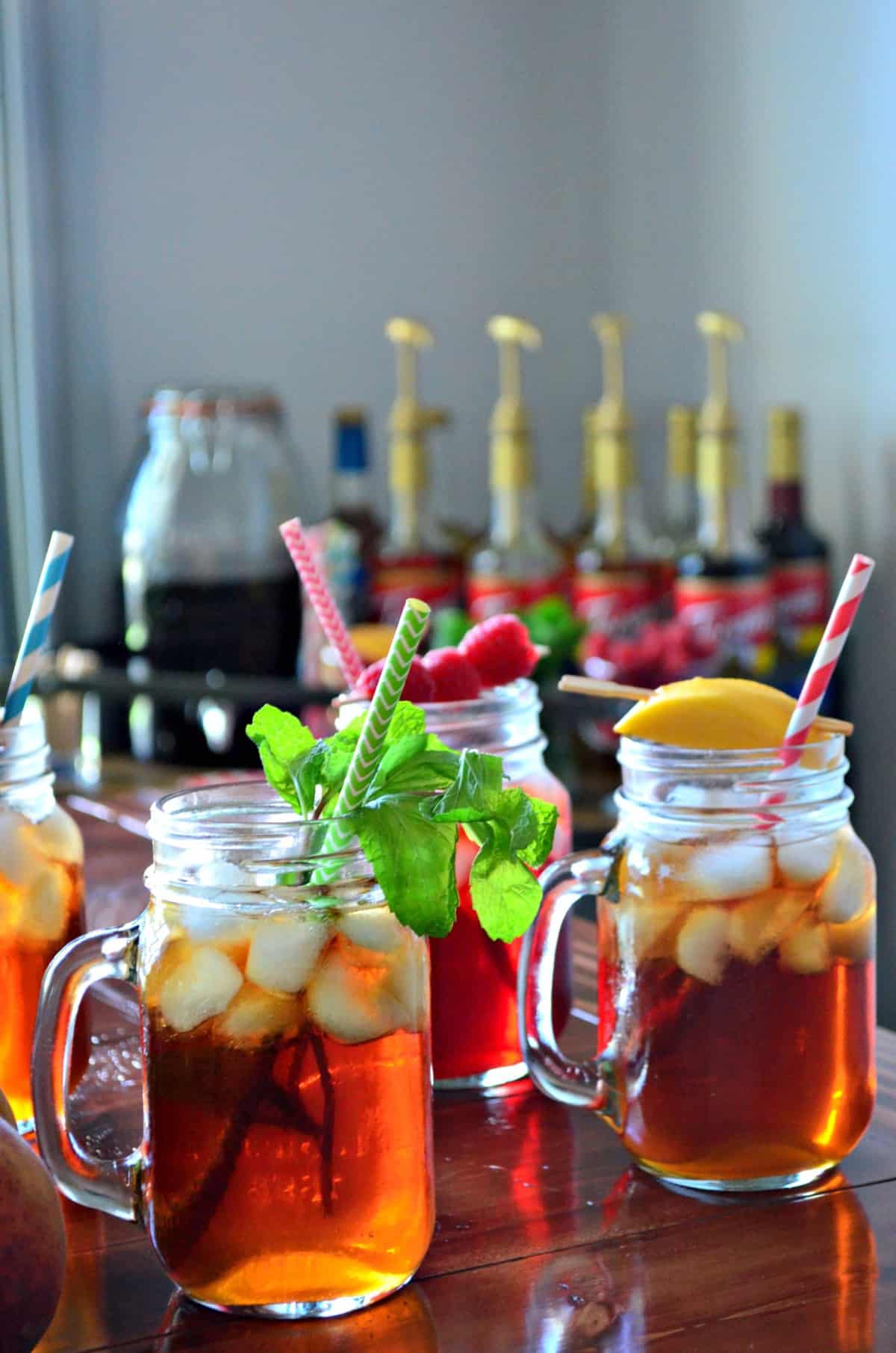 For Mint Iced Tea: Pour 8 ounces of tea over ice, add 4 pumps (or 2 tablespoons) Torani Mojito Mint Syrup plus garnish with fresh mint. The Mojito Mint Syrup will freshen up your day with this lively citrus lime flavor with a hint of garden mint.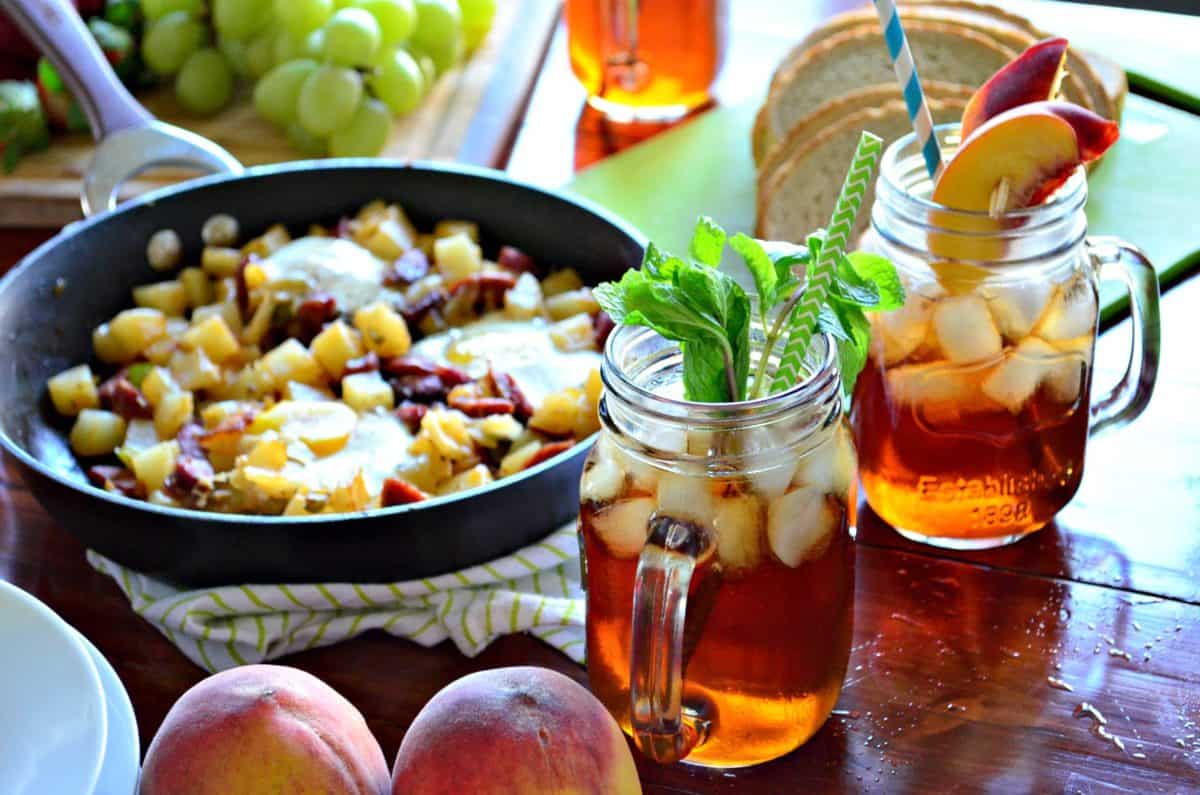 So if your entertaining any time soon. Don't just think about what breakfast foods your going to serve. Think about making an Iced Tea Bar full of Torani Fruit Syrups. This will be a brunch your friends and family will be sure to remember for years to come. Remember use promo code: Katie15 to receive 15% OFF + Free Shipping on orders up to $300. Offer Expires April 30, 2018!