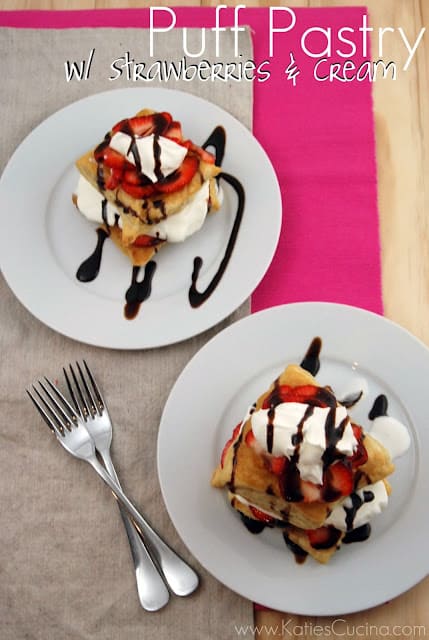 Puff pastry is a decadent treat in our house. I try not to keep it on hand because inevitably its used within days, and then typically, we are on puff pastry overload.  This light and fluffy pastry dough can be used for both savory and sweet meals. I had one sheet of puff pastry left in my freezer and I was craving something sweet. Since strawberries are in season I was craving strawberry shortcake, but instead of shortcakes I figured I could use the decadent puff pastry in its place making it a lighter dessert.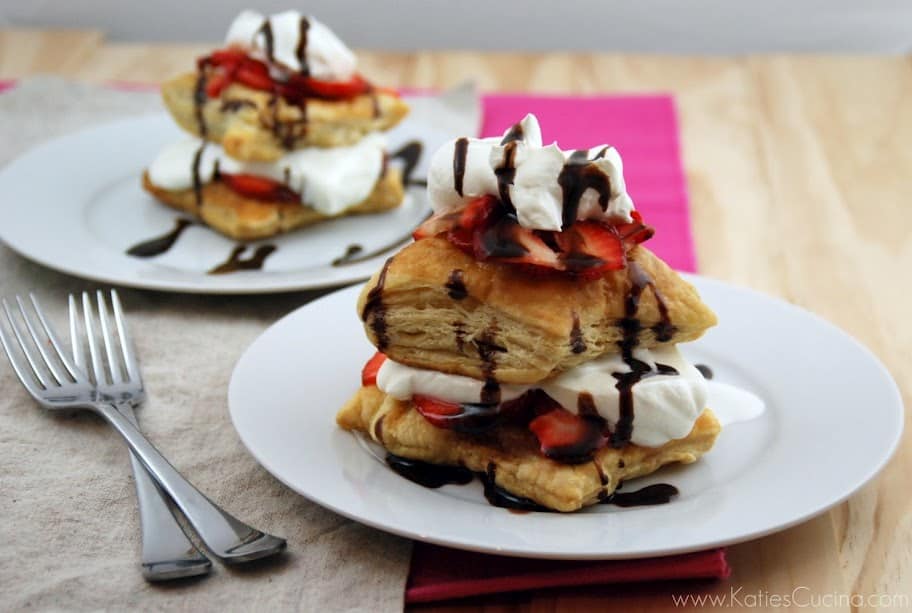 This is a simple dessert that will wow your family or friends and can be put together in less than 25 minutes. I'm all about quick and easy desserts that are packed full of flavor. For some reason in the summer months I always want a lighter dessert. It could be because its like 100+ degrees here in Florida or that most people watch what they consume in the summer months being that its swimsuit season. The drizzle of chocolate sauce gives this dessert an additional layer of sweet goodness–thus making it perfect for the summer!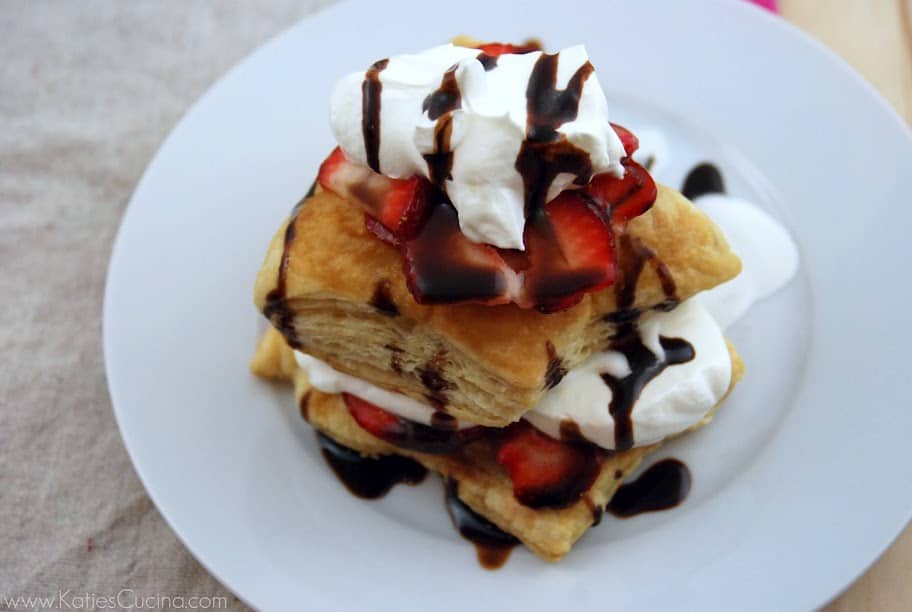 Puff Pastry w/ Strawberries & Cream
Print
Rate
Ingredients
1

sheet of puff pastry

1

tsp

honey

1

tbsp

warm water

1

cup

strawberries

quartered

1

tbsp

white sugar

1

cup

heavy cream

2

tbsp

powdered sugar

1/2

tsp

vanilla

Chocolate sauce for garnish
Instructions
Preheat the oven to 400 degrees.

Roll out the puff pastry and divide in half lengthwise and then in thirds (essentially you should have 6 square pieces of puff pastry). In a small bowl, mix one tablespoon warm water with 1 teaspoon honey. Mix well and brush on to tops of puff pastry. Bake puff pastry for 15 minutes or until golden brown.

While puff pastry is baking, clean and cut strawberries. Place strawberries in a bowl and sprinkle white sugar over top; mix well and let rest to marinate.

Using a KitchenAid stand mixer (or hand mixer or you can really get a work out and do this by hand) place one cup of heavy cream in the mixer and begin slowly mixing for 1 minute. It should begin to thicken. Add powder sugar and vanilla and let them incorporate then put the mixer up to high speed and let the cream thicken to a thick homemade whipped cream. This should take 1-2 minutes.

Pull the puff pastry squares out of the oven, and place one on a plate. Place a dollop of cream on top of the puff pastry along with a spoonful of strawberries. Top with another square of puff pastry, a spoonful of strawberries and another dollop of cream. Garnish with chocolate sauce, serve, and enjoy!