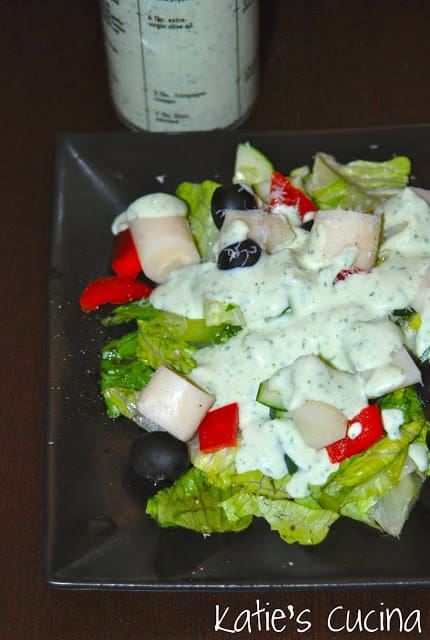 This was my first attempt at making my own ranch dressing, buttermilk ranch dressing to be precise. I was pleasantly surprised at how delicious it turned out! I did not follow just one recipe–I read multiple recipes and then created my own from there, adding in tons of fresh herbs from my garden! I knew I wanted to make a low-fat dressing that was not just all mayonnaise! I read
Simply Recipes
,
Farm Girl Fare
,
Chef Mommy
, and
Bethenny Frankel
's recipes. Because I added quite a bit of herbs to my dressing it had an earthly taste and had a hint of green to the dressing. I really enjoyed the dressing, and at first my husband asked if I put grass in our dressing since it was very "herby", but I reassured him it was the herbs. By the end of the salad he was asking for more! I kept this refrigerated for up to 5 days after making it. *Note, this picture was taken prior to my food photography & styling class.
1 small handful each fresh parsley, dill, and chives
1 tablespoon each olive oil, and lemon juice
1 teaspoon each garlic and onion powder
½ teaspoon each salt and black pepper
1. In a food processor add greek yogurt, mayonnaise, sour cream, fresh parsley, dill, and chives. Puree for 15 seconds. Then add garlic and onion powder, salt and pepper, buttermilk. Puree for another 10-15 seconds. Lastly add half the buttermilk, puree, then add the rest of the buttermilk. Taste your dressing and if needed add more salt and pepper to taste.
2. Chill the dressing for a minimum of 30 minutes prior to serving. After serving store dressing in a tightly sealed container in the refrigerator for up to 5 days.