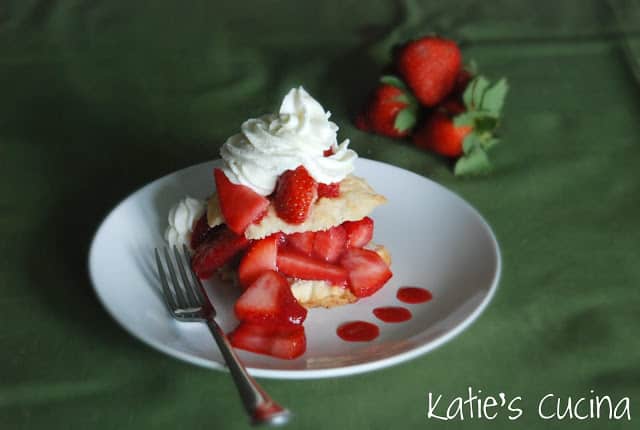 Growing up I remember eating strawberry shortcakes in the summer time, but never were they homemade. They were the spongey store-bought wanna-be cake with the tub of strawberry jelly and a few fresh strawberries cut up and mixed in the jelly. When Houghton Mifflin Harcourt asked me to be a guest blogger and blog about some of the recipes in Beat This! Cookbook I couldn't resist. The first recipe that I tagged was Strawberry Shortcake. I had yet to make my own from scratch and was intrigued as to how it's really made. The home-made way. This strawberry shortcake was out of this world delicious, and actually pretty easy to make!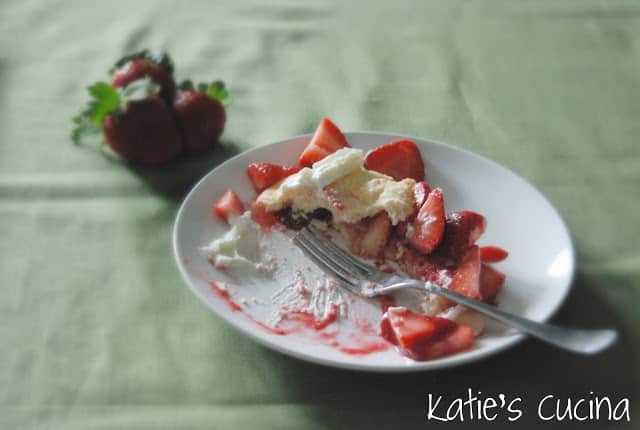 I made it after work one day, and the intent was it to be dessert for after dinner; however, after photographing the dish I decided to give it a try. Make sure it was ok for my husband and others to eat! I sat at the dinning room table shoveling forkfuls of strawberry goodness into my mouth. At one point I looked up and saw my husband who was mowing the lawn starring at me through the sliding glass door–in disappointment to say the least. I couldn't resist the strawberry shortcake and needless to say the Beat This! cookbook. It is full of amazing recipes, whether it's for every day cooking or special occasions this cookbook has it all!
Source: Beat This! Cookbook
Prep: 15 minutes
Cook: 20 minutes
Serves: 8
Ingredients for Berries:
1 10-oz bag sweetened frozen raspberries, thawed
1 quart strawberries, hulled and sliced in half (save 8 good-looking berries to use whole as garnish)
Ingredients for Shortcake Biscuits:
2 cups cake flour
1/4 cup sugar
4 tsp baking powder
1/2 tsp salt
1/2 tsp cream of tartar
1 stick unsalted butter, chilled and cut into 8 slices
1/2 tsp vanilla extract
1/2 cup milk plus 1/2 cup heavy cream, combined in the same measuring cup
Ingredients for Topping:
1-1/2 cups heavy cream
1/4 cup sugar
1 tsp vanilla extract
2 tbsp unsalted butter
Directions:
1. Force the raspberries through a fine sieve into a bowl to remove their seeds. Whisk the puree and juice to blend them, and then pour them over the strawberries. Chill the berries for 2 hours, stirring once or twice. *I placed mine into a food processor, pureed, then strained through a fine sieve.
2. Preheat the oven to 400 degrees, with a rack in the middle. Lightly butter a 9×13 baking pan.
3. In a food processor, blend the cake flour, sugar, baking powder, salt and cream of tartar. (Put your hand over the pouring tube to keep flour from floating into the air.) Add the butter and pulse the processor on and off until the mixture resembles fine bread crumbs.
4. Transfer the flour mixture to a bowl and stir in the vanilla and enough of the milk-cream mixture to produce a soft dough. Turn the dough out onto a floured surface and knead it gently for a few seconds.
5. Roll the dough out 3/4 inch thick. Cut out 8 shortcake-size rounds. You should use all the dough. Place the shortcakes on the prepared baking pan with their sides slightly touching. The author notes: "They don't fill the whole pan, so I always make a fake pan side of aluminum foil to put against the "open edge" of the biscuits." Bake the shortcakes for 20 minutes, or until lightly browned.
6. While they'r baking, whip the heavy cream until it begins to hold its shape; add the sugar and vanilla and continue to beat until the cream forms soft peaks. Cover the bowl and stick it in the fridge.
7. When the shortcakes are done, let them cool for a couple of minutes before removing them from the baking pan. While they stand, melt the 2 tablespoons butter. Slice the shortcakes in half and lightly brush their interiors with melted butter. Place the bottom of each shortcake on a dessert plate. Divide half the berries among the plates, top with the top half of each shortcake, top that with more berries, and finally pile on the whipped cream. If desired, set a whole berry on top of each whipped cream mountain. Serve immediately to 8 people who are so happy not to be eating marshmallow cream.