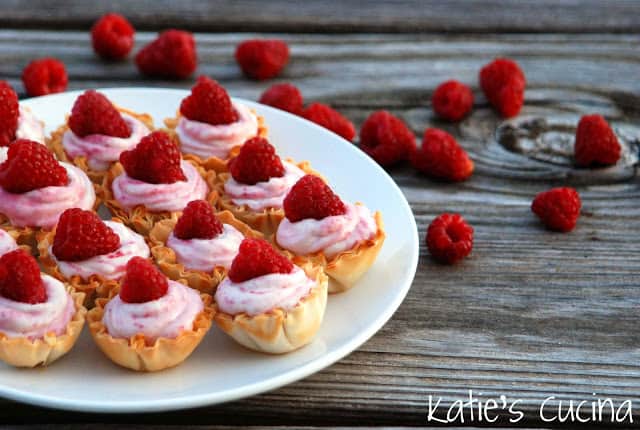 The day of my Tapeña® Wine and Tapas House Party™ I still hadn't decided on a dessert to serve. I had racked my brain for weeks and the day had finally arrived. I started looking through my pantry, refrigerator, and freezer and that's when I saw the mini fillo cups sitting in my freezer! I ran to the computer to search for a recipe. At first, I thought I might make some sort of cream filling with fruit on top all packed into a mini fillo cup, and that's when I stumbled across this white chocolate mousse recipe! I had never made mousse before and it didn't entail too much work on my behalf.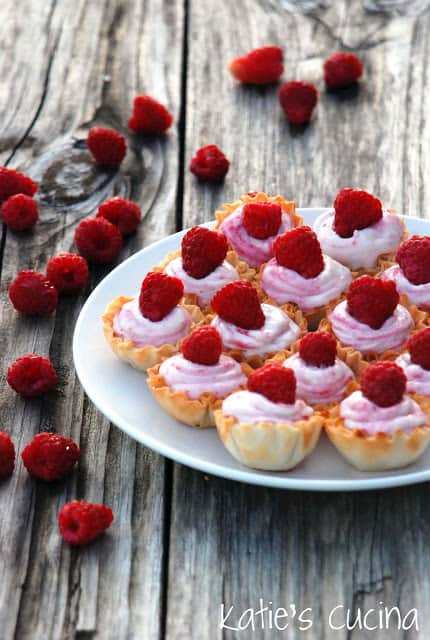 Until, the day I made the white chocolate mousse I had never carried unflavored gelatin in my pantry. I went to the store to buy unflavored gelatin and raspberries, and I went back to the house to start this decadent little dessert! That evening, everyone, loved not only how they looked, but how tasty these little fillo cups were. Julius and I took some photo's of this dessert; however, I was not content with the original picture (see original Tapeña® Wine and Tapas House Party™ post). The photos did not do this dessert justice. The following day, I went back to the store, bought the remaining ingredients that I would need, remade the dessert, and began photographing. By far, I feel that this is my best food photographs to date! The photo looks good enough to eat, and that's how I know I've done my job as a food photographer! I am happy to announce that in the coming month's you will start to see a HUGE difference in my food photos! This my friends, is the first of many great photographs!
Adapted from: Athens Foods
Ingredients
1

tbsp

cold water

½

tsp

unflavored gelatin

½

cup

heavy whipping cream

3

oz.

white chocolate

¼

cup

pureed raspberries

15

Mini Fillo shells

1 box

¼

cup

halved raspberries

for garnish
Instructions
In a small pan, combine water and gelatin. Let the gelatin stand for 1 minute to soften.

Add 2 tablespoons of heavy cream. Stir over low heat until gelatin dissolves. Add white chocolate. Stir until melted. Chill until cool, but not set, about 10 minutes.

In a small chilled bowl, whip remaining heavy cream to full volume. Fold whipped cream into cooled chocolate. Drizzel pureed raspberries onto cooled chocolate. Using a toothpick run it through the white chocolate to create raspberry swirls. Chill for 1 hour.

Place the chilled mousse into a baggie, carefully cut a small tip off the baggie and pipe 2 teaspoons of filling into each Fillo Shell. Garnish with raspberry. Serve immediately.