Break out the cast iron skillet and make this seasonal Dairy-Free Skillet Cherry Crisp for dessert tonight!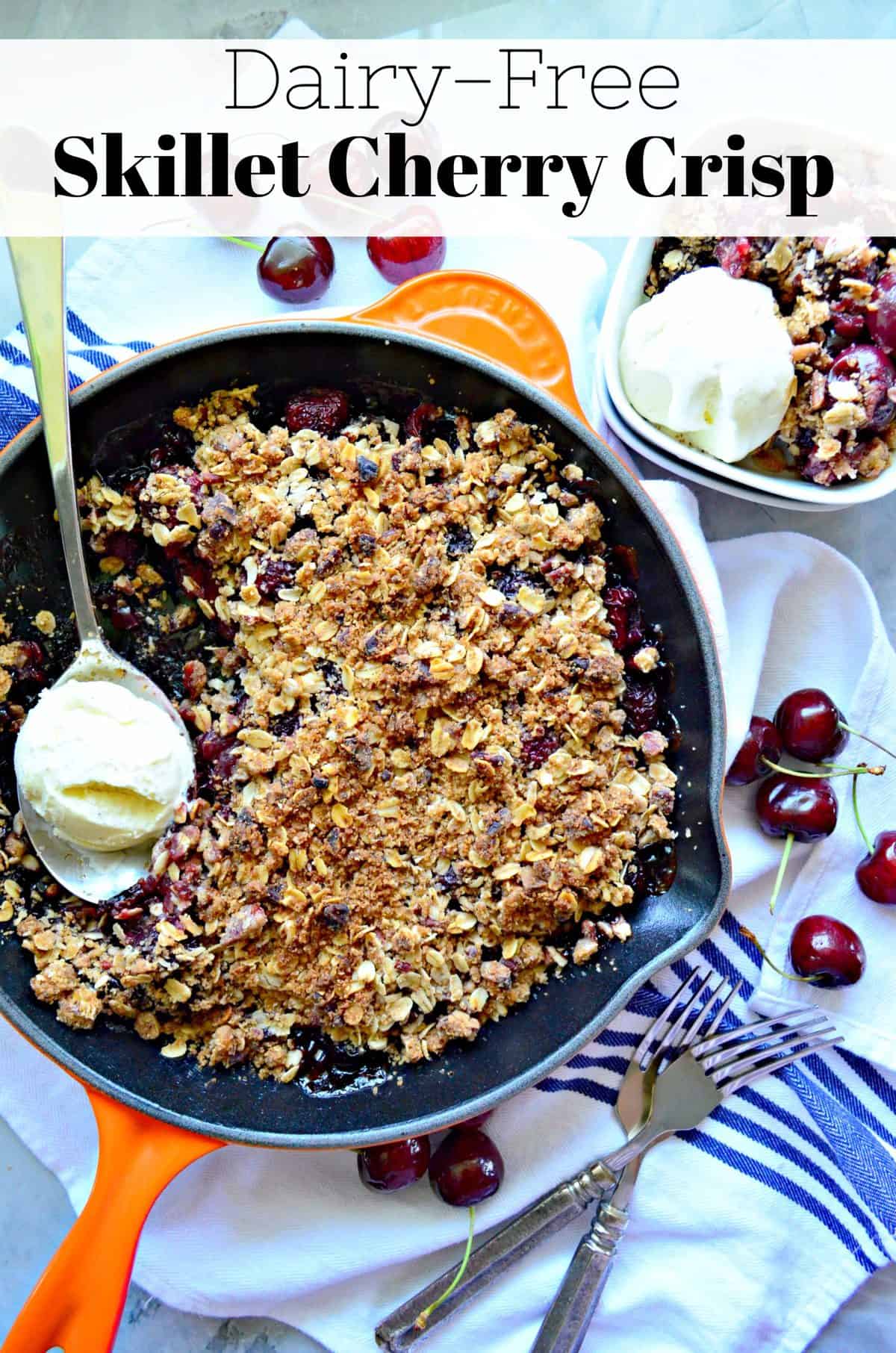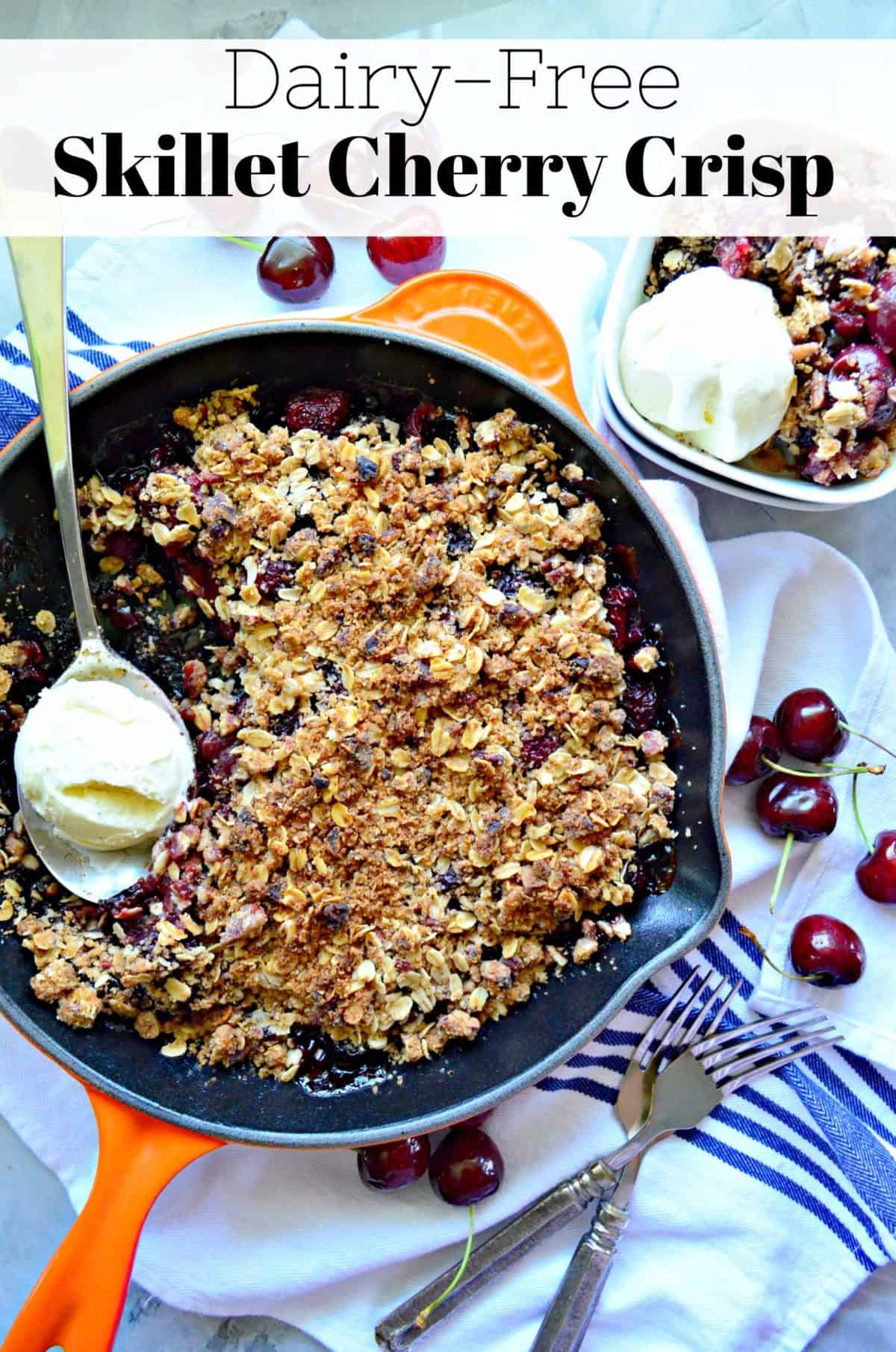 I hope everyone had a restful Labor Day weekend for those who reside in the United States. Our weekend was full of pool and beach time with family and friends and lots of yummy food. We are nearing the end of cherry season and what better way to celebrate and enjoy the fruit of the season then to make a dairy free skillet cherry crisp! All you'll need is a large cast iron skillet and a bowl to mix. I always make at least one cherry cobbler or crisp each season (as well as peach cobbler), and realized last month that I had yet to make one. I had family coming over for an impromptu dinner and I had a bag of fresh cherries sitting in the refrigerator crisper. I typically like to serve dessert when I entertain (just about anyone), so I knew that a cherry crisp was perfect for my entertaining needs. I was able to whip it up as my parents and brother arrived and placed it in the oven as we sat down to eat dinner. As we finished dinner, I pulled the skillet cherry crisp out of the oven and placed it on the table for all to admire.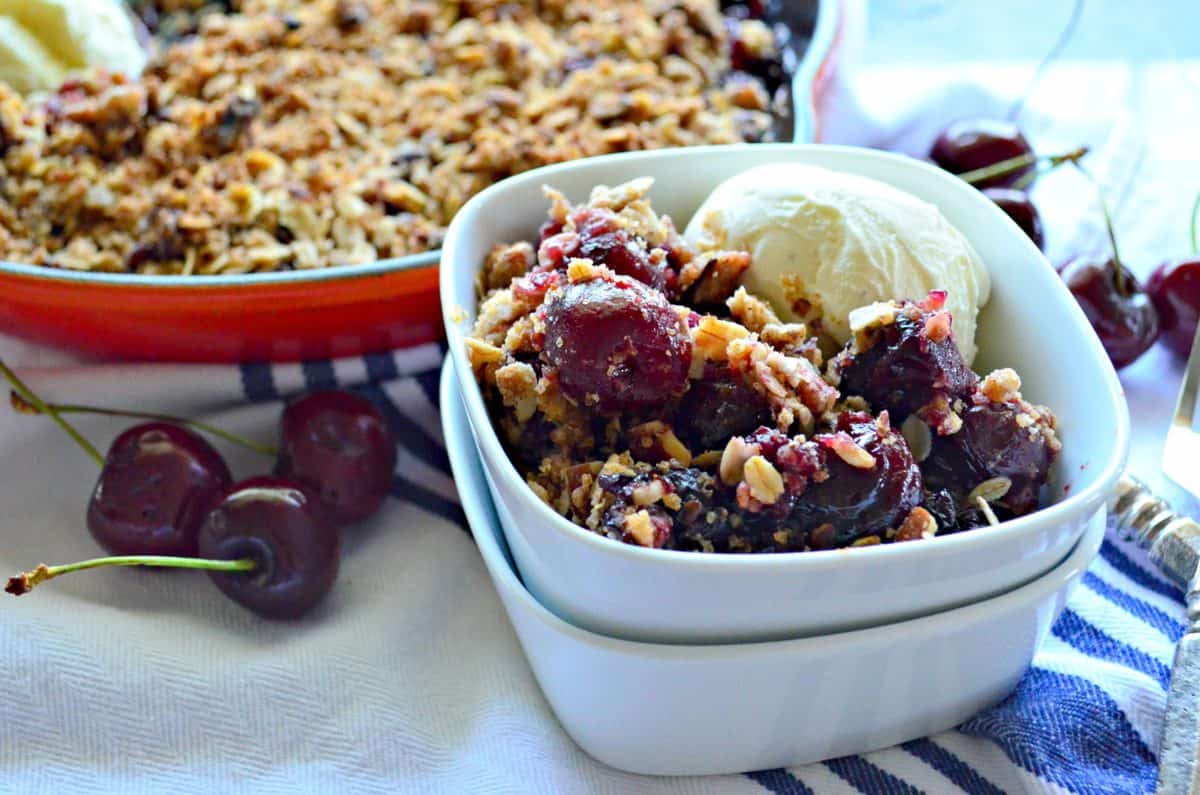 The first thing that might come to mind is how the heck am I going to remove all the cherry pits? Doesn't that take a long time? Nope! I love to use the OXO Cherry Pitter–it makes removing the cherry pits so much easier and much more efficient. I have a small bowl where I shoot the pits into and then I place the pitted cherries in the large mixing bowl. *You can do this step up to a day in advance prior to making your crisp. Once they are all pitted; I add the sugar, cornstarch and almond extract. Then I give it a nice mix to make sure it's all incorporated. I tend to like to use a little less sugar in a cherry crisp because my family enjoys the tartness of cherries. But if you like it sweet then you can place more sugar with the cherries.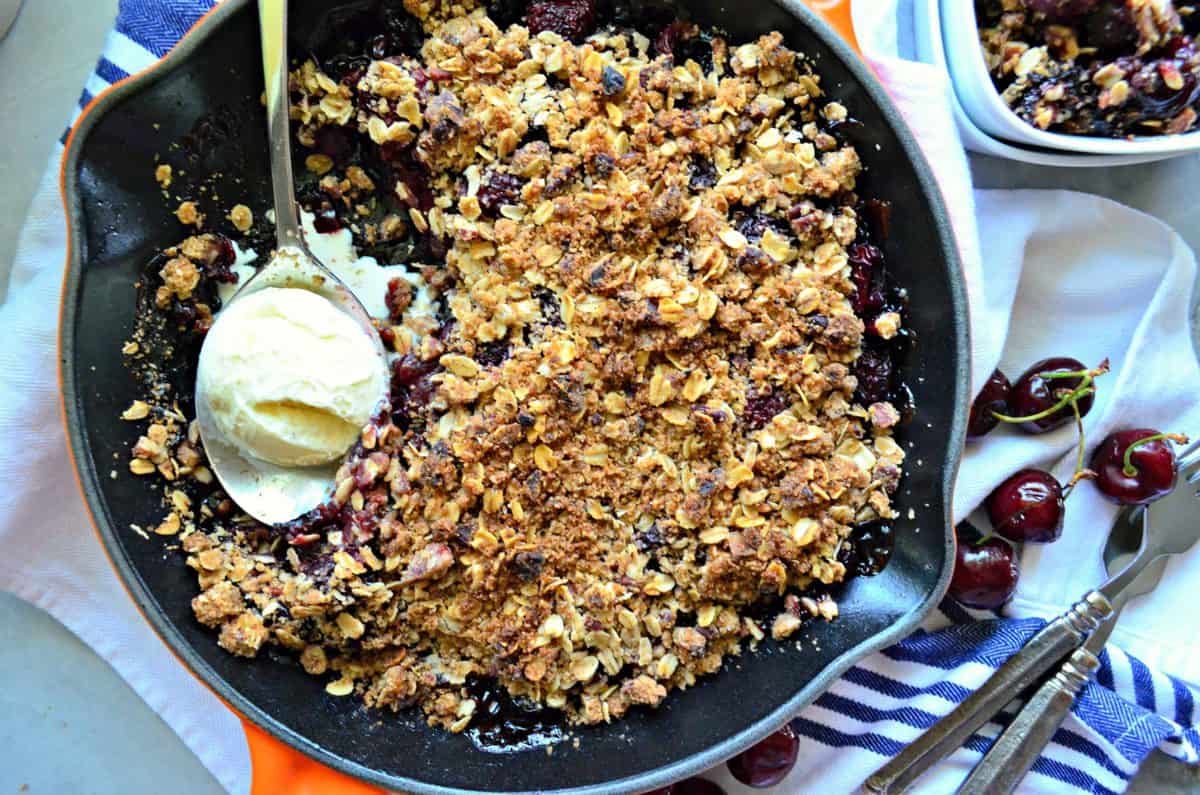 After the cherry filling is mixed together I place it in a cast iron skillet. I don't worry about heating up the skillet prior to placing the cherries in but you can if you'd like! Once the cherries are in the skillet then it's time to top with that delicious dairy-free crisp topping. Sprinkle the oats on as evenly as possible and try to cover all the cherries. Pro Tip: place the skillet on top of a baking sheet. I do this in case any of the cherry crisp was to bubble over. I hate cleaning my oven and would much rather clean a baking sheet instead. You can also wait to place the crisp in the oven until your guest arrive. I've prepared this crisp up to an hour before guest arrived and then placed in the oven.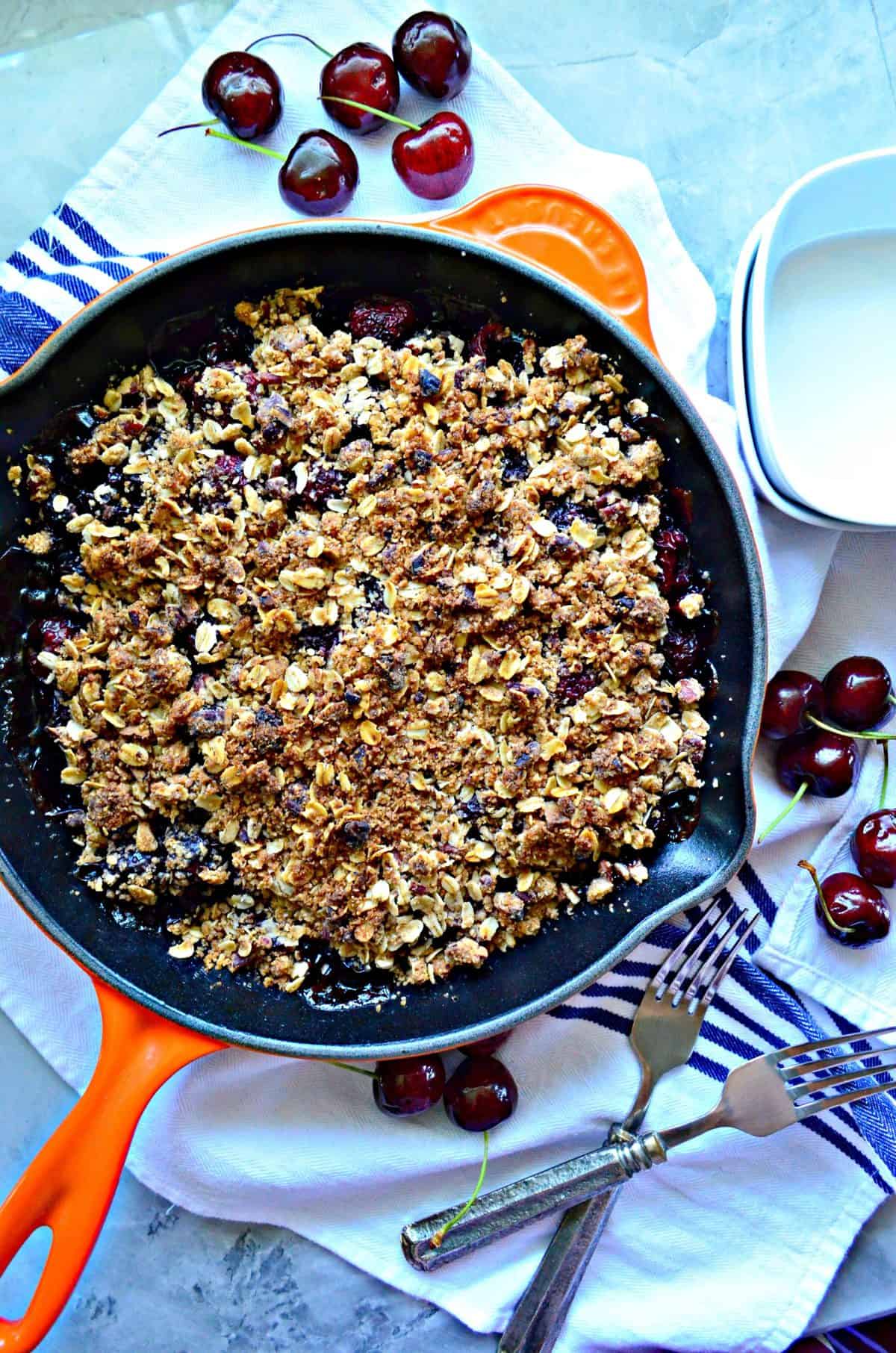 Once the crisp is golden brown, remove it from the oven. I like to serve it immediately or you can let it rest and get up to room temperature. I served this cherry crisp with some dairy free whipped cream and ice cream for those who have a dairy allergy and for those who do not they enjoyed it with a scoop of vanilla bean ice cream. You'll wow your guest with this quick cooking cherry crisp and be happy that you tackled it prior to them arriving.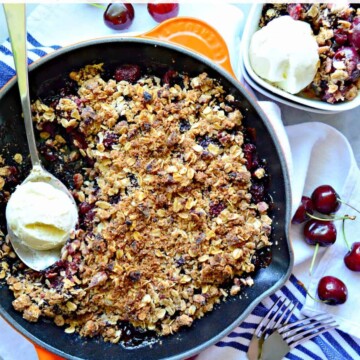 Ingredients
Crisp Topping:
½

cup

white flour

½

cup

old fashioned oats

⅓

cup

brown sugar lightly packed

1

tablespoon

Barleans Forti-Flax

¼

teaspoon

salt

½

teaspoon

ground cinnamon

¼

cup

finely chopped pecans

¼

cup

butter flavored coconut oil

melted
Cherry Filling:
4

cups

fresh cherries

pitted

3

tablespoons

white granulated sugar

2

tablespoon

cornstarch

½

teaspoon

almond extract
Instructions
Preheat the oven to 400 degrees Fahrenheit.

For the crisp topping combine the white flour, old fashioned oats, brown sugar, Forti-Flax, salt, ground cinnamon, and pecans in a stand mixer with a flat paddle. Mix on low then carefully pour in the coconut oil. Mix until coarse pieces form. Set to the side.

Next, rinse and *pit your cherries. Place the pitted cherries in a large mixing bowl. Add ¼ cup white sugar, 2 tablespoons cornstarch, and 1 teaspoon almond extract to the cherries. Mix well until every cherry is coated with the cornstarch/sugar/almond extract mixture.

Spray a large cast iron skillet with coconut oil spray. Pour in the cherry mixture and then top with the oat mixture. Bake at 400 degrees for 45 minutes or until the crisp topping is golden brown.

Serve the skillet cherry crisps warm or at room temperature, and top with dairy free ice cream.
Notes
You can pit the cherries up to a day in advance prior to making your crisp. Once they are all pitted; I add the sugar, cornstarch and almond extract. Then I give it a nice mix to make sure it's all incorporated.
Place the skillet on a baking sheet to catch any spillover.
I like to set this in the oven as we sit down to dinner – then it's hot and ready for dessert time!
Nutrition
Calories:
321
kcal
|
Carbohydrates:
49
g
|
Protein:
4
g
|
Fat:
14
g
|
Saturated Fat:
8
g
|
Sodium:
102
mg
|
Potassium:
288
mg
|
Fiber:
4
g
|
Sugar:
30
g
|
Vitamin A:
59
IU
|
Vitamin C:
6
mg
|
Calcium:
33
mg
|
Iron:
1
mg