Creamy Buffalo Chicken Pasta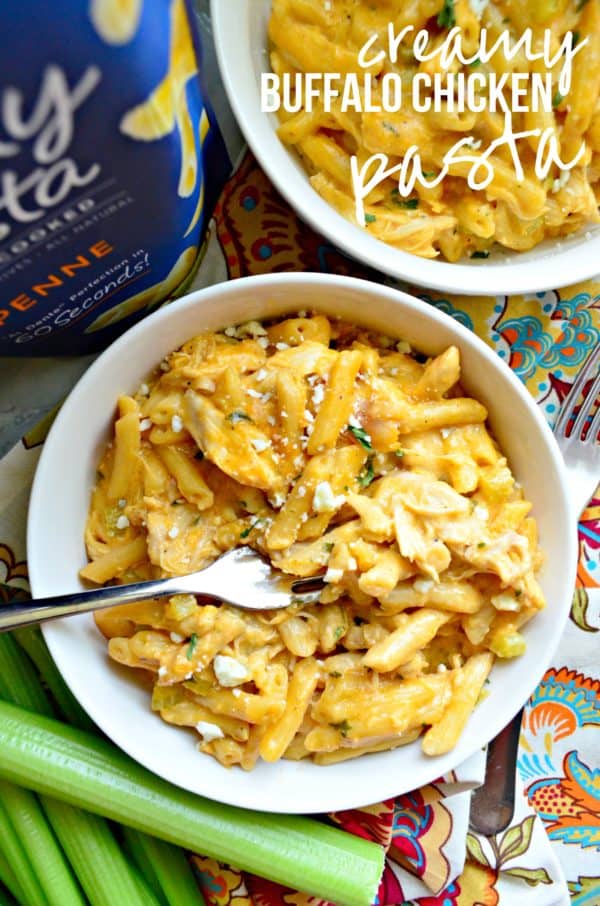 You guys, I'm so excited to share with you that we have a new quick cooking pasta in town. Barilla Ready Pasta, offers al dente pasta ready in just 60 seconds time. There's no need for boiling water or draining; all that is needed is a microwave. Or you can just quickly throw it into a hot pot full of cheesy goodness like I did with this recipe for Creamy Buffalo Chicken Pasta. I don't know about you but I have our breakfast, lunches, and dinners planned out Monday-Friday. But when it comes to the weekend I'm spent on the planning front. During the summer months if we are hanging out poolside on the weekend we are typically grilling burgers and hot dogs for lunch.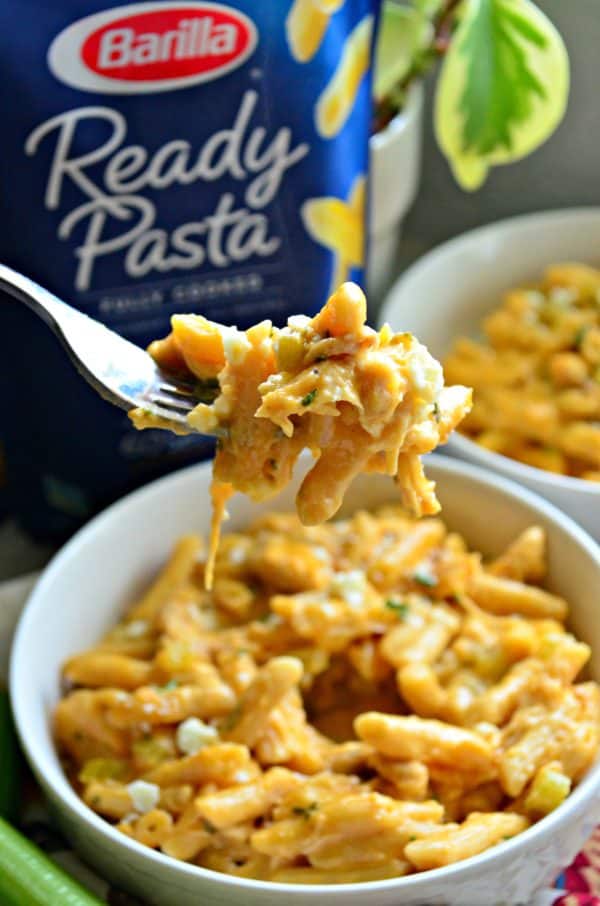 Recently we've had quite a bit of stormy weather on the weekends leaving me stumped on what to make for lunch! Plus, let's get real our pool days are about to come to an end, so I better get some new ideas for quick lunches on the weekend, stat. I want something quick and delicious and while we're at it… I don't want a lot of leftovers. I.e., the perfect amount for my husband and I. This is why I've fallen in love with the new Barilla Ready Pasta. After a little brainstorming I came up with this recipe for Creamy Buffalo Chicken Pasta.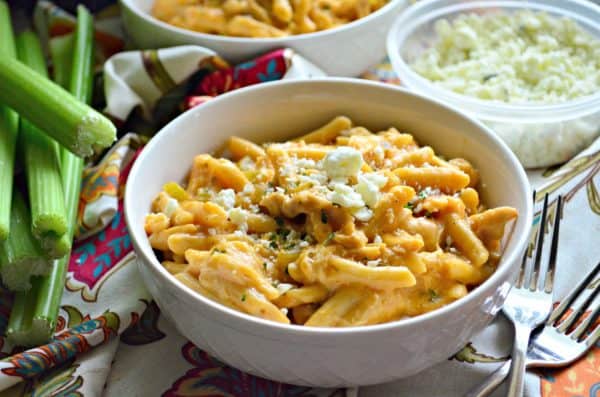 Making this Creamy Buffalo Chicken Pasta comes together in 10 minutes! When I first made this, my husband and I immediately said it's like an adult mac and cheese. It's so creamy and decadent but gives us all the flavors of chicken wings in a bowl of pasta. If your kids like spicy you can double the recipe and serve this to them. Of course you can also lessen the amount of buffalo sauce you put in the cheese sauce. But I'll be honest that's what makes this pasta dish so good! Oh, and on a side note; I've made not one but two quick 5-minute batches of mac & cheese using the new Ready Pasta! As the pasta cooks in the microwave I whip up a delicious cheese sauce and lunch for my crazy little toddler is on the table in no time! Forget the boxed stuff–I'll gladly buy pouches of the Ready Pasta so I can make the mac and cheese from scratch (and so many other recipes, too)!

I almost always buy a rotisserie chicken each week when I go food shopping. It makes for at least one easy dinner and a few easy lunches. For this recipe, I made a cheesy cream sauce from scratch and then added the cooked chicken into the mixture. Followed by a package of the Barilla Ready Pasta Penne. The beauty of this pasta is you can cook it in the microwave or place it in a pot for a few minutes. I opted for the pot since I wanted the chicken to warm through. I poured both chicken and penne into the skillet, gave it a good mix and then let it simmer for a few minutes.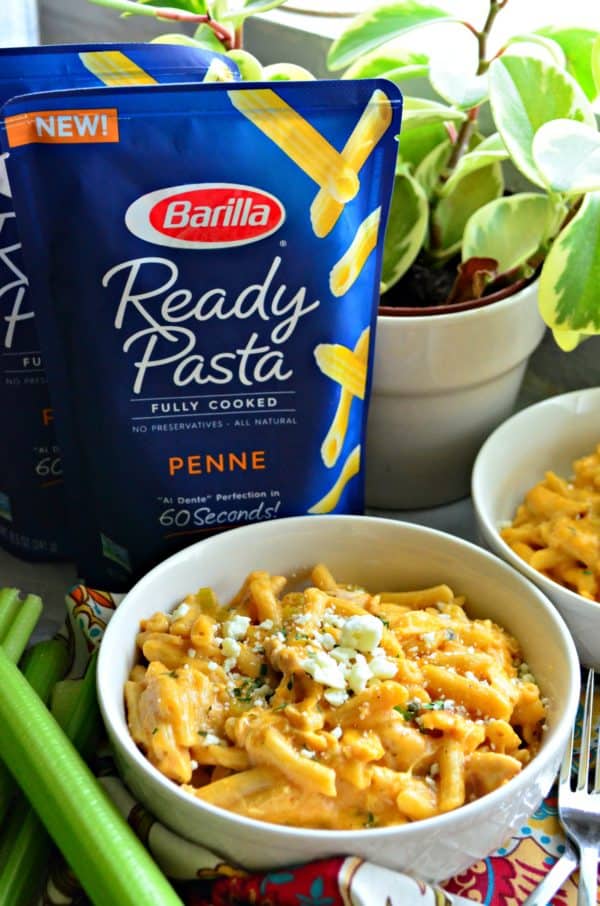 If your looking for a cheesy easy lunch (or dinner) recipe. I invite you to make my Creamy Buffalo Chicken Pasta.

Creamy Buffalo Chicken Pasta
Yield: 2
Prep Time: 2 minutes
Cook Time: 8 minutes
Total Time: 10 minutes
Ingredients:
1 tablespoon unsalted butter
1 celery stalk, diced
1 cup cooked rotisserie chicken, shredded
1 tablespoon of flour
1 cup milk
1/2 teaspoon dried parsley
1/2 teaspoon dehydrated onion
3 tablespoons buffalo sauce
1/4 cup shredded cheddar cheese
1/4 cup bleu cheese crumbles, plus additional for topping
1 8.5 oz. Barilla Ready Penne Pasta
Directions:
In a saute pan (fitted with a lid) melt hte butter on medium heat. Then add in the diced celery, sautee  for 2 minutes. While the celery cooks, shred the cooked rotisserie chicken and set to the side.
Sprinkle the flour on to the celery mixture, then stir in the milk, parsley, dehydrated onion, and buffalo sauce. Cook for 2 minutes until thick then add in the shredded cheddar cheese and bleu cheese. Turn off the heat, mix well and add in the chicken.
Once the sauce is thick, add in the Barilla Ready Pasta Penne. Mix well, place the lid on the skillet and cook on low for 4 minutes. Mix well, divide evenly among two plates and top with additional bleu cheese if desired. Enjoy.
Save
Save
Save
Save
Save
Save
Warning
: Use of undefined constant rand - assumed 'rand' (this will throw an Error in a future version of PHP) in
/home/kjasiewicz21/webapps/katiescucina/wp-content/themes/katiescucina/single.php
on line
74
2 Responses to "Creamy Buffalo Chicken Pasta"
Trackbacks/Pingbacks

Leave a Comment