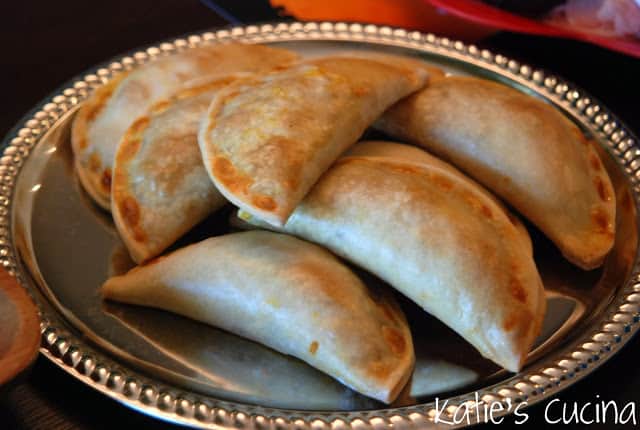 A few week's ago, at my Tapeña® Wine and Tapas House Party™, I made these amazing sweet and savory empanadas. I was enticed by this recipe purely because of the bacon. Pumpkin and bacon? Game on! These were very easy to make and I believe we only had one empanada left! The sweet were more like a dessert and to an extent so were the savory! Even for those who do not like pumpkin you will like this recipe. Multiple people who are proclaimed "pumpkin haters" enjoyed these empanadas! Just make sure that you mix the savory very well… I guess I was in a rush and some got more pepper and thyme than bacon and vice versa! And if you are serving these in a buffet setting, make sure you have a place card stating which is which! For the most part all of my guest including myself had to guess which was the savory and which was the sweet!


Source: Tapeña® wine website
Prep Time: 20 minutes + hour for thawing empanada wrappers
Cook Time: 15-20 minutes
Serves: 10 makes 20 empanadas


Ingredients:
2 – packages of frozen empanada wrappers, thawed (qty 10 each)
1 – 15 oz can of pumpkin puree
½ cup ricotta cheese
¼ teaspoon fresh ground nutmeg
¼ teaspoon salt
1 egg, divided
2 tablespoon milk


Savory Ingredients:
4 slices of cooked bacon, finely crumbled
⅛ teaspoon ground black pepper
⅛ teaspoon ground thyme (I could not find this I used regular thyme, chopped)


Sweet Ingredients:
¼ cup brown sugar
1 teaspoon cinnamon
¼ teaspoon ground all-spice
1 tablespoon sugar (Preferably coarse)


Directions:
1. Thaw empanada wrappers (what's nice about using empanada wrappers is that you don't have to cut out the circles–it's already done for you).


2. Mix pumpkin, ricotta cheese, salt and nutmeg. Divide the pumpkin mixture in half and put each half in separate bowls.


3. Add and mix in the savory seasonings to one half of the pumpkin mixture.


4. Add and mix in the brown sugar, cinnamon and all-spice to the other half of the pumpkin mixture and keep in a separate bowl.


5. With floured side up of pastry rounds, moisten the edges of pastry round with water, using your fingertips. Put 1 spoonful of filling into the center of each round. Fold the pastry rounds in half and seal edges pressing with the edge of the fork.


6. Put finished empanada on a cookie sheet prepared with parchment paper, keeping the sweet empanadas separate from the savory empanadas.


7. In a small bowl mix the milk and egg white together then brush each empanada.


8. Sprinkle the coarse sugar on top of the sweet pumpkin empanadas.


9. The empanadas can be frozen or baked at this time.


10. To cook, heat oven to 425F degrees. Whether fresh or frozen, cook empanadas for 15-20 minutes until golden.