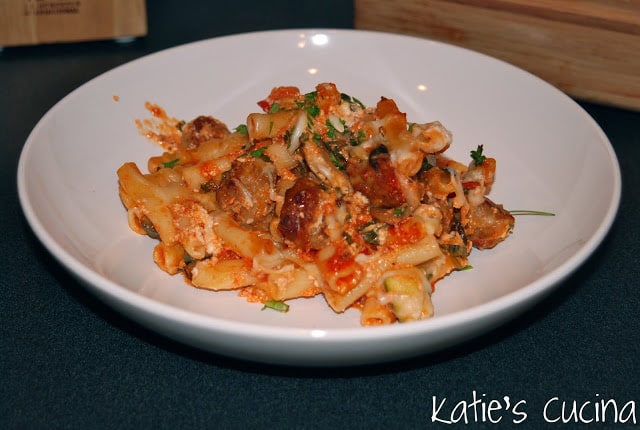 My husband and I never cook together, well I can't really say never, but RARELY is a better word to use. I had been in a cooking rut a few weeks back and just didn't want to cook. He decided he wanted to help me. We made a baked sausage and vegetable ziti together that tasted delicious and was easy to put together! The best part was that my husband started the dish when I was still on the road on my way home from a long day at the office. He kept asking for the directions and I had to explain to him that I was just "winging it". He didn't really understand that it was a recipe I put together in my head! I asked him to pre-heat the oven, boil pasta, cut the sausage links and fry them. He did just that, ultimately making my life much easier when I got home. We had leftover tomato basil sauce that we used for this dish. If you don't have home made sauce you can always use a jar (gasp)! This is a great collaborative dish to make at home with a loved one–whether its a child or significant other! I hope you enjoy this dish as much as we did!
Ingredients:
3 mild sausage links, cut into 1 inch pieces
1 tablespoon minced garlic
1 zucchini, quarted and cut into chunks
1 tablespoon Italian Seasoning
1 tablespoon minced fresh parsley
Directions:
1. Pre-heat oven to 350 degrees.
2. In a large pasta pot cook pasta according to direction. Drain, and place to the side.
3. While pasta is cooking, cut sausage links into one inch pieces and fry in a frying pan. Half way through the sausage cooking add 1 tablespoon of garlic, mushrooms, and zucchini. Cook sausage until the internal temperature reads 165 degrees and vegetables are al dente.
4. In a large pan add one cup of sauce, followed by sausage and vegetables. Slowly start to mix in pasta. Add the remainder of the sauce along with the italian seasoning. Mix well and then add spoonfuls of ricotta to the pan. Lastly, sprinkle mozzarella cheese around the pan.
5. Bake for 25 minutes or until golden brown. Upon plating sprinkle fresh minced parsley on top and serve immediately.