Last year, I pitched to one of the publishing giants, Houghton Mifflin Harcourt Trade, to be a guest blogger for their blog. They agreed on a quarterly "contract" as I'll call it. Disclaimer: They send me a cookbook for free. I unbiasedly read through it and cook recipes from it. It's that simple.


Last year, I made multiple guest blog appearances on the Trade blog about Pam Anderson's Perfect One-Dish Dinners cookbook, chocked full of awesome recipes. It is now my go-to cookbook whenever I know I'm going to entertain for a large group.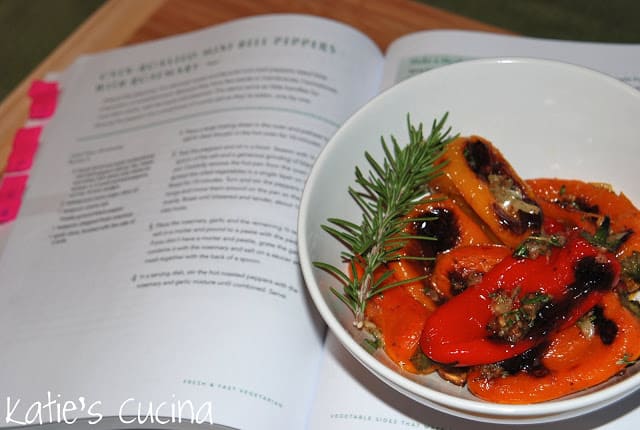 My first cookbook I'll be guest blogging about this year, is an awesome new Vegetarian cookbook! Coming from an almost self-proclaimed Vegetarian, (although I guess I'm really considered a flexitarian) this cookbook is wonderful! Marie Simmons, the author of Fresh & Fast Vegetarian offers over 150 recipes that can quickly be assembled. I will admit some of the ingredients called for (in some of the recipes) you probably won't have sitting around in your cupboard; however, that's what make this book awesome. It will introduce you to obscure ingredients and make you a more well-rounded cook at the end of the day. This was the first recipe I tried from Marie's cookbook, and I absolutely LOVED it. I could have made a meal out of the peppers alone. They were so tasty. Even my husband who is not the biggest fan of rosemary LOVED this side dish! My husband and I had two portions each, that's how good they were!


On a side note, I almost had an oven fire with these peppers… to be honest, it was quite comical. The little bit of oil that was on the peppers was splattering all over the oven. I ended up tenting some tin foil over the peppers and they came out just fine and at the end of the day my house is still in one-piece! *I also roasted the clove of garlic for the first 15 minutes. I like to have a lighter tasting garlic–not as pungent as being fresh.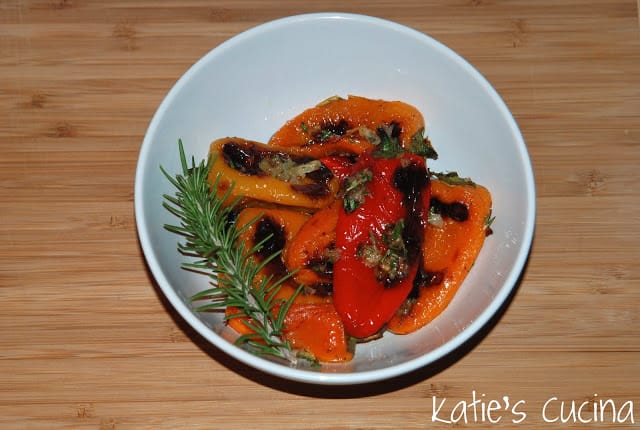 I found an amazing deal on mini bell peppers at Costco (a massive bag for about $5)! Essentially, this side dish cost me less than $5 since I only used half the bag, I grow my own rosemary, and I always have garlic, olive oil, salt and pepper on hand. Great inexpensive side dish to make any day of the week! I hope you will love this recipe as much as I do!


Source: Fresh + Fast Vegetarian
Prep: 10 minutes
Cook: 25 Minutes
Serves: 4


Ingredients:
16 mini bell peppers, rinsed and dried, left whole with stems attached
2 tablespoon extra-virgin olive oil
1 teaspoon coarse salt
freshly ground black pepper
1 teaspoon chopped fresh rosemary
1 garlic clove, bruised with the side of a knife


Directions:
1. Place a large baking sheet in the oven and preheat to 450 degrees. Heat the pan in the hot oven for 10 minutes.
2. Toss the peppers and oil in a bowl. Season with ½ teaspoon of the salt and generous grinding of black pepper. Carefully remove the hot pan from the oven and spread the oiled vegetables in a single layer on the pan ( including if you'd like the garlic clove, remember to tent the pan with tin foil). Roast for 15 minutes. Turn and stir the peppers with tongs and move them around on the pan so they'll roast evenly. Roast until blistered and tender, about 10 minutes more.
3. Place the rosemary, garlic and the remaining ½ teaspoon salt in a mortar and pound to a paste with the pestle. If you don't have a mortar and pestle, grate the garlic, combine it with the rosemary and salt on a saucer and mash together with the back of a spoon.
4. In a serving dish, stir the hot roasted peppers with the rosemary and garlic mixture until combined. Serve hot or cold.