Wondering what you should serve at your next barbecue or family dinner with pulled pork? Look no further. Here is a delicious list filled with 15 Delicious Pulled Pork Sides (and drinks) you can serve that will impress the guest!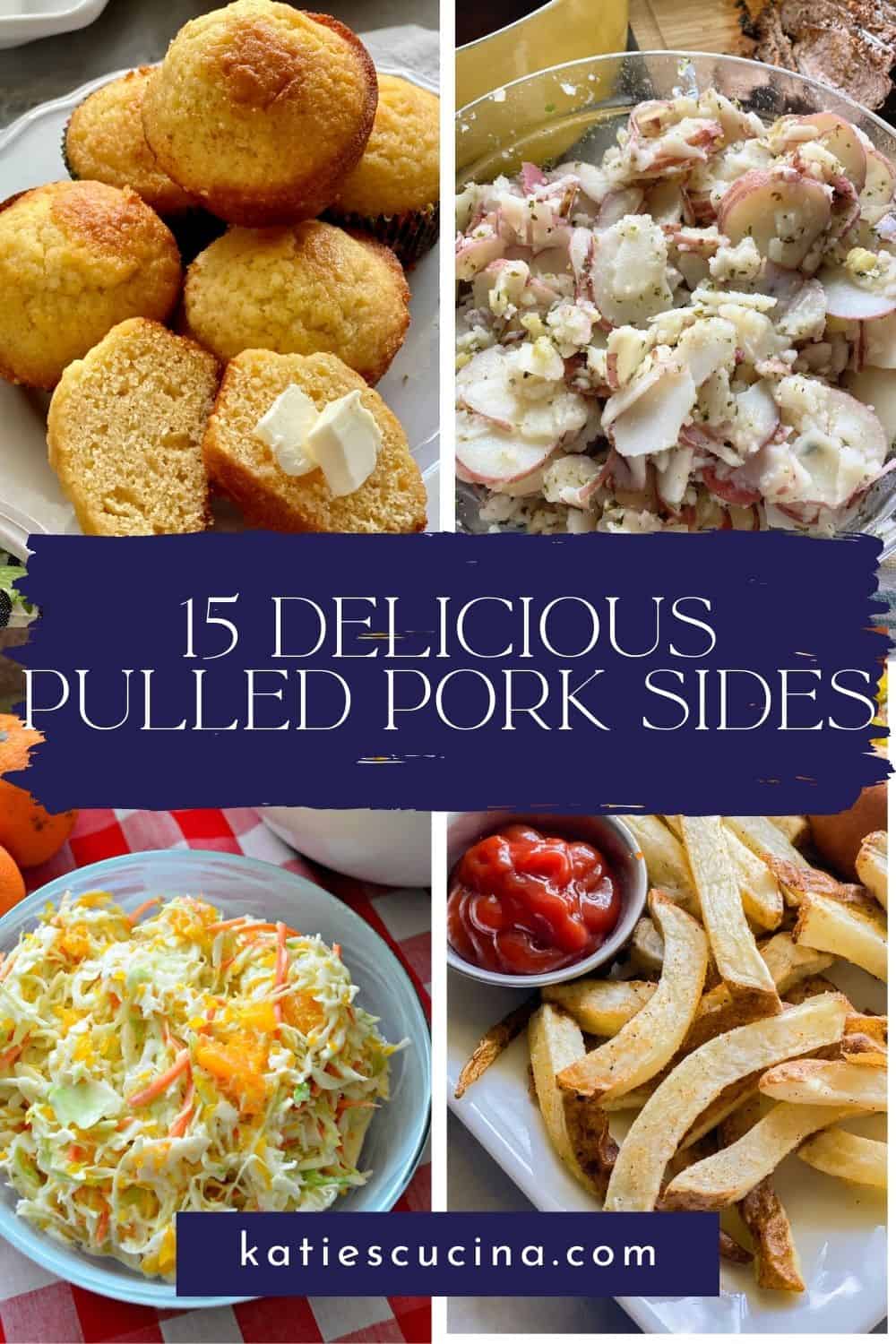 My family loves pulled pork. We also love to use the leftover to make pulled pork nachos. If you love pulled pork you will love this recipe round up with 15 Delicious Pulled Pork Sides that compliment any lunch or dinner barbecue. Whether you are serving up these side dishes for your immediate family or entertaining a crowd. I feel confident you'll find a few delicious sides.
Jump to:
Pulled Pork Sides Tips and Tricks
Balance the flavors: Pulled pork is often rich and savory, so pairing it with a side dish that has a bright, acidic, or fresh flavor can help balance the dish and make it more enjoyable. Examples of side dishes that work well include coleslaw, pickled vegetables, or a tangy citrus-based salad.
Consider the texture: Pulled pork is typically tender and juicy, so pairing it with side dishes that have a different texture can help create a more interesting and satisfying eating experience. For example, you might pair pulled pork with crispy roasted vegetables, creamy mashed potatoes, or fluffy rice.
Keep it simple: While it can be tempting to create elaborate side dishes to go with your pulled pork, sometimes simplicity is best. Simple side dishes like baked beans, corn on the cob, or garlic bread can be easy to make and complement the flavors of the pulled pork without overwhelming them.
Don't forget the sauce: Pulled pork is often served with a flavorful barbecue sauce, but you can also pair it with other sauces that complement its flavors. For example, you might serve pulled pork with a tangy mustard sauce, a spicy salsa, or a cooling yogurt-based dip.
Plan for leftovers: Pulled pork is a great dish to make in large batches and enjoy throughout the week. When planning your side dishes, consider making extras that can be reheated and enjoyed alongside your leftovers. This will help ensure that your meals are varied and satisfying, even if you're eating the same main dish multiple times.
FAQs: Pulled Pork Sides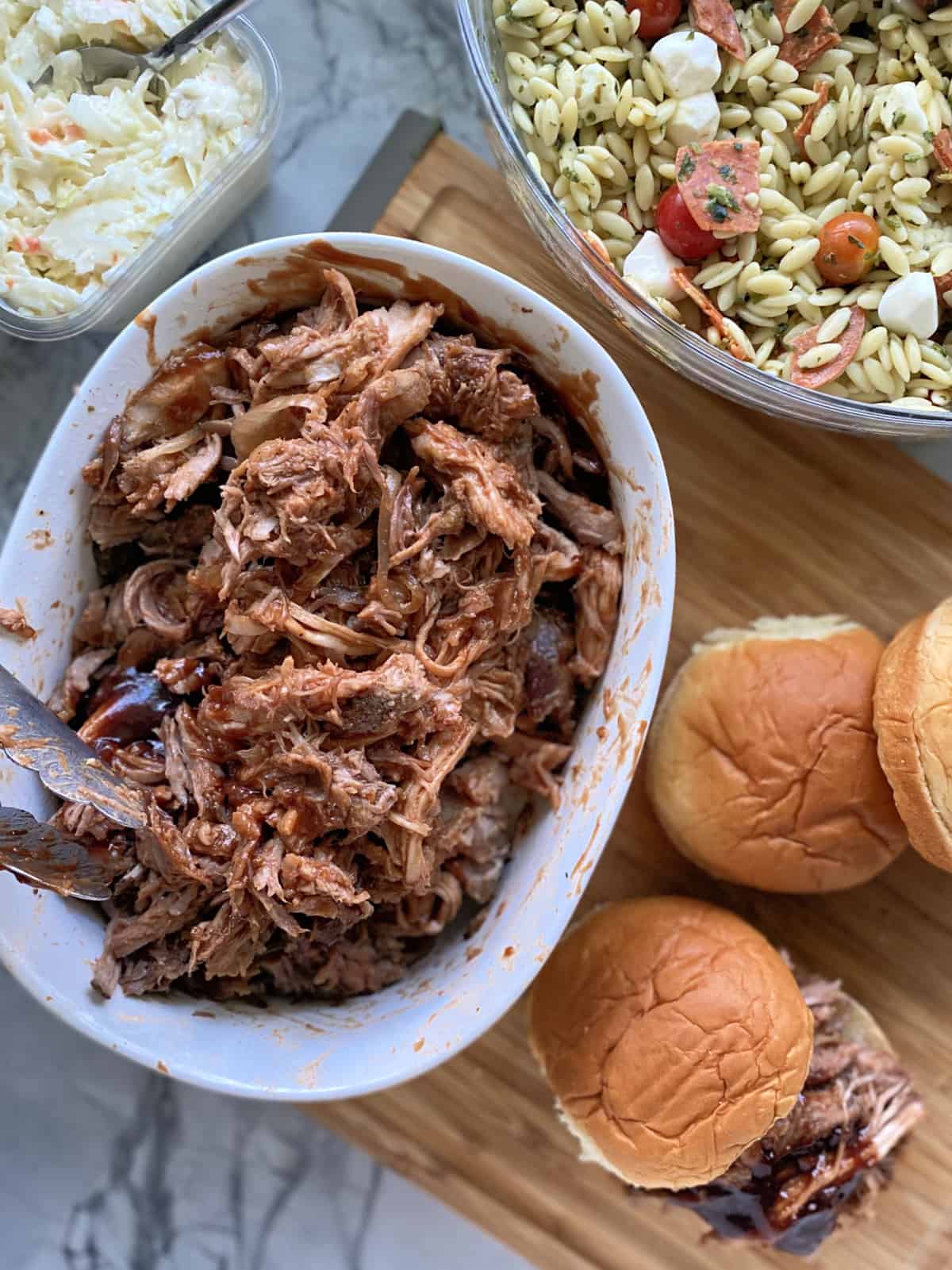 What veggies are good with pulled pork?
Veggies go great with pulled pork! Typically, pulled pork is served with green beans, coleslaw, asparagus, baked beans, broccoli, and Corn on the cob.

What do you drink pulled pork with?
Lemonade and Iced Tea are hands down the best drink to serve with pulled pork or BBQ.
What drinks to bring to a BBQ party?
There are many alcoholic BBQ drinks you can bring to a party. Spiked Lemonade, Bay Breeze, Bourbon and Barbecue cocktails, and beer are just a few.
What sides go with pulled pork?
Pulled pork is typically categorized as a southern dish. Therefore, it would be fitting to serve many other southern dishes with it. To name a few, there is Mac & Cheese, Green Beans, Cornbread, Coleslaw, Baked Beans, and Garlic Toast.
I hope you found all of these delicious side dishes will be perfect to serve with pulled pork. Whether entertaining for a crowd or simply just enjoying with your immediate family, your lunch or dinner is sure to be delicious!
Don't forget to FOLLOW ME on Facebook, Pinterest, and Instagram, and subscribe to my email list!