Irresistible Valentine's Meal for Two: Filet Mignon, Lobster Tail, Sides, Dessert & Roses
This shop has been compensated by Collective Bias, Inc. and its advertiser. All opinions are mine alone. #MyTFMValentine #TheFreshMarket. This content is intended for readers who are 21 and over.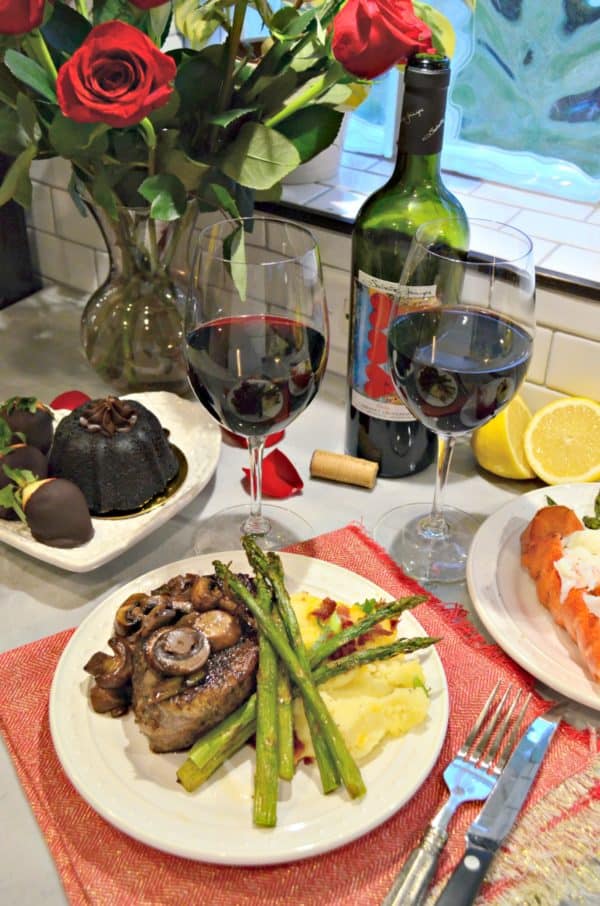 Are you staying in this Valentine's Day?  Not sure what to make for dinner? Even before having children, my husband and I almost always stayed in for Valentine's Day dinner. We made the rookie mistake one year of going out without a reservation and waited 2.5 hours for a table only to get an over priced prix fixed menu. Gone are those days—we would much rather cook in. Since having children, we have put them to bed and then ate a delicious peaceful dinner just the two of us–in the comforts of our own home. It doesn't get any better then that!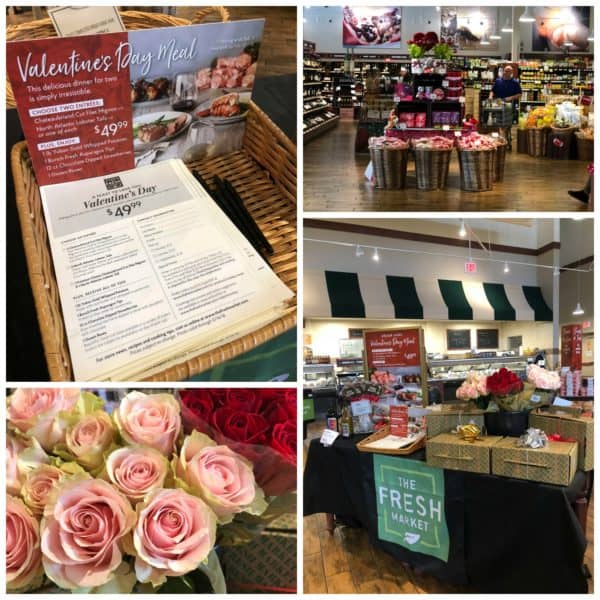 My friends at The Fresh Market have the most amazing deal this Valentine's Day. They have put together the ultimate Valentine's Day Meal Kit and is available for order until February 11th. The kits can be picked up in-store from February 12th to February 14th, just in time for a special Valentine's Day dinner and even better for only $49.99. So what's in this meal kit you may ask?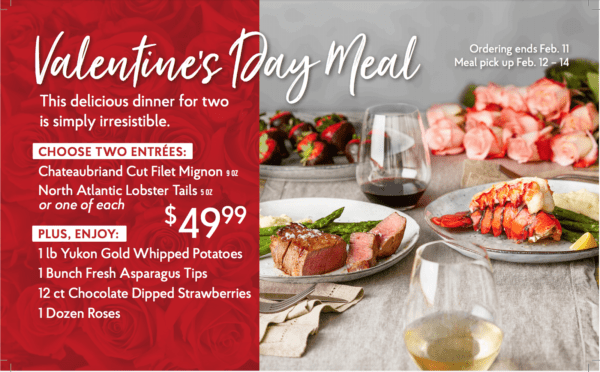 First you get the choice of entrée: 2 Premium Choice Chateaubriand Cut Filet Mignons (these steaks will melt in your mouth–trust me) OR 2 North Atlantic Cold Water Lobster Tails OR 1 Premium Choice Chateaubriand Cut Filet Mignon and 1 North Atlantic Cold Water Lobster Tail (the best of both worlds). One pound already prepared Yukon Gold Whipped Mashed Potatoes. These are made with fresh Yukon Gold potatoes, real cream and butter. These whipped potatoes are a Rich and creamy traditional side dish. I jazzed mine up making a loaded baked mashed potato side dish that you can whip up in minutes. See my recipe below. One bunch of Fresh Asparagus Tips that you can cook however you would like (check out my easy recipe below). 12 ct Chocolate Dipped Strawberries; the strawberries are hand dipped in decadent dark chocolate, and one dozen roses; beautiful, fresh cut roses available in a variety of colors.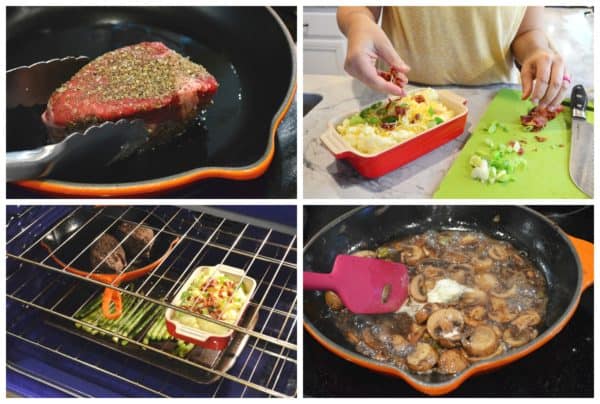 My husband and I were lucky enough to get to try the meal kit before Valentine's Day. We loved it so much my husband insisted that this will be our Valentine's Day dinner again! I've made mushroom wine sauce before for him but never had he loved it as much as he did this time around. He loved everything and proclaimed this meal to be one of the best meals I've cooked in a long time! Thank you The Fresh Market for that big compliment.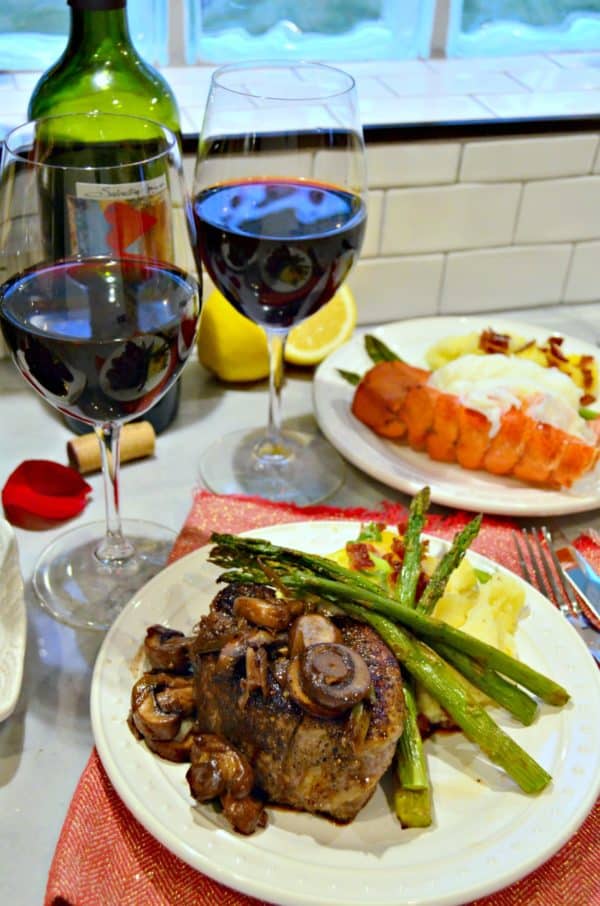 The Fresh Market is a specialty grocer known for providing a curated product selection of specialty foods with exceptional quality and the finest ingredients. From seasonally fresh produce to exceptional meat and seafood, signature baked goods and carefully curated organics, all the foods you love are waiting for you at The Fresh Market. The specialty grocer has fresh, delicious food with friendly service in a warm and inviting atmosphere. The Fresh Market's meal solutions deliver a thoughtful and innovative range of options for any dining occasion or cooking ability, while helping guests discover new flavors.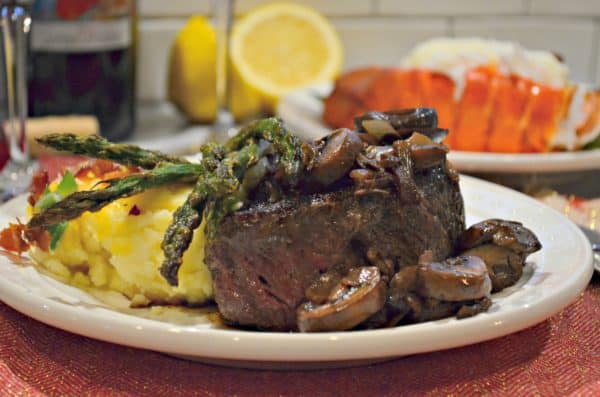 The entire dinner was cooked on the stove/oven in about 30 minutes time. I will say you have to have good time management skills with this meal. This is the perfect meal for both you and your partner to cook together. One take on the proteins and wine sauce and the other take on the sides. This meal is perfect the way it comes; however, I added my own little touch to it (jazzing up the already delicious mashed potatoes, cooking the asparagus the way we like it, and then making that divine mushroom wine sauce)!
Here is the low down on how I made this delicious meal.
Preheat the oven, then start the steaks. While steaks sear you prep the asparagus and mashed potatoes. All while flipping steaks on each side to sear. Then the asparagus and mashed potatoes go in the oven. Shortly after the steaks go in the oven. Then it's time to get the water boiling for the lobster (if you are having lobster). As soon as the steaks are done to your likeness (meat thermometer is a must)! You remove the steaks from the skillet to rest and start the mushroom wine sauce (and don't forget to throw the lobster tails in the boiling water). I like to turn the oven off and let the asparagus and potatoes rest in the oven while I finish the meal. Then it's time to plate.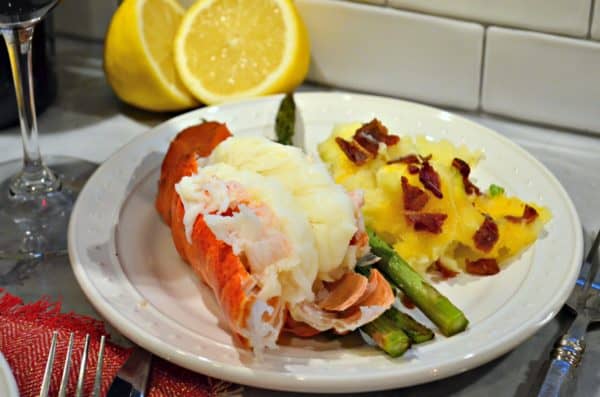 Pro Tip: Remember you don't need to over crowd the plate you can always go back for seconds! Think about the way your plate looks like at a restaurant it's not piled high with food it's a smaller portion. Give a scoop of potatoes and a few asparagus spears to start. No need to drown your steak with the mushroom wine sauce. You can place a little on top of the steak and then place a bowl on the table so you can add more as you eat.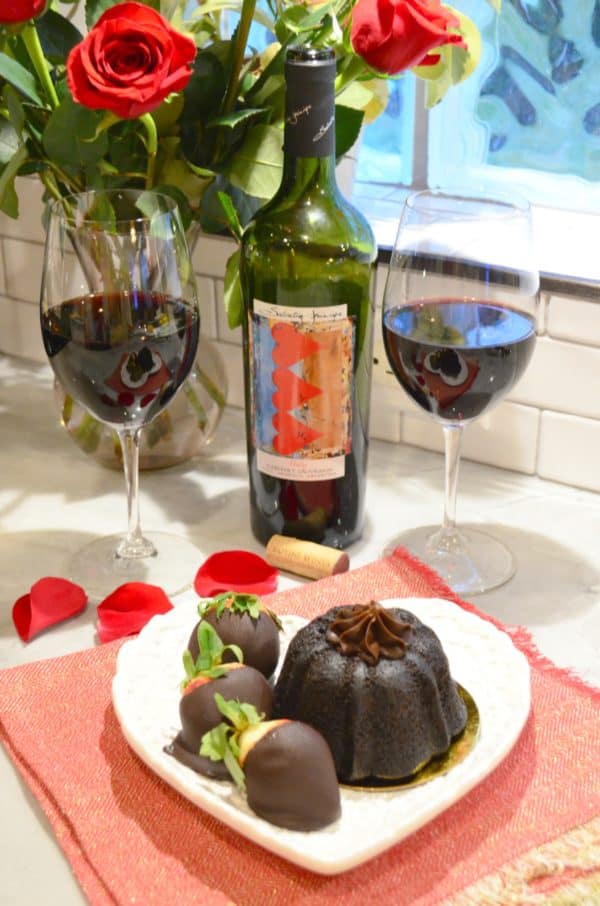 Of course, no meal is complete without dessert in my book! We enjoyed the chocolate covered strawberries and the Chocolate Lava Cakes alongside a glass of Salvatore Principe Cabernet Sauvignon. Make sure you check out The Fresh Market store locator to find the closest store to you and get your order in! For $49.99 this meal is the best deal in town (and I can promise you the most delicious)!
Learn more about The Fresh Market on Facebook, Twitter, Instagram, and Pinterest.

Boiled Lobster, Filet Mignon with Wine Sauce Mushrooms, Loaded Mashed Potatoes, and Roasted Aspaargus
Yield: 2
Prep Time: 10 minutes
Cook Time: 25 minutes
Total Time: 35 minutes
Ingredients:
For the Filet Mignon:
1 tablespoon Grape seed oil
2 9oz. Premium Choice Chateaubriand Cut Filet Mignon
1 tablespoon steak seasoning, divided
For the Lobster:
2 5oz. Lobster Tails
1 Lemon, sliced in wedges for serving
1/4 cup butter, melted
For the Roasted Asparagus:
1 lb. asparagus, ends trimmed
1 tablespoon olive oil
salt & pepper to taste
For the Loaded Mashed Potatoes
Cooking Spray
1 lb. prepared Yukon Gold Whipped Mashed Potatoes
1/4 cup shredded cheddar cheese
2 strips cooked bacon, diced
1 green onion, thinly sliced
For the Mushroom Wine Sauce:
8 oz. sliced baby bella mushrooms
1 clove garlic, minced
1/2 cup red wine
1 green onion, thinly sliced
Directions:
For the Filet Mignon:
Preheat the oven to 425 degrees Fahrenheit. In an oven safe cast iron skillet preheat on medium heat. Pour in the grape seed oil. Season the Premium Choice Chateaubriand Cut Filet Mignon evenly with steak seasoning. Place in the hot skillet.
Sear on each side, rotating all sides every few minutes (about 10 minutes total). Once all sides have been seared place the steak in the oven and cook for 8-12 minutes or until your internal temperature likeness. For a medium-rare steak I cooked it for 8 minutes. Use a meat thermometer to check the temperature.
Remove the steaks from the oven and set the steaks on a plate to rest. While steaks rest cook mushroom wine sauce.
For the Roasted Asparagus:
Rinse, pat dry, and trim the ends of the asparagus. Place the asparagus on a baking sheet. Drizzle with olive oil, salt and pepper. Mix well and place in the oven. Bake for 12-15 minutes. Remove from oven once done.
For the Loaded Mashed Potatoes
While steaks and asparagus cook, spray a small oven safe baking dish with cooking spray. Empty the 1 lb. prepared Yukon Gold Whipped Mashed Potatoes into the baking dish. Top with shredded cheddar cheese, chopped bacon, and green onions. Bake for 12-15 minutes or until potatoes are warm and cheese is melted and bubbly.
For the Lobster:
In a medium-size pot boil water. Place lobster tails in water before cooking the mushrooms. Set a timer for 6 minutes and boil until tails are red in color. Remove from the heat, drain water, and remove tails. Using a large sanduko knife crack the tops of the shell vertically so that you can expose the lobster meat.
Garnish with lemon and drawn butter if desired.
For the Mushroom Wine Sauce:
Once the steaks are done. Place the cast iron skillet on the stove top. Place the sliced mushrooms and garlic in the skillet. Cook on medium heat for 2 minutes, stirring continuously. Carefully pour in the red wine and mix with a soft spatula breaking up all the steaks bits in the pan (about 2 minutes). Wine will be bubbling and that is normal. Add in the green onions and butter. Stir in until butter is melted. Remove from the heat and pour on top of steak.
To assemble the meal:
Place steak and lobster on plate. Top steak with mushroom wine sauce. Divided mashed potatoes and asparagus between two plates. Pour a glass of your favorite wine and enjoy!
Warning
: Use of undefined constant rand - assumed 'rand' (this will throw an Error in a future version of PHP) in
/home/kjasiewicz21/webapps/katiescucina/wp-content/themes/katiescucina/single.php
on line
74
Leave a Comment