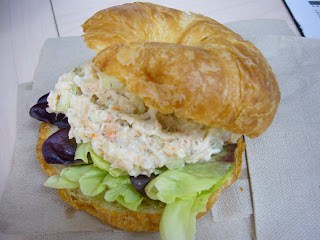 This is a childhood classic of mine… my mom always made this for me on "special occasions" like my birthday. Growing up it was served on white bread, and as I got older and I would imagine my parents had a little more money we would splurge and have it on croissants! Since I buy a dozen croissants at Costco every other week it made me crave this amazing salad sandwich! I had never made this for my self until just the other week–just as good as my moms! Finally, one recipe that doesn't need those special "mom flakes" to make it taste just like hers. If you like canned tuna fish you'll love this switch of a "salad" sandwich! Even if you don't like tuna…. and you like shrimp you'll like this; however, it has the same consistency of tuna/ham salad!
Prep: 5 minutes
Serves: 2
INGREDIENTS:
1 can of Bumble Bee Tiny Shrimp
1 tsp each of dried onion, parsley, dill
1-2 tbsp of mayonaise
1/4 cup of peeled and diced cucumber
pepper to taste
2 croissants
4-6 pieces of butter lettuce for each sandwich
DIRECTIONS:
Open, drain, and rinse canned shrimp. Once drained, add to a mixing bowl. Add one teaspoon each of the dried onion flakes, parsley, and dill. Peel and diced cucumber, and add to the bowl. Add one tablespoon of mayonnaise to the bowl and mix… if it seems to dry to you add another tablespoon of mayonnaise or until its the consistency you like it. Add pepper to taste–no need for salt since the shrimp are pretty salty to begin with!
Chill for at least an hour. Cut two large croissants and toast until golden brown. Add butter lettuce, and then a nice large portion of shrimp salad… enjoy!