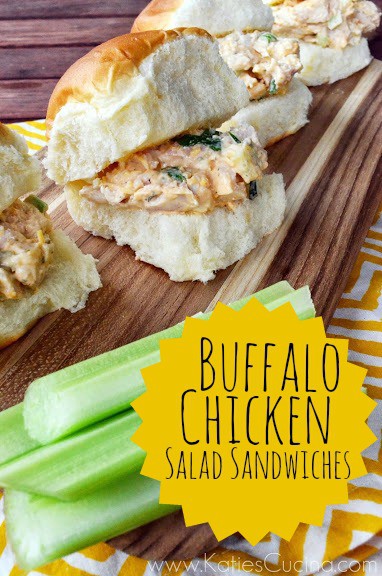 Ahhh buffalo chicken lovers unite. Last month, I created a recipe for Buffalo Chicken Salad Sandwiches. My friend Julie invited me over for her annual Bunko night to raise money for 1,000 Cooks for the Cure® and I was looking to bring something that I could make ahead. Earlier this year, I tested a recipe for tropical chicken salad sandwiches. My husband and I instantly fell in love with them. So I knew I would make that recipe but had extra chicken and that's when I decided to create a chicken salad recipe that involved buffalo sauce!
I've tested this recipe a few times now. The first time their was a hint of buffalo sauce. The second time way too much, and of course the third time is a charm. It might sound like a lot of buffalo sauce, but trust me it's not. It gives it the exact kick it needs and is not over powering. On a side note, I absolutely hate these photos. I photographed these sandwiches a handful of times and still could not achieve any photos that I was in love with… so these will do. I promise you that these Buffalo Chicken Salad Sandwiches taste much better than they look!
Katie Original Recipe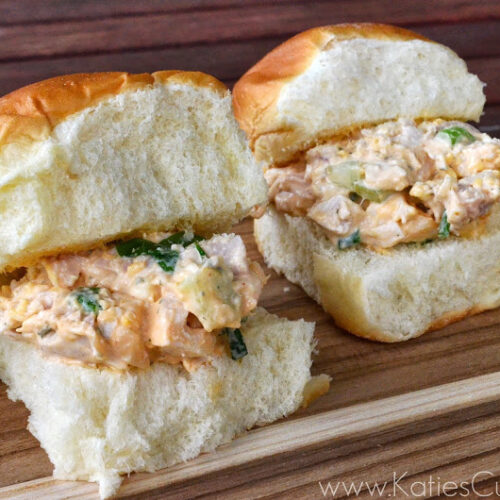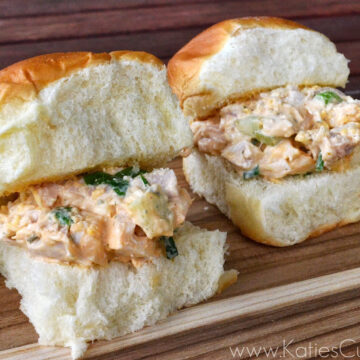 Ingredients
1/2

cup

mayonaise

1/4

cup

buffalo sauce

1/4

cup

bleu cheese

1/4

cup

shredded cheddar

1/4

cup

green onions

1/4

cup

diced celery

1/2

tsp

parsley

2

cups

chopped cooked chicken

12

Hawaiian Rolls
Instructions
In a large bowl combine mayonaise and buffalo sauce. Mix well then add in the bleu cheese, shredded cheddar cheese, green onion, diced celery and parsley. Mix well. Lastly, add in the chopped cooked chicken.

Refrigerate for at least 30 minutes, and then portion out onto sandwiches.