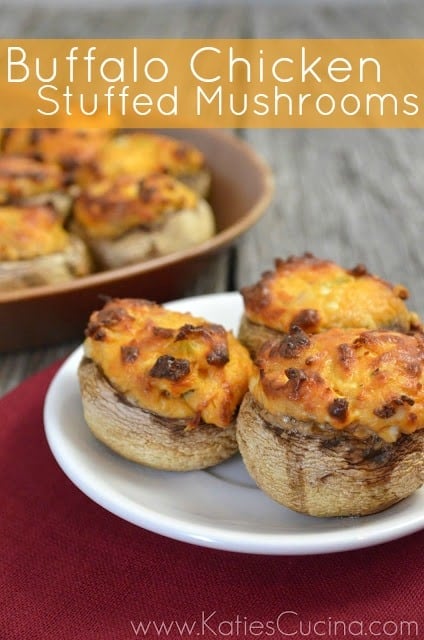 Are you sick of buffalo sauce yet? I've seen it used in just about every different way known to man kind over the past two weeks. I love it! We love buffalo sauce in my house. My husband loves any type of stuffed mushrooms. A few years ago I created a delicious and healthier stuffed mushroom: Broccoli & Pepper Jack Stuffed Mushrooms. And then of course there were these Zucchini Cream Cheese Baked Mushrooms.
So I had this brilliant idea earlier int he week to use up a little bit of leftover rotisserie chicken and make Buffalo Chicken Stuffed Mushrooms for him. He loved them! I think guest would be fooled by just looking at them. What is so special about these mushrooms? Then they take their first bite and BAM! They have no idea what hit them. Looks can be deceiving, can't they?
Plump mushroom caps filled with decadent cream cheese, bleu cheese, and cheddar cheese along with juicy shredded rotisserie chicken and buffalo sauce! Lots of buffalo sauce. Rich and creamy and lets face it not on the healthy super bowl recipe list. But I feel that everything should be in moderation. You can indulge in something rich and creamy and then balance it by eating something baked and full of seasoning. I mean who resist these Buffalo Chicken Stuffed Mushrooms?
So if you have a little leftover rotisserie chicken or really any kind of leftover chicken give it a chop or shred and make Buffalo Chicken Stuffed Mushrooms as your easy go-to appetizer this Super Bowl Sunday.
Katie Original Recipe
Ingredients
13

large mushroom caps

4

oz.

cream cheese

softened

¼

cup

bleu cheese

¼

cup

sharp cheddar

2

tbsp

buffalo sauce

½

tsp

minced dried onion

1

tbsp

celery

minced

½

tsp

parsley

½

cup

shredded chicken
Instructions
Preheat oven to 450 degrees.

In a large bowl blend together softened cream cheese, bleu cheese, and cheddar cheese. Then add buffalo sauce, dried onion, minced celery, and parsley. Mix well again and lastly stir in the chicken.

Clean mushrooms and remove stems. On a large baking sheet add a metal cookie cooling rack to the baking sheet. Then begin to fill each mushroom cap with the buffalo chicken mixture. Place each mushroom on the rack.

Bake for 20 minutes at 450 degrees. Serve immediately.