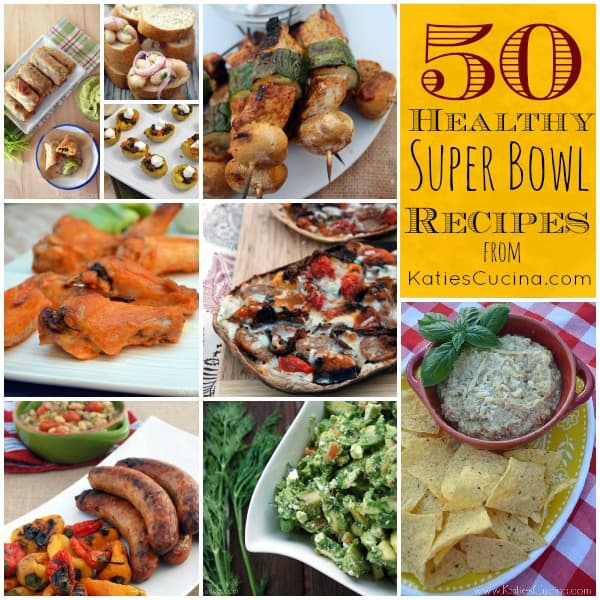 Today, I'm excited to announce that I'm sharing 2 healthy Super Bowl friendly recipes on my local Fox station morning show; Good Day Orlando. You can watch live at 9:35 am (streaming if you don't live in CFL) or I'll have a clip to share with everyone later.
Some of you might be sick of seeing recipes centered-around one football game. However, I love it! I love any holiday that is centered around eating. Is that bad? I love seeing round-up post and right now it seems like everyone has a round-up of all things Super Bowl food. I decided to change it up a bit and feature 50 Healthy Super Bowl Recipes. Now, granted not all of the recipes are not 100% healthy however they are lower fat than what you would normally consume during the big game. I.e., they use greek yogurt instead of 5 cups of mayonnaise, etc.
Here is my list of 50 Healthy Super Bowl Recipes everyone should make this weekend (well, ok, maybe not all 50 at once)!
Avocado & Feta Dip from Katie's Cucina
Buffalo Cauliflower Dip from Mother Thyme
Baked Corn Tortilla Chips from The Lemon Bowl
Bangin Grilled Shrimp Skewers from Skinnytaste
Kale and Artichoke Dip from Spoon Fork Bacon
Candied Smoked Paprika Cherry Berries from Lipman Kitchen
Easy Hot Black Bean Salsa Dip from Jeanette's Healthy Living
Thai Turkey Meatballs with Blueberry Sauce from KokoCooks
Baked Vegetarian Southwestern Egg Rolls with Avocado Buttermilk Sauce from Katie's Cucina
Buffalo and Bleu Cheese Veggie Bake from Bake Your Day
Roasted Cauliflower Hummus from Oh My Veggies
Grilled Flatbread w/ Hot Italian Sausage, Peppers, & Caramelized Onions from Katie's Cucina
Quick-Roasted Asparagus with Parmesan Slivers from Cook the Story
Asian Sweet Chili Baked Wings from Inspired Taste
Eggplant Dip from Zaika Zabardast
Smoked Paprika and Lime Spice Popcorn from Coupon Clipping Cook
Savory Spinach Bites from The Curvy Carrot
Artichoke Dip from Katie's Cucina
Baked Corn and Crab Cakes from Skinnytaste
Crispy Baked Asian Chicken Wings from Just a Taste
Turkey Sloppy Joe Sliders from Bev Cooks
Watermelon Football Helmet from Watermelon Carvings
Baked Buffalo Queso Fresco Wings from Katie's Cucina
Moroccan Carrot Dip from A Thought For Food
Whipped Feta with Roasted Peppers & Garlic from Savor The Thyme
Skinny Buffalo Chicken Dip from Gimme Some Oven
Carne Asada Nachos by Foodness Gracious
Mini Mexican Potato Skins from Katie's Cucina
Coconut LIme Wings and Mango Salsa from Oleander and Palm
Brown Rice Greek Salad from The Lemon Bowl
Amazing Shrapnel Dip from Mel's Kitchen
Moroccan Pork Kebabs with Sour Cream Dill Sauce from Katie's Cucina
Apple and Avocado Salsa from Family Spice
Skinny Shrimp Salsa from Skinnytaste
Sun-dried Tomato Hummus from bellalimento
Individual 7 Layer Dip from The Girl Who Ate Everything
Asian Turkey Meatballs with Chili Garlic Glaze from Aggie's Kitchen
Reduced-Guilt Caramelized Onion Spinach Dip from Bake Your Day
White Bean Bruschetta from Katie's Cucina
Beef Nachos with Slow Cooker Chili Con Carne from A Spicy Perspective
Watermelon Blueberry Salsa from Love & Olive Oil
Grilled Key West Chicken Wings from Katie's Cucina
Homemade Hummus Two Ways from Table for Two
Oven-Baked Zucchini Sticks with Garlic Chipotle Aioli from Damn Delicious
Guacamole Stuffed Cherry Tomatoes from KokoCooks
Baked Spicy Greek Yogurt Chicken Wings with Greek Yogurt Bleu Cheese Dressing from Katie's Cucina
Bruschetta with Shrimp, Mushrooms, and Green Garbanzo Beans from Bev Cooks
Sweet Potato Tater Tacho Recipe with Black Bean Salsa from Culicurious
Baked Oven Fries from Annie's Eats