Grilled Sweet and Spicy Asian Sticky Drums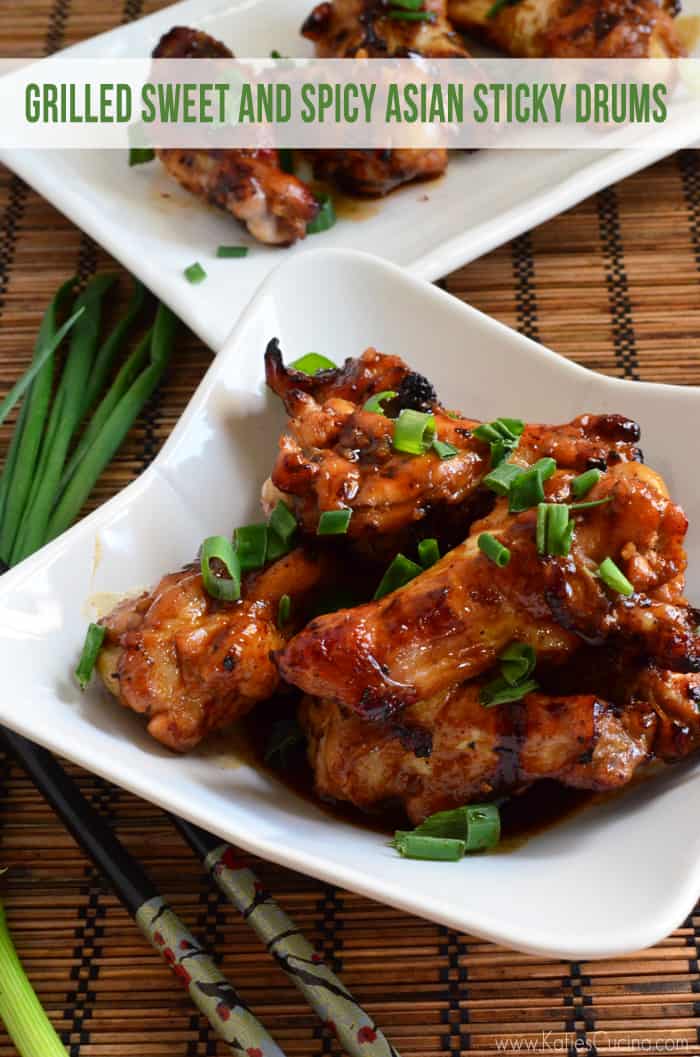 Are you ready for some football??? I am, well kind of. I'm a little more into the food this year than I am the football since my team didn't make it to the big game. But that's ok. I'll watch the game and hope for a really good game (not a boring blow-out for those who actually watch football). For some reason, I only make wings for football games. My husband loves chicken wings and drums. The other week I asked him to come with me to the produce and meat market. I hadn't visited since before I got pregnant. It's a little bit of a drive and well it has a very "meat market' like smell. That smell doesn't typically bode well with pregnancy. So I had him tag along since I really wanted to stock up on some meat and not rack up my grocery bill (which I've done for months now).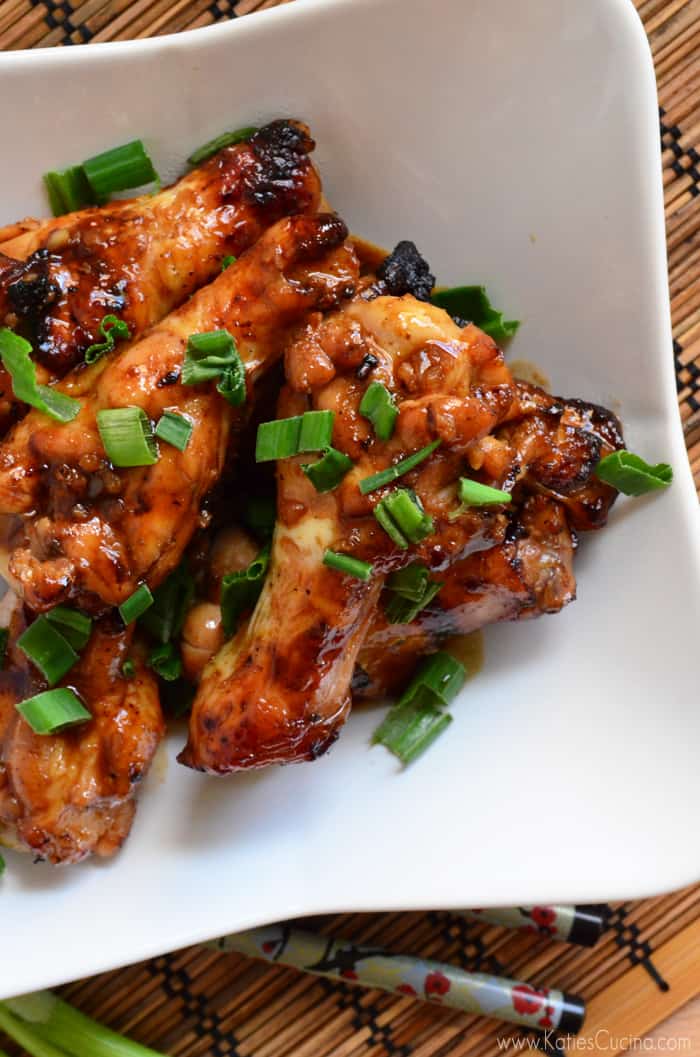 The first thing he went to while in the meat market was chicken wings… so naturally I agreed that I would make him wings. When I asked Jon what type of wings he wanted he said I could choose since he knew I would want to blog about it (smart and nice husband, right)!?!?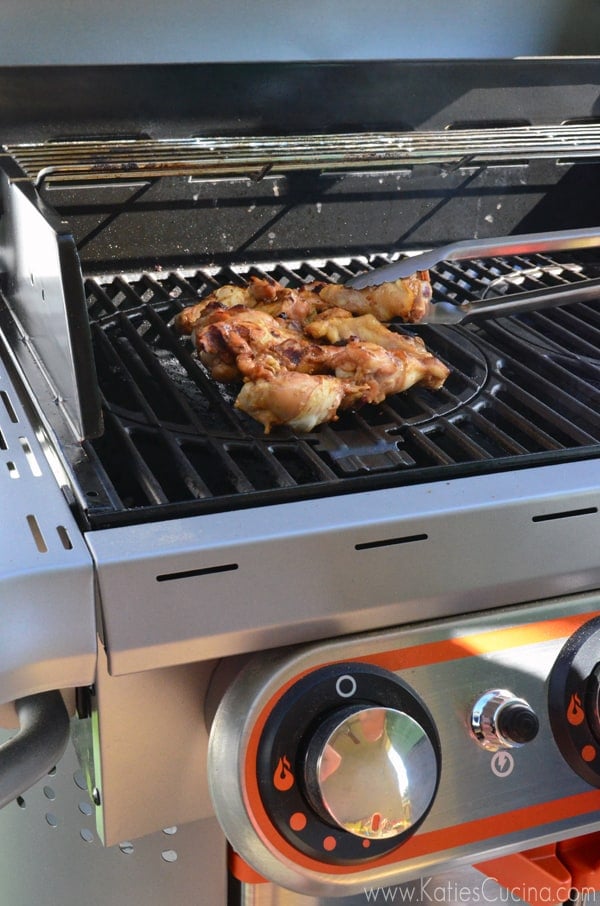 The weather was beautiful out the day I made the wings, so I knew I wanted to throw them on the grill, and once I figured that out it was time for me to work on the sauce. Just a side note, we got our STOK grill last fall. Our old grill was passed down to us when we moved in together 7 years ago. Needless to say, it had seen better days. When the folks at STOK sent us the grill we were more than "stoked", this grill is amazing. Smaller than our former grill (I was a little concerned), but after cooking on it for the first time I knew I didn't need to be concerned. We have more than enough room, 4 burners and best of all it cooks evenly! The grill also has the  coolest inserts ever. We both fight over who gets to grill now.
I decided on a sweet and spicy Asian sticky sauce. I figured he might enjoy the sweet and spicy and wouldn't need anything to dip them in like bleu cheese or ranch dressing. He loved the wings and devoured the dozen I made for him in less than 10 minutes. At that point, I realized, I really need to make chicken drums and wings for him more often.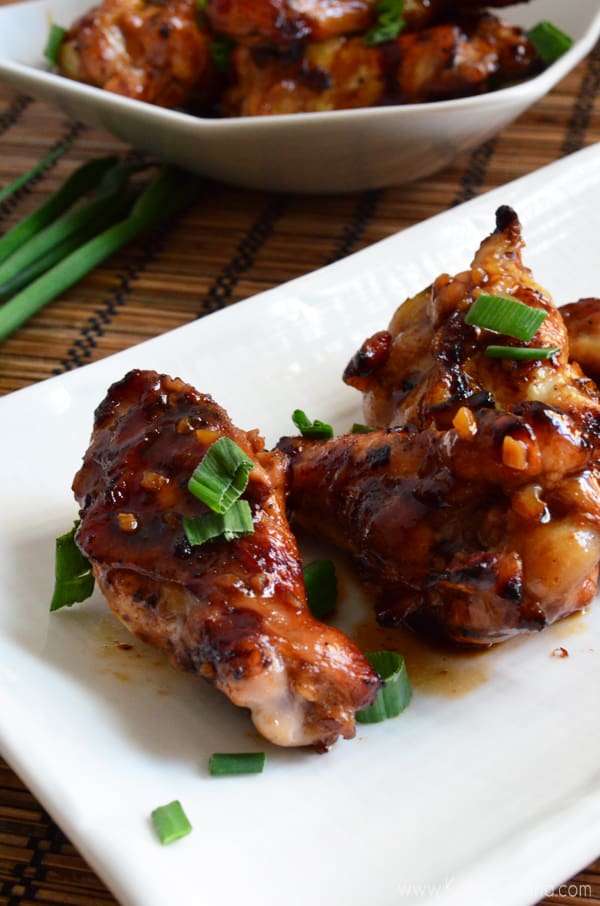 So whether your watching the big game for games-sake or just watching it to have an extra excuse to eat football food give my recipe for Grilled Sweet and Spicy Asian Sticky Drums a try!
Katie Original Recipe
Sweet and Spicy Asian Sticky Wings
Ingredients
1/4 cup soy sauce
1 tbsp hoison sauce
1 tsp oyster sauce
1/4 tsp ground ginger
1 tbsp garlic, minced
1/4 tsp cayenne pepper
1 dozen mini chicken drums
Directions
In a bowl, combine sou sauce, hoison sauce, oyster sauce, ground ginger, minced garlic, and cayenne pepper. Place half the sauce in a zip-top baggy, reserve the rest of the sauce for after the wings are cooked. Add chicken drums to the baggy. Refrigerate and marinate for at least 30 minutes.
Preheat the grill, add chicken drums to the grill. Grill for 15 minutes, turning every 5 minutes. Make sure internal temperature reaches 165 degrees Fahrenheit.
Remove drums from the grill and toss with the remaining sauce from the bowl. Serve immediately.
https://www.katiescucina.com/grilled-sweet-and-spicy-asian-sticky-drums/
This recipe is brought to you by Katie Jasiewicz of Katies Cucina
Warning
: Use of undefined constant rand - assumed 'rand' (this will throw an Error in a future version of PHP) in
/home/kjasiewicz21/webapps/katiescucina/wp-content/themes/katiescucina/single.php
on line
74
9 Responses to "Grilled Sweet and Spicy Asian Sticky Drums"
Trackbacks/Pingbacks

Leave a Comment