Buffalo Chicken Bacon Cheese Fries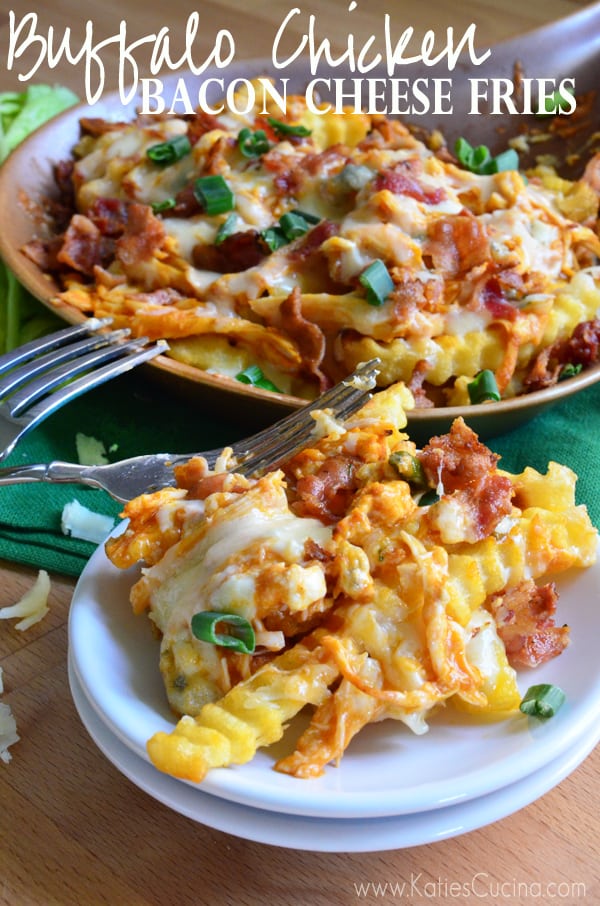 Yep, I've gone there again. I've made another version of ooey-gooey cheese fries. This time, I'm throwing buffalo chicken into the mix making these mouth-watering and purely sinful. Up until a few weeks ago I was not able to handle the heat. But something clicked and I'm slowly starting to handle the spicy food (although paying for it with extreme heart burn). These Buffalo Chicken Bacon Cheese Fries are out of this world. I'm not saying that because I created the recipe, I'm saying it because they will make you go back for seconds, thirds, and fourth, all until you realize their are no more fries left.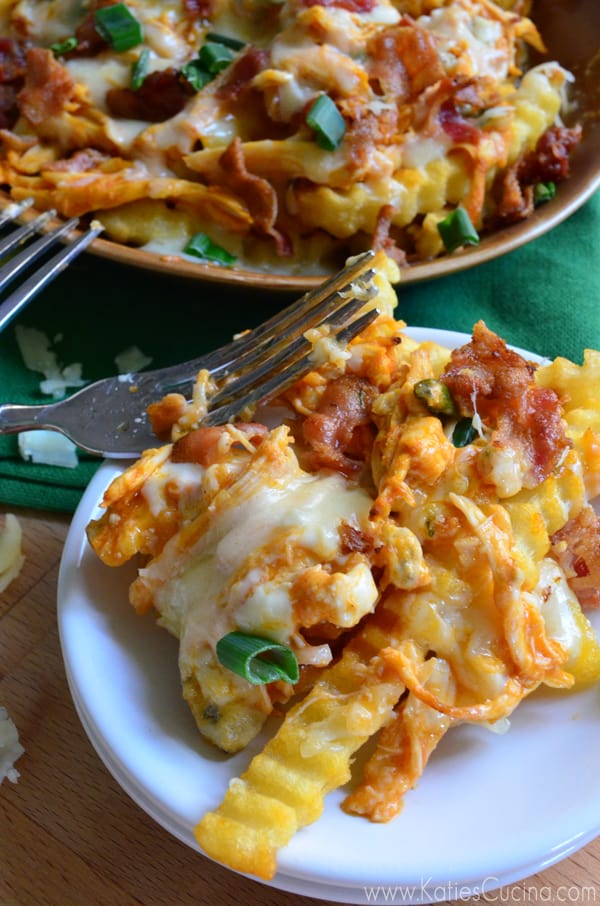 On the day I made these fries, I also made the Grilled Sweet and Spicy Asian Sticky Drums for lunch. It was a Sunday, and my husband was working on the nursery while I was busy cooking in the kitchen. The playoff games were blaring in the background, and every now and then I would see my husband stop what he was doing (with wood in his hand coming in and out of the garage) to watch the game. These fries plus wings plus a break from nursery building was exactly what he needed! I called him to come eat (after I was done photographing our food) and he immediately sat down at the kitchen island to dig in to all the "football food". This is a small batch recipe that feeds 2–you can easily double, triple, or even quadruple the recipe. I used half of a 32 oz bag of frozen crinkle cut fries to make the process go a little quicker. If you have the time and desire–make homemade french fries. Or use my semi-homemade method. I plan to whip up a very large batch of these fries for the "big game" tomorrow as well as a batch of my bacon cheddar cheese fries. I know they are going to be a big hit and I'll probably be fighting people over the last few fries!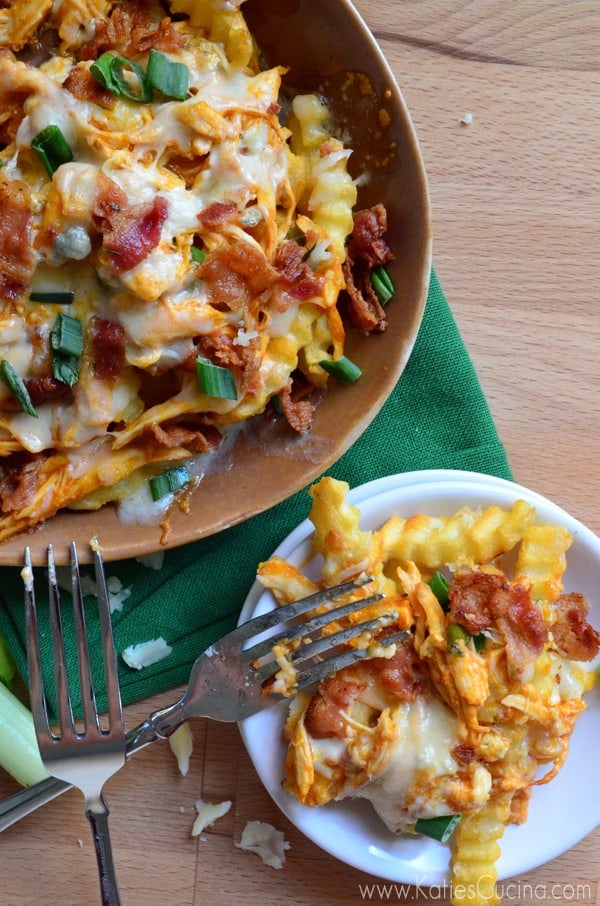 Tip: If you are traveling to a party and want to bring these fries. Cook the fries at home, then assemble the toppings at your destination and broil them once your at the party for a few minutes. The fries will not be soggy and will be "fresh" and piping hot out of the oven! Your host/hostess will appreciate you are only using their oven for a few minutes rather than 20-30 minutes!

Buffalo Chicken Bacon Cheese Fries
Yield: 2
Prep Time: 5 minutes
Cook Time: 20 minutes
Total Time: 25 minutes
Ingredients:
16oz Crinkle Cut Frozen Fries
1/2 cup white cheddar, shredded
1/2 cup cooked shredded chicken
1/4 cup buffalo sauce
1 tbsp green onions
3 tbsp bleu cheese
3 strips of bacon, crumbled
Directions:
Cook fries according to package.
In a small bowl, while the fries are cooking, add shredded chicken, buffalo sauce, and green onions. Microwave for 30 seconds. Mix well.
Once fries are done cooking, top with half of the cheese, buffalo chicken mixture, and layer with remaining cheese.
Broil on high for 1 minute or until cheese has melted and is golden brown and bubbly. Enjoy immediately.
Warning
: Use of undefined constant rand - assumed 'rand' (this will throw an Error in a future version of PHP) in
/home/kjasiewicz21/webapps/katiescucina/wp-content/themes/katiescucina/single.php
on line
74
31 Responses to "Buffalo Chicken Bacon Cheese Fries"
Trackbacks/Pingbacks

Leave a Comment