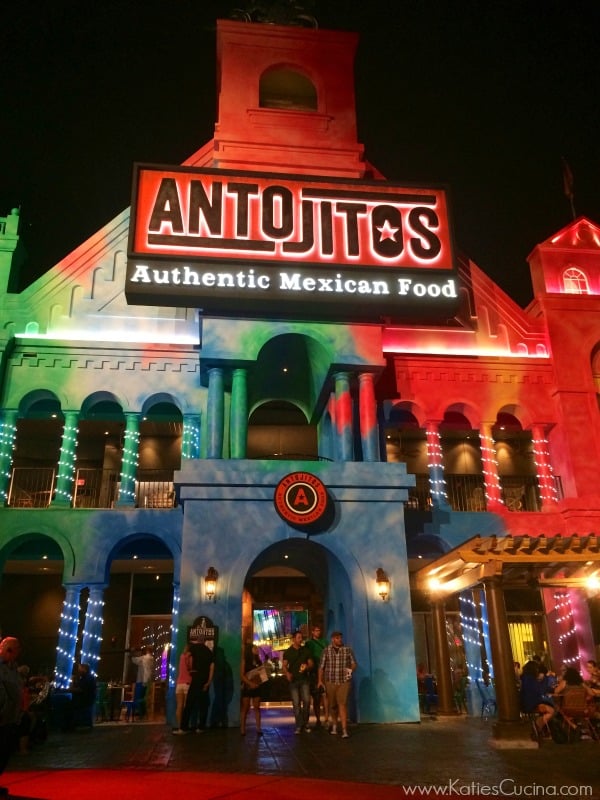 Last night, I had the chance to attend a media event for the brand new Antojitos Authentic Mexican Food restaurant at Universal Orlando's CityWalk. Since all I crave right now is Mexican food this event was right up my alley. Plus, I haven't been to CityWalk in a while and I wanted to see for myself all the updates they've been working on.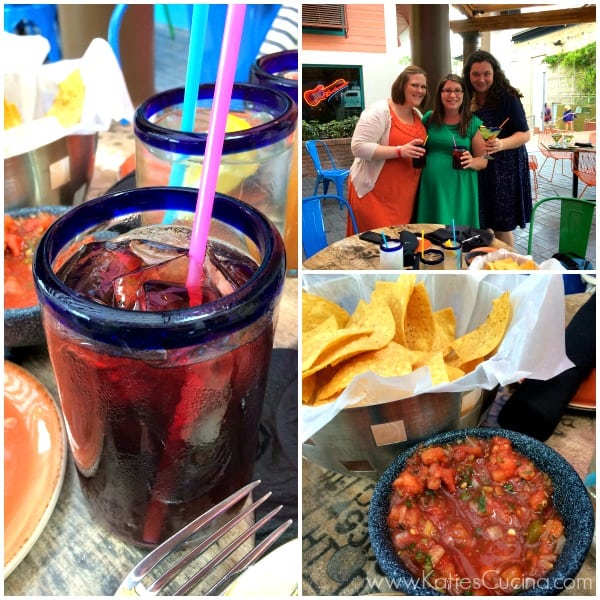 Antojitos Authentic Mexican Food is located in the heart of Universal CityWalk, right next to the groove nightclub. Visitors to the vibrant, two-story restaurant can enjoy two unique dining experiences, both featuring a delicious menu that combines authentic, traditional Mexican fare with all-new flavors – all made from scratch using the freshest ingredients.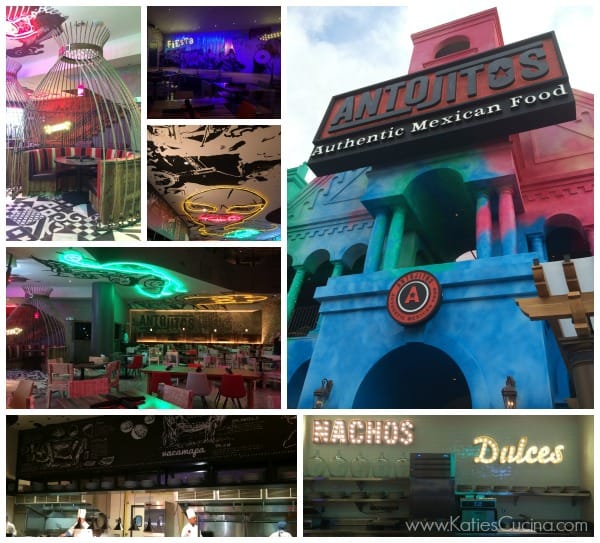 I took full advantage of having one of my last girls nights out for a while. I met up with my friend, Kristen from Yellow Bliss Road (who just so happened to be visiting from California on vacation with her family), and Christine from Cook the Story. When we got to the restaurant we started off with delicious house-made chips and salsa on the spacious outdoor patio. The mariachi band was playing popular music that you'd here on the radio–not your traditional mariachi music! I sipped on an agua fresca while the girls tried one of the signature margaritas.
When we got inside I immediately noticed the eclectic decor; a mix of traditional Mexican folk art with new-aged style decorating. Lots of bright and vibrant colors. Antojitos takes diners on a journey through the cantinas, street carts and markets of Mexico City for craveable Mexican fare that is unlike any other. The restaurant has two floors and each floor has a different menu.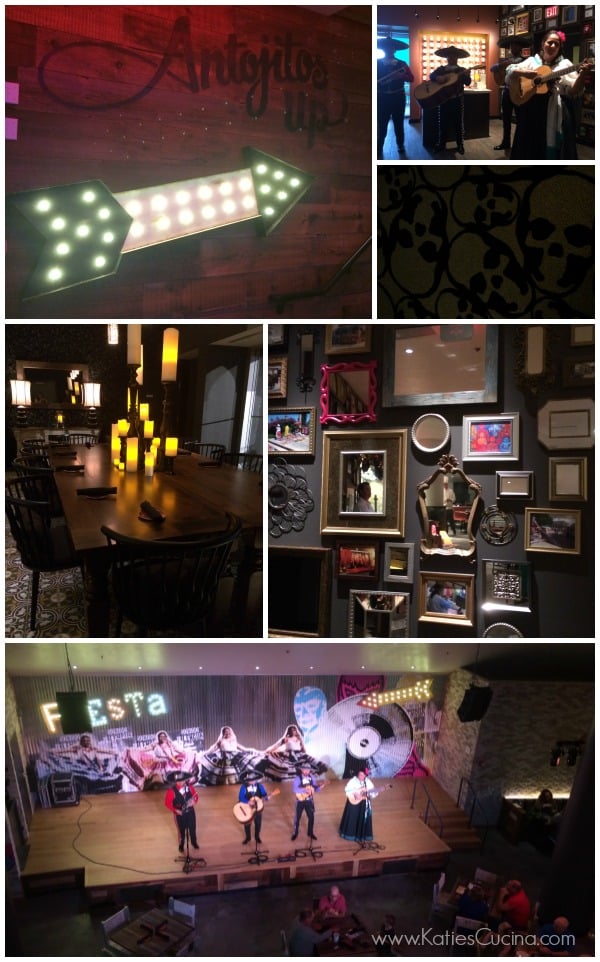 Guests can choose to dine downstairs and enjoy a more casual dining experience that includes items like carnitas al pastor tacos (made with beer and chile braised pork, grilled pineapple and guajillo salsa) and oaxaca enchiladas (chicken tinga and house made mole sauce, queso fresco and lime crema). Click on the link to find all the offerings for the the Antojitos Menu.
Upstairs, guests can enjoy a more refined dining experience that includes menu options like carne asada brava (coffee crusted ribeye with fire roasted vegetables) and menonita shrimp (bacon wrapped shrimp stuffed with menonita cheese, manchego corn pudding and a poblano chorizo sauce). Antojitos has Mexican soda, beers, regional wines and an extensive selection of over 200 different tequilas and mezcal. Click on the link to view the Antojitos Up Menu.
Tables line the balcony that overlooks the first floor and stage. The mariachi band walks around (both inside and outside) as well as plays on the stage. When I snapped this photo they were playing "Blurred Lines"… a rendition like no other!
Bathrooms are conveniently located on both levels–which is important to a pregnant lady who is 8 months along! I will say that both menus are reasonably priced. You can expect prices that range from the $10-$20 range on the first floor, and $15-$30 range for the second floor.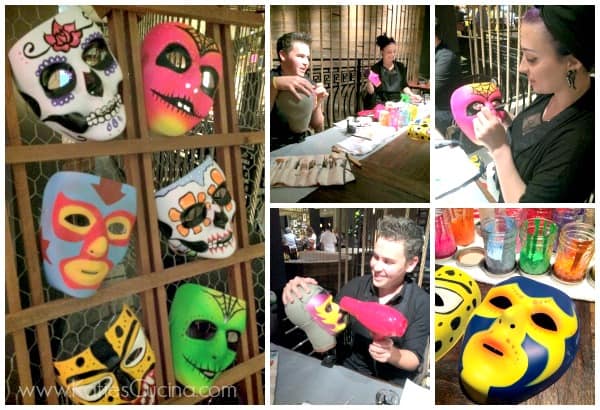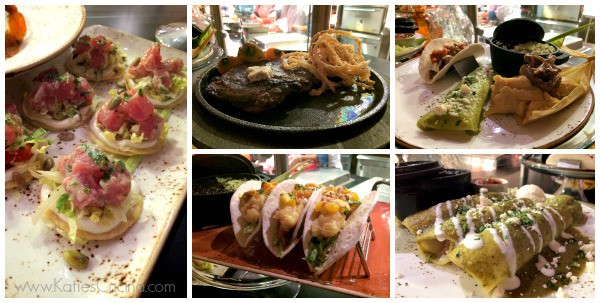 Upstairs you'll also find complimentary Mexican mask painting Wednesday-Sunday evenings from 6-10 pm. I suspect this will be popular with not only the kids but the adults too!

We sampled a wide variety of food including but not limited too: coffee crusted ribeye with fire roasted vegetables, carnitas al pastor tacos, and oaxaca enchiladas. The seafood cocktail is out of this world delicious. We were all slurping the remaining tomato juice. I may or may not have consumed multiple spoonfuls of what is known as Esquites Asados (Mexican street corn).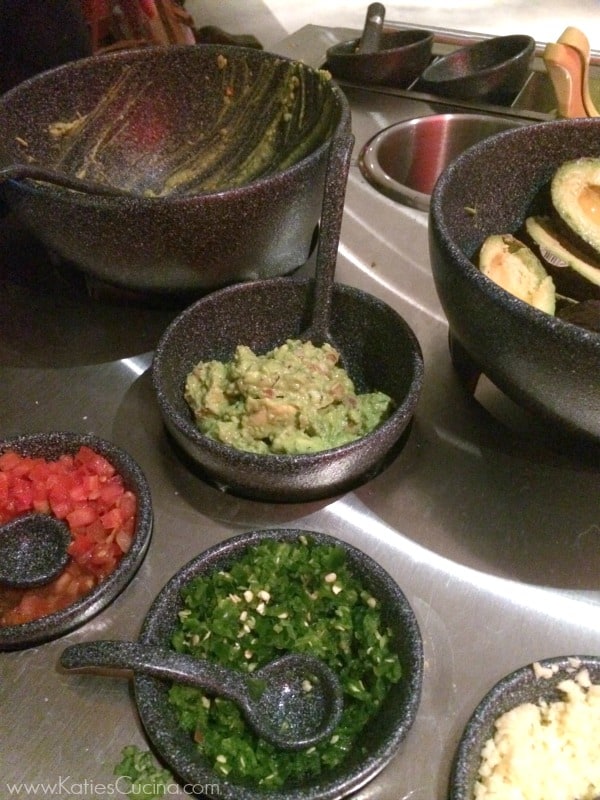 While sampling the food we enjoyed watching our guacamole being prepared table side. Our server, Marc, shared all the ingredients with us, asked us how hot we wanted it and then got to work. Each table-side guac consist of 2 haas avocados accompanied by lime, salt, tomato, garlic, red onion, green olives, cilantro, and for those who like it spicy… jalapeno.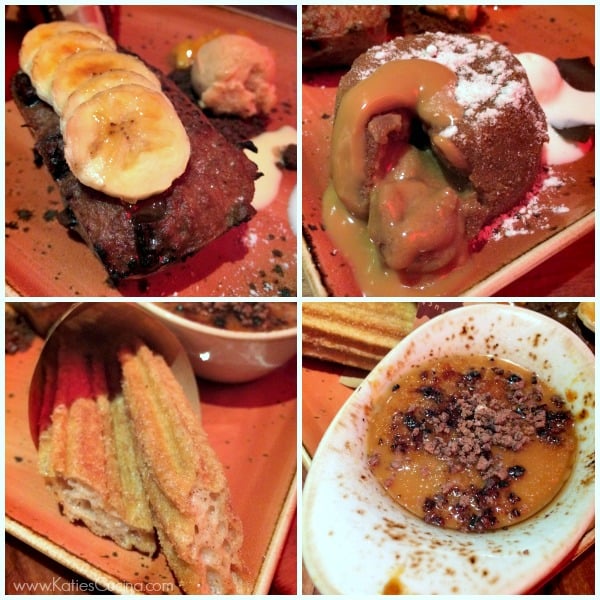 I captured Marc working his magic as he made our guac. We all couldn't stop munching on the chips and guac. The table-side service is $13.99 and I think can easily feed 4-6 depending on your appetite. I'm a guacamole lover and I would not skimp on this service–I would pay this each and every time I visited Antojitos!
We finished off our evening sampling delectable desserts. Pictured left top corner: Antojito's Banana Chocolate Bread Pudding with Fruit Salsa, Chocolate Crumbs, and Mamey Sorbet. Top Right corner (and my favorite) Molten Dulce Cake with Dulce Sauce and Sour Cream Ice Cream. Bottom photos: Coffee Creme brûlée and Churros.
Overall, I loved this new Mexican restaurant. The food was as fresh and vibrant as the decor. I can see myself going back with friends and family to celebrate a special occasion upstairs or meet friends for drinks and dinner down stairs. Or after a long day at the parks to unwind with a margarita and some house-made guac!
Antojitos Authentic Mexican Food is now open nightly from 5 p.m. to midnight. Antojitos is the next venue to debut as part of Universal CityWalk's historic expansion, which will include the addition of eight new venues to the complex's already popular collection of national brands. Other venues to join Antojitos this year include Hot Dog Hall of Fame, VIVO Italian Kitchen, Cold Stone Creamery, Menchie's, and The CowFish. For more information about Universal CityWalk, visit: https://www.universalorlando.com.
Disclaimer: I received complimentary food while at this event. All opinions are my own.