Shredded Chicken Taco Flatbread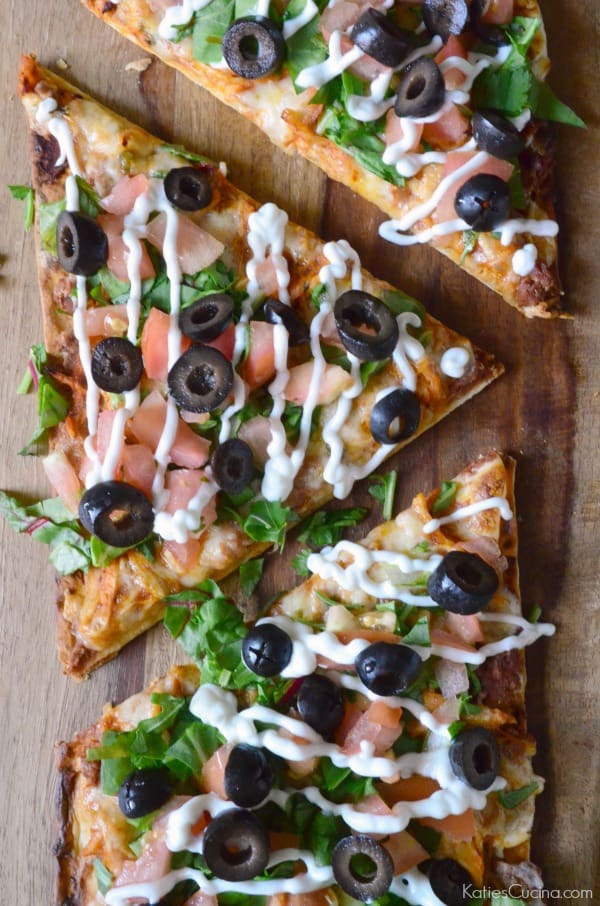 Welcome to taco week! All week long if you search by the hashtag #tacoweek you'll find a wide-variety of taco inspired recipes. Since I love tacos and Mexican food in general I knew I had to participate. I'm going to share some non-traditional style taco recipes this week and one that is semi-traditional. Today, I'm sharing a flatbread recipe. Wait, what? I'm sure your asking yourself  "how is that taco like…" well because I've turned all my favorite taco ingredients into a flatbread.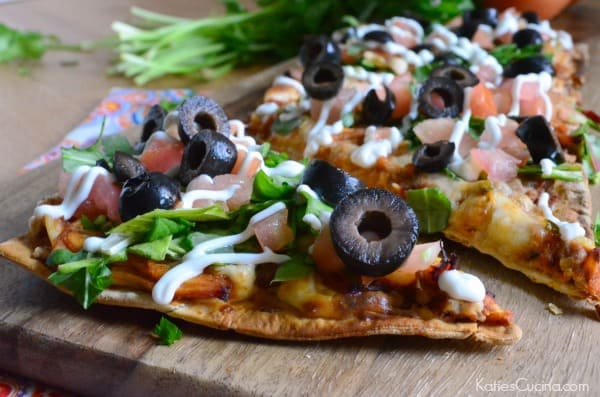 I love turning leftovers into an entirely new meal. What's not to love about having food already cooked, and simply waiting for you to eat it in your refrigerator. So when I have leftovers whether purposefully done (like I did for this recipe) or just laying around I like to get creative. I love making flatbreads. I feel like I can always have an easy go-to lunch when I have flatbreads on hand. So when I had leftover shredded chicken for taco's in the refrigerator, I knew I wanted to make a Shredded Chicken Taco Flatbread.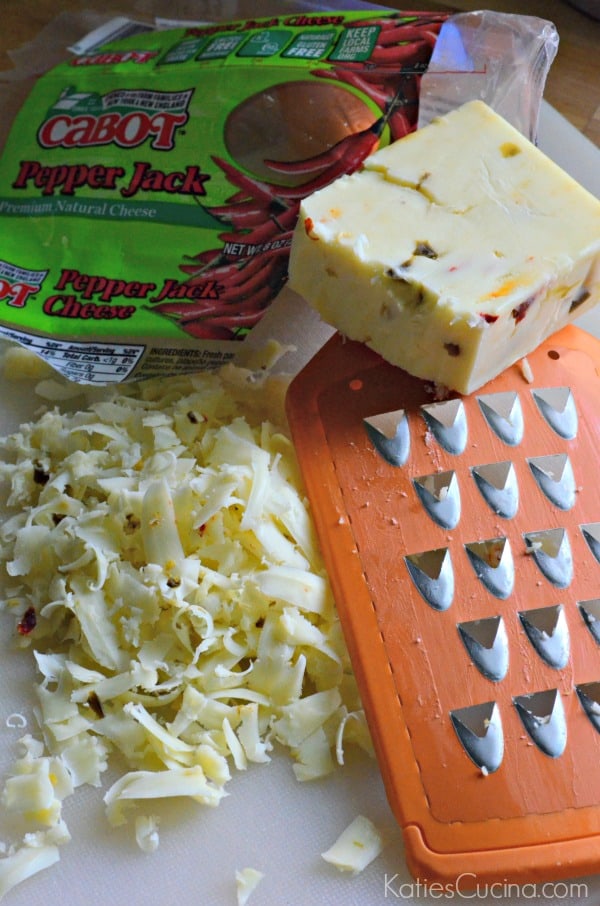 For this flatbread, I used Cabot Pepper Jack cheese. It gave the flatbread a nice zippy taste and worked perfectly with the other flavors of the flatbread. Whenever I make flatbreads I always make sure I reheat all the leftovers before I bake the flatbread. Sometimes I find that if I don't do this that my flatbread looks hot and bubbly but it's really still cold in one of the many layers. I also love using hot items and then topping with cold crisp items like freshly diced tomatoes, shredded lettuce and a drizzle of cold sour cream. If you don't have sour cream on hand definitely try using Greek yogurt. You will never know the difference.
Katie Original Recipe
Shredded Chicken Taco Flatbread
Ingredients
1 Flatout Flatbread
3 tbsp whipped cream cheese
1/4 cup refried beans
1/4 cup (leftover) shredded chicken
1/4 cup pepper jack cheese, shredded
3 tbsp diced tomatoes
1 tbsp cilantro
1/4 cup lettuce, shredded
2 tbsp sliced olives
1 tbsp sour cream
Directions
Pre-heat the oven to 400 degrees Fahrenheit. Once the oven is preheated then pre-bake the flatbread for 2 minutes.
Once the flatbread is pre baked then layer on the cream cheese, followed by refried beans, shredded chicken, and pepper jack cheese. Bake the flatbread for 7 minutes. Then top with diced tomatoes, cilantro, shredded lettuce, sliced olives, and sour cream. Serve immediately.
Notes
To ensure the flatbread is piping hot I always pre-cook my leftovers before applying to the flatbread. Make sure you prep the tomatoes, lettuce, etc while the flatbread is baking in the oven.
https://www.katiescucina.com/shredded-chicken-taco-flatbread/
This recipe is brought to you by Katie Jasiewicz of Katies Cucina
Warning
: Use of undefined constant rand - assumed 'rand' (this will throw an Error in a future version of PHP) in
/home/kjasiewicz21/webapps/katiescucina/wp-content/themes/katiescucina/single.php
on line
74
5 Responses to "Shredded Chicken Taco Flatbread"
Trackbacks/Pingbacks

Leave a Comment