Beef & Refried Bean Baked Tacos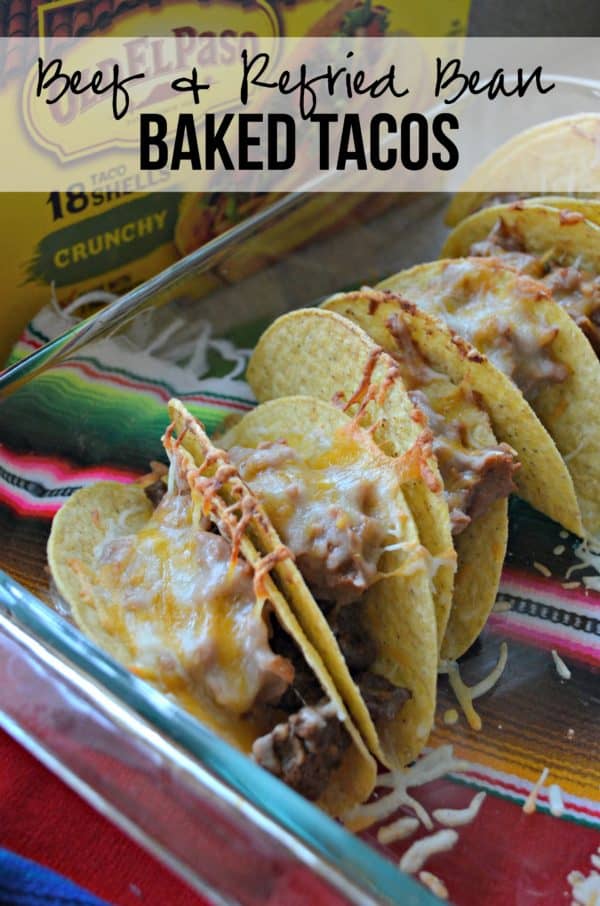 Get ready to elevate your game day eats with my recipe for Beef & Refried Bean Baked Tacos. I'm kind of obsessed with baked tacos. Have you tried them? It's my go-to way for entertaining these days and my family and friends are also now obsessed with them. The only way I serve crunchy tacos in my home. I partnered with Old El Paso today to share this recipe–they are my go-to brand when it comes to crunchy taco shells.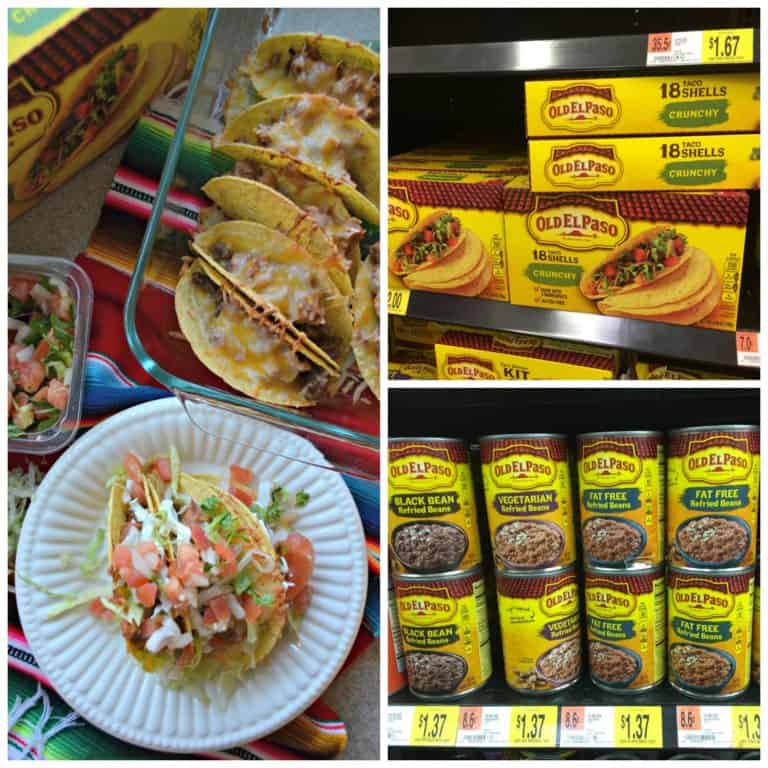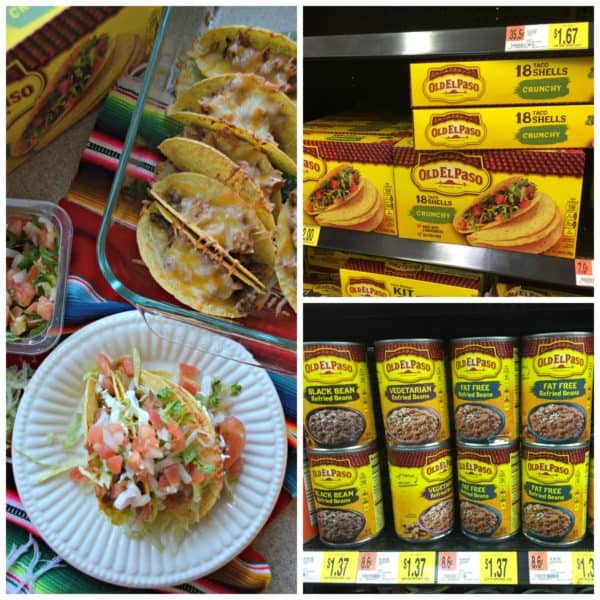 So let's talk a little bit about these tacos. First, I went to my local Walmart to pick up a package of Old El Paso Crunchy Taco Shells and Old El Paso Refried Beans. Walmart is my go-to game day center. You can't beat the everyday low prices! Then, once I got home it was time to get my cooking on. The beauty of these tacos is that you can make them ahead of time and then pop them in the oven before guest arrive. I'm going to teach you my secret trick so that you don't have a soggy taco shell.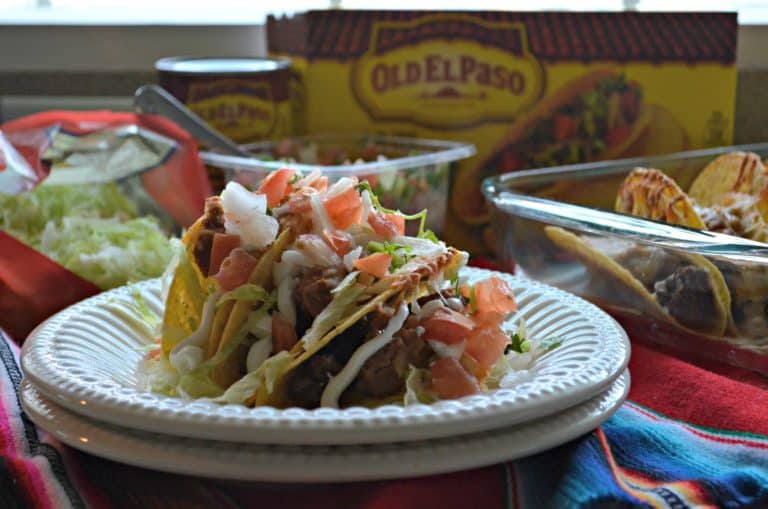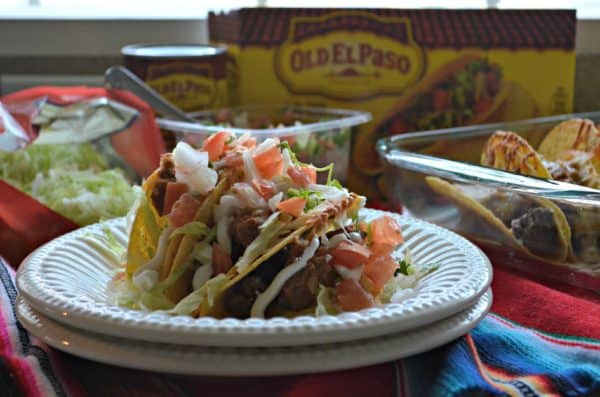 When your ready to cook, you'll make your ground beef first. The key to not having soggy taco shells is to have a drier than normal beef mixture. You don't want your beef to have a lot of sauce–it will still be flavorful just not full of sauce. While your beef is cooking, heat up the refried beans so that they are pliable and easy to work with.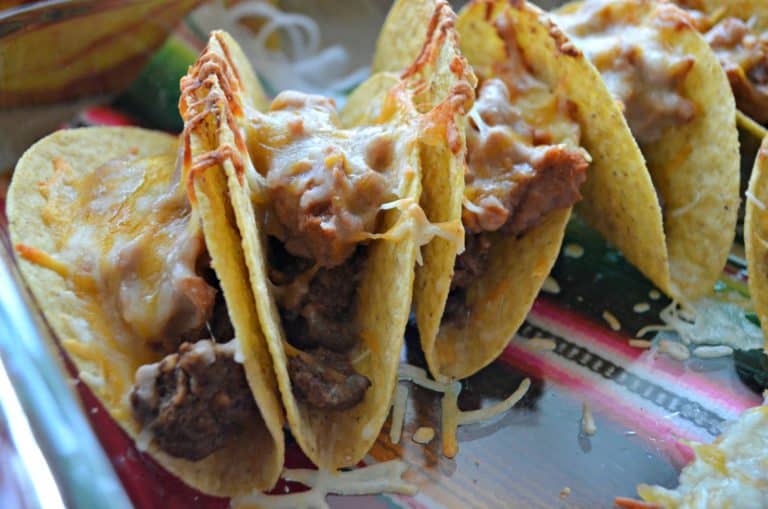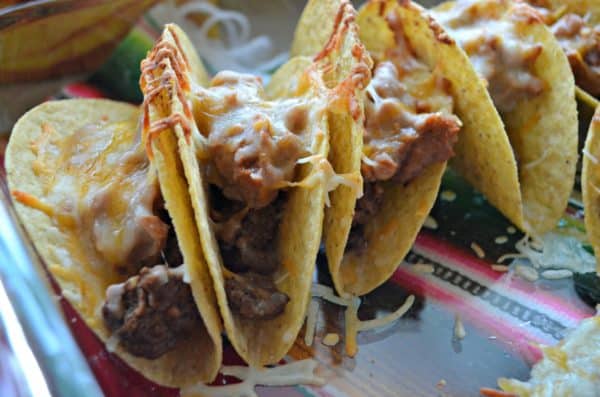 You'll place the crunchy taco shells in a glass or ceramic baking dish. Then you'll start spooning in the beef mixture, followed by about a tablespoon of refried beans. Once you have both layers completed sprinkle on the cheese. This is something I really don't measure. I like lots of cheese–so really, I just pour on the cheese! Then once your guest have arrived or your ready for dinner you pop them in the oven for 10 minutes at 400 degrees. That's it!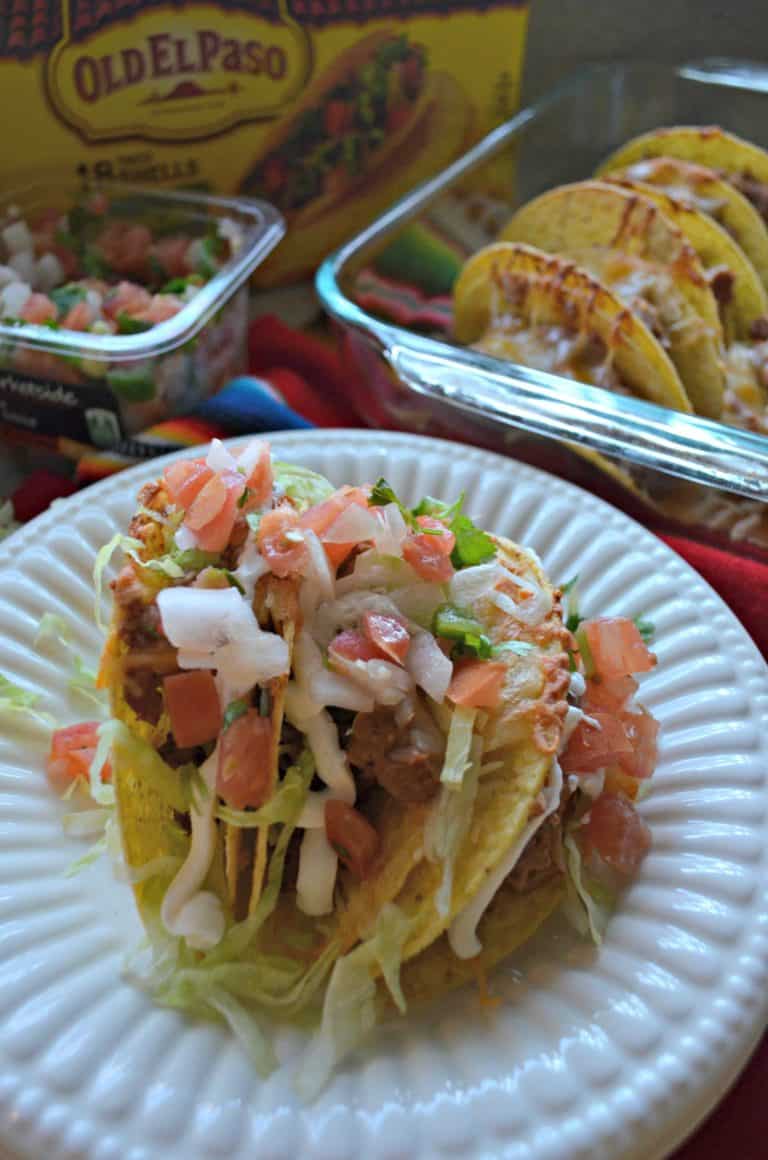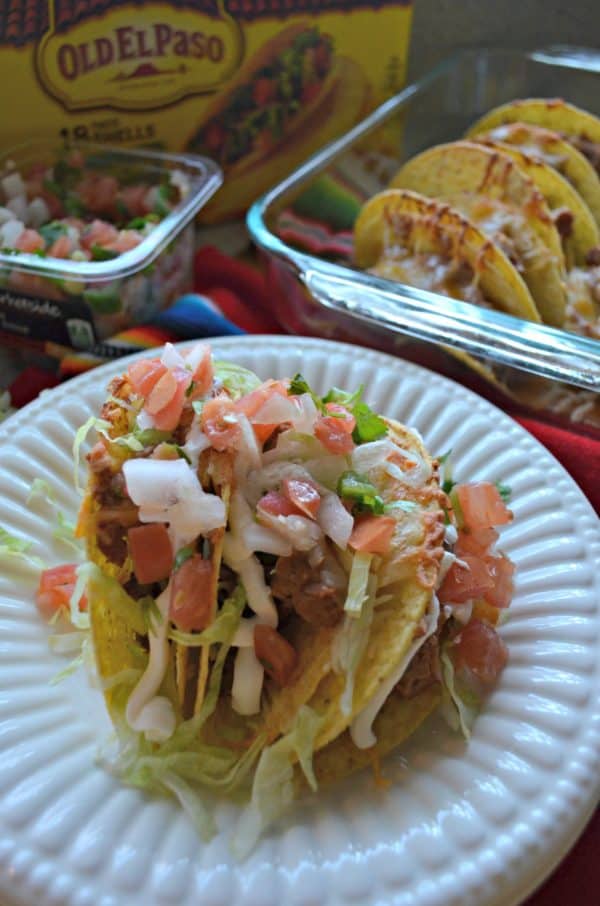 Then once the tacos are done you can set out a variety of toppings like pico de gallo, shredded lettuce, sour cream, guacamole, hot sauce and more. Your guest can then top their tacos with whatever they desire! My family and friends love this recipe for Beef & Refried Bean Baked Tacos and I think you will too!

Beef & Refried Bean Baked Tacos
Yield: 18
Prep Time: 5 minutes
Cook Time: 20 minutes
Total Time: 25 minutes
Ingredients:
1 lbs. lean ground beef
1/2 cup white onion, chopped
1 packet Old El Paso Taco Seasoning
1/2 cup water
1 Old El Paso 18 Crunchy Taco Shells
1 16 oz. can Old El Paso Traditional Refried Beans
8 oz. shredded Mexican cheese, divided
Toppings for taco: pico de gallo, shredded lettuce, sour cream, and guacamole if desired
Directions:
Place the ground beef and chopped white onion in a skillet on the stove top. Cook on medium heat, and break up the beef into bite-size pieces. Once the beef is cooked (about 5 minutes), sprinkle the taco seasoning on top of the beef. Add the water to the skillet and mix well. Simmer on low for 5 minutes.
While beef is simmering, heat the refried beans on the stove top on low heat until warm and pliable.
Preheat the oven to 400 degrees Fahrenheit.
Place taco shells in a large glass baking dish. Layer with ground beef and a tablespoon of refried beans until all the beef and beans are used up. Then sprinkle the cheese on top of the tacos and bake the tacos for 10 minutes until shells are golden in color and cheese is melted.
Carefully, remove from the oven and top with your favorite toppings like shredded lettuce, pico de gallo, sour cream, and guacamole!
Save
Save
Save
Save
Save
Save
Save
Save
Warning
: Use of undefined constant rand - assumed 'rand' (this will throw an Error in a future version of PHP) in
/home/kjasiewicz21/webapps/katiescucina/wp-content/themes/katiescucina/single.php
on line
74
2 Responses to "Beef & Refried Bean Baked Tacos"
Leave a Comment