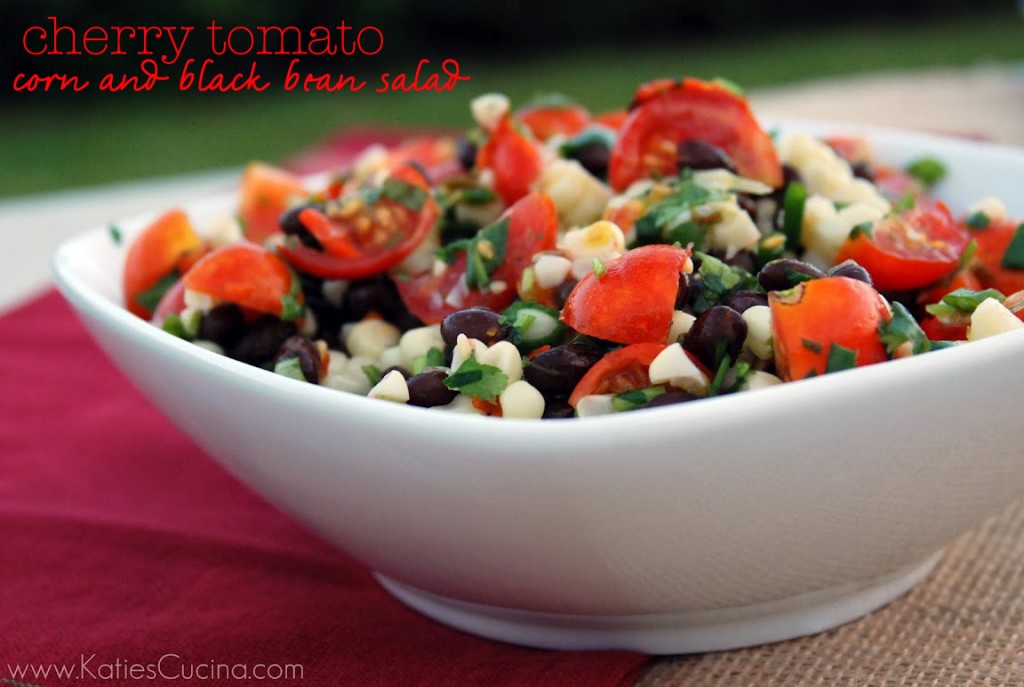 Are you ready for the most amazing summer salad to date?
Fresh, sweet, and full of flavor?
If you answered, yes, then I have got the recipe for you!!! This recipe came about all because I was trying to use up some leftovers! The best part is that I was planning to recipe develop the night I created this salad, but because I'm now programed to write every ingredient/measurement known to man down on paper –I decided to write down this recipe. O-M-G I'm glad I did! This salad is perfect for picnics… does not need to be refrigerated (because it has no mayo)! The chunks of fresh corn, the diced cilantro, the zing of lime–all play big roles to this recipe. The night I made this salad I accompanied it with grilled chopped chicken tacos (recipe to come).
I'm also excited to share this recipe today because I'm participating in the Tomato Love Recipe Exchange hosted by Gimme Some Oven & Bake Your Day, and sponsored this week by BigKitchen. This 2 month long event is to increase awareness of the International Justice Mission's Recipe for Change campaign.
A unique partnership between farmworkers and tomato growers called the Fair Food Program has made enormous strides in ending slavery and other abuses in Florida's tomato fields. Supermarkets can help guarantee an end to slavery and other serious abuses in the tomato supply chain by joining the Fair Food Program. This summer, we have a Recipe for Change: Join us as we campaign for guaranteed slave-free tomatoes. Click here to learn how you can get involved!
It wasn't until earlier this year when I attended the Southeast Produce Council Conference that I learned about the slavery issues we have right here in Florida when it comes to tomato farming. Just a few years ago, Florida's tomato fields were called "ground zero" for modern-day slavery in the United States. I hope you will take a stand against slavery and other human rights abuses in the tomato industry with me to ensure that the tomatoes that we love are harvested by farmworkers in an environment of safety and basic dignity.
Source: Katie Original Recipe
Ingredients
2

ears corn on the cob

removed

1

can black beans

drained

1/4

cup

cilantro

chopped

1/4

cup

green onions

diced

2

tbsp

roasted red bell pepper

diced

2

cups

cherry tomatoes

quartered

1

tsp

salt

1

lime

zest of and juiced

1

jalapeno

seeded and chopped
Instructions
In a large bowl add corn that has been removed from the cob, drained black beans, 1/4 cup each of cilantro and green onions, 2 tablespoons roasted red bell pepper, 2 cups cherry tomatoes, quartered, 1 tsp salt, zest and juice of 1 lime, and 1 jalapeno. Mix well and chill until ready to serve!
Notes
*This is an original Katie's Cucina recipe.