I love tacos. I love Mexican food. We probably eat a Mexican inspired dish at least once a week. I'll be the first to admit that for some reason I don't like chopped chicken in my dishes. I will only order the chicken if its shredded. The night I made these I wanted chicken tacos, but I didn't want to turn the stove on in the house… so I decided I would make grilled chicken tacos and chop the meat!
This reinvented Mexican dish turned out great! I used a packet of taco seasoning and rubbed the chicken with it. This gave the chicken a crispy and flavorful outside. Before I ever cut meat I always let it rest for 5-10 minutes in order to let the juices settle. This recipes is no different.
I used crunchy taco shells I had on hand and got the brilliant idea to place them on the hot grill a few minutes before I was ready to pull the chicken off the grill. I used butter lettuce and chopped it, followed by 2 avocados I had on hand and diced it. I always have shredded cheddar and sour cream on hand so I knew I wouldn't have any issues there. The next time you get a hankering for Mexican food, make this meal on your grill. Warms your soul and keeps your home cool during the dog days of summer!
Source: Katie Original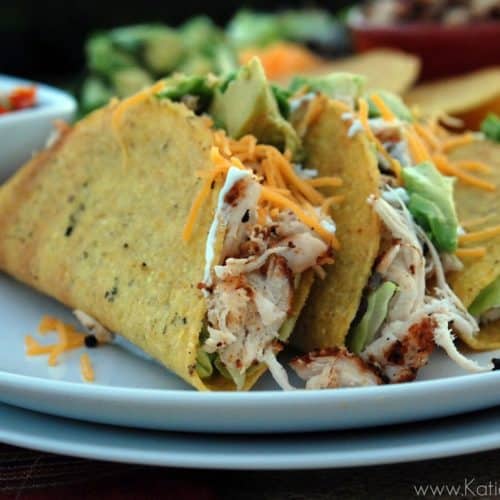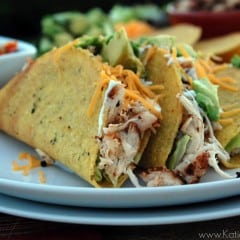 Ingredients
3

boneless skinless chicken breast

1

packet taco seasoning mix

Crispy Corn Tortilla Shells

Lettuce

chopped

2

Avocados

diced

Shredded cheddar cheese

Sour Cream
Instructions
Preheat your grill to medium-high heat. While grill is preheating rinse the chicken breast and pat dry with paper towel. Sprinkle 1 packet of taco seasoning mix over the 3 chicken breast and rub in well.

Place the chicken breast on the grill and cook for 20 minutes on medium heat or until internal temperature reaches 165 degrees. During the last 3-5 minutes of cooking place the crunch corn taco shells on the grill to heat them.

Once the chicken is cooked, begin chopping the chicken into bit size pieces. Assemble tacos in the following order: chopped lettuce, chopped chicken, shredded cheddar cheese, diced avocado, and sour cream.