Tropical Dream Drink Recipe
Looking for an instant vacation? Try this easy-to-make 3 ingredient tropical dream drink recipe. This tropical drink will have you feeling like your on a tropical vacation in no time!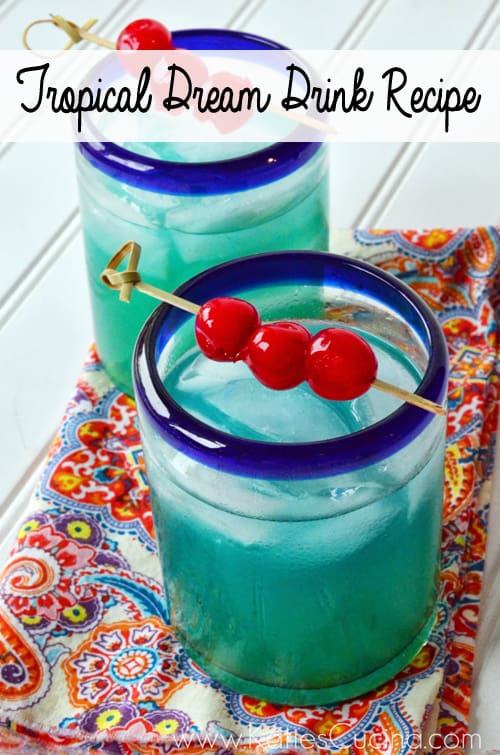 Last month, my husband and I went on an 8-day Southern Caribbean cruise. During our stops we spent a day in Curacao. By far my favorite island we visited while on that cruise. The people were friendly and the beaches were beautiful. The water… sigh… the water was crystal clear.
While in Curacao we we decided to go snorkeling verse our normal scuba diving. Our cruise ship arrived later in the afternoon to the port and didn't give us enough time to dive. With recommendations from a friend we took a taxi to a local beach and brought our own snorkles. We saw a dive shop and asked the dive master about snorkeling conditions around the beach. He told us to swim outside the channel and we would instantly swim into a fish tank. So we took his advice and swam out past the channel.
Seriously, he was not lieing. It was the most amazing snorkeling we've ever done. Heck just as good as some or most of the dives we've been on. The water was sparkling clear. We were 20-30 feet in water and could see perfectly down to the bottom. Schools of angel fish swam passed us and sea urchins galore on the rocks. After our amazing snorkel we spent an hour on the beach and then headed back into town where we met up with fellow cruise mates to have dinner and drinks. While at a local restaurant we ordered a drink very similar to this Tropical Dream drink recipe I'm sharing today.
Curacao is known for the Blue Curacao liquor. We did not pick up any on our trip, because my parents had just visited a few months prior and bought us a huge bottle! As soon as we got home we opened it up and started experimenting on making delicious tropical drink recipes. I can't tell you how many times we've made this drink since returning from vacation. It's pretty much a Friday ritual for us. It makes us feel like we our drinking our summer vacation in a glass!
Katie Original Recipe
Tropical Dream Drink Recipe
Ingredients
2 oz. Malibu Rum
1 oz. Blue Curacao
5 oz. Pineapple Juice
Maraschino cherries for garnish
Directions
Fill an 10 oz glass with ice. Then pour in Malibu, Blue Curacao and top with pineapple juice. (*we found that 5 oz. worked best but you can add more or less to your desire). Stir and garnish with a few maraschino cherries.
https://www.katiescucina.com/tropical-dream-drink-recipe/
This recipe is brought to you by Katie Jasiewicz of Katies Cucina
Warning
: Use of undefined constant rand - assumed 'rand' (this will throw an Error in a future version of PHP) in
/home/kjasiewicz21/webapps/katiescucina/wp-content/themes/katiescucina/single.php
on line
74
21 Responses to "Tropical Dream Drink Recipe"