This recipe has been long anticipated by many. It all started after I posted a few photos on instagram giving my social readers a sneak peak into what I was making. I'm going to preface right out the gate that I am no mixologist. Creating drinks is foreign to me. Don't get me wrong, I love to drink them, but getting the measurements just right is very challenging for me. Some would say that making a drink is just like creating a recipe; however, I beg to differ. Hence the reason why this drink recipe will be in tablespoons and cups rather than 1 or 2 parts… I tried the whole equal parts, 1 parts, 2 parts thing and failed miserably a few times. That was until I went back to what I know… measuring things out a tablespoon and a cup at a time!
Go ahead and laugh. Fine by me, but you won't be laughing after you drink this refreshing adult beverage! You'll be hooked and will find yourself measuring out tablespoon by tablespoon to achieve the perfect peach mojito!
I'm also going to put it out there that I'm not a big fan of the mojito. I love the taste of mint, but hate drinking chunks of it. That's why when I had a mojito recipe in mind I decided I would infuse the simple syrup with mint… that way it wasn't needed nor required to have large chunks of mint in the drink! I can definitely say that my master planned worked beautifully, because you still got the strong mint taste without tons of muddled leaves in your mouth.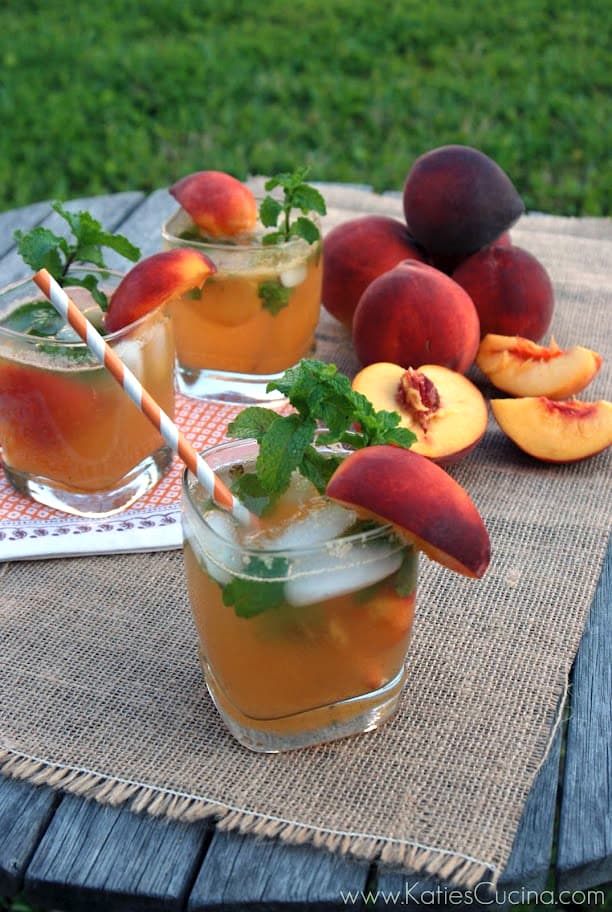 What are you waiting for? Peaches are in season. Get making some peach purée and mint-infused simple syrup and then give this drink a whirl!
Source: Katie Original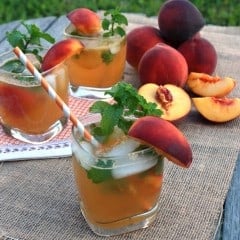 Peach Mojitos
Embrace the fruit of the summer with my delicious and easy to make Peach Mojitos recipe.
Print
Pin
Rate
Instructions
In a cocktail shaker, add 1 sprig of mint (about 4-5 leaves, stem removed), mint-infused simple syrup, and peach purée. Using a muddler, muddle the mint so that it breaks up in the simple syrup/peach purée juice. This should take 30 seconds to 1 minute.

Once mint is muddled, add 2 tablespoons rum and ¾ cups sprite. Shake well, pour into a glass, and garnish with two peaches and a sprig of mint.
Notes
Simple syrup and peach puree will keep nicely in the fridge so you can mix up a drink at a moment's notice.
Nutrition
Serving:
8
oz.
|
Calories:
252
kcal
|
Carbohydrates:
47
g
|
Protein:
1
g
|
Fat:
1
g
|
Saturated Fat:
1
g
|
Sodium:
32
mg
|
Potassium:
241
mg
|
Fiber:
2
g
|
Sugar:
45
g
|
Vitamin A:
474
IU
|
Vitamin C:
9
mg
|
Calcium:
18
mg
|
Iron:
1
mg