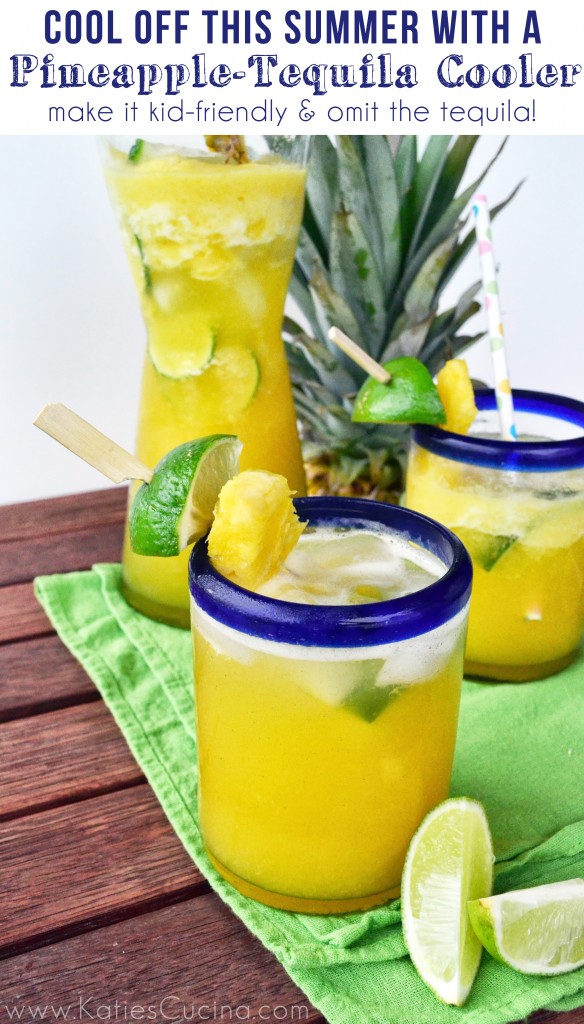 I thought it was hot in Austin. It was–but now that I'm back in Florida I'm sweating daily. Not the same kind of "hot" like Austin, but the humid-hot. So what better way to cool off than this Pineapple-Tequila Cooler. Don't fret, if drinking alcohol isn't your thing you can easily omit the tequila and make this a non-alcoholic pineapple-lime cooler. Both ways it is equally good!

I recently received a box of new fruit tools from OXO. One of the first tools we tried out was the Ratcheting Pineapple Slicer. I hate cutting pineapple and always task my husband with the job of doing it. Now that I have the pineapple slicer, I can cut pineapple with ease! I made a fun animated gif to show just how easy it is to use/cut pineapple! And we learned after the first sliced pineapple that you want to put a bowl underneath because the slicer extracts a lot of juice! So far we've found that we get about 1 cup of juice from every pineapple. So I just strain the juice before sealing it in a jar and then I either add it to this drink or save it to be used within a day or two.
Whether or not you have this tool you need to make this drink. Perfect for hot summer days!
Adapted from Everyday Rachael Ray, May 2013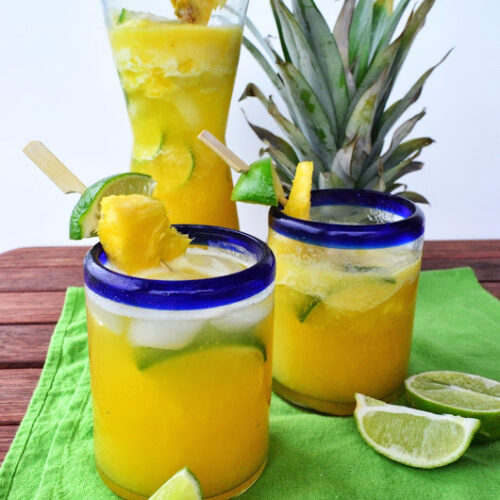 Ingredients
1

whole pineapple

puree'd

1

cup

water

1/2

cup

lime juice

6

tbsp

agave

1/2

cup

tequila

optional

1/2

cup

pineapple

minced

Ice

Lime wedges for garnish
Instructions
Using a blender, puree pineapple (in chunks) until its fine like juice (you may need to do 2-3 batches depending on the size of your blender). Mix in lime juice, 1 cup water, and agave. Pour into pitcher. Stir in tequila, if using.

Pour over ice and garnish with pineapple chunks and lime wedges.
Disclaimer: I received a box of fruit tools from OXO. I was not compensated to create this recipe nor required to blog about the tools. I genuinely love OXO and just want to share what I'm using in my kitchen. There are affiliate links in this post.