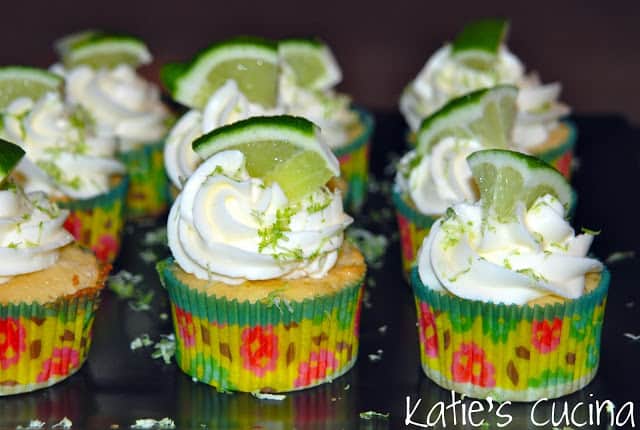 Happy Cinco De Mayo!


What better way to celebrate Cinco de Mayo then with tequila infused cupcakes! Actually, unless you are soaking the cupcakes in tequila you won't really taste the tequila. But they are a bundle of limey-goodness! It's like key lime pie in the cake form. I ended up creating my own frosting recipe for this cupcake after an epic fail. I attempted to make the frosting listed on Annie's blog… the eggs and such. No bueno! I've tried making an egg-based frosting before and failed miserably, and once again, fail! I then decided to make my own frosting using the normal butter cream recipe I've come to memorize, and it turned out wonderfully!


Cake Source: Annie's Eats adapted from Confections of a Foodie Bride, who adapted it from Martha Stewart
Frosting Source: Katie Original
Prep: 15 minutes
Cook: 20-24 minutes
Serves: 24
Ingredients for the Cupcakes:
3 cups all-purpose flour
1 tablespoon baking powder
½ teaspoon salt
2 sticks unsalted butter, room temperature
2 cups sugar
4 large eggs, room temperature
3 limes, zested and juiced
½ teaspoon vanilla extract
1 cup buttermilk
Ingredients for the Frosting:
2 sticks of butter
1-2 cups of confectioners sugar
1 teaspoon of vanilla extract
1 tablespoon lime juice
¼ cup tequila


Directions:

1. To make the cupcakes, preheat the oven to 325? F. Line two cupcake pans with paper liners. In a medium bowl, combine the flour, baking powder and salt; stir with a fork to blend. In the bowl of a stand mixer fitted with the paddle attachment, cream together the butter and sugar on medium-high speed until light and fluffy, 3-5 minutes. Blend in the eggs one at a time, mixing well after each addition and scraping down the sides of the bowl as needed. Beat in the lime zest, lime juice and vanilla. With the mixer on low speed, mix in the dry ingredients in three additions alternating with the buttermilk, beginning and ending with the dry ingredients. Beat each addition just until incorporated.


2. Divide the batter between the prepared cupcake liners, filling each about ¾ full. Bake 20-24 minutes, or until a toothpick inserted in the center comes out clean. Let cool in the pan 5-10 minutes, then transfer to a wire rack to cool completely. If desired, brush the cooled cakes with tequila to emphasize the true margarita flavor.


3. To make the frosting, combine the sugar and butter in a stand mixer fitted with a whisk attachment. Start mixing on low and as the sugar combines with the butter gradually increase the speed. Once the butter and sugar are light and fluffy on medium-low add vanilla extract, lime juice, and tequila. Mix until liquids have fully incorporated into butter mixture. *At this point taste the frosting and see if you want to add anything else. If you like the taste, place into piping bag and refrigerate for 15 minutes to chill the frosting


4. Frost the cooled cupcakes and garnish with lime zest and lime slices.