Ever wonder what to serve with tacos? I'm here to share a wide variety of versatile and popular options which include chips and salsa, rice and beans, grilled vegetables, Mexican street corn, salad, margaritas and more!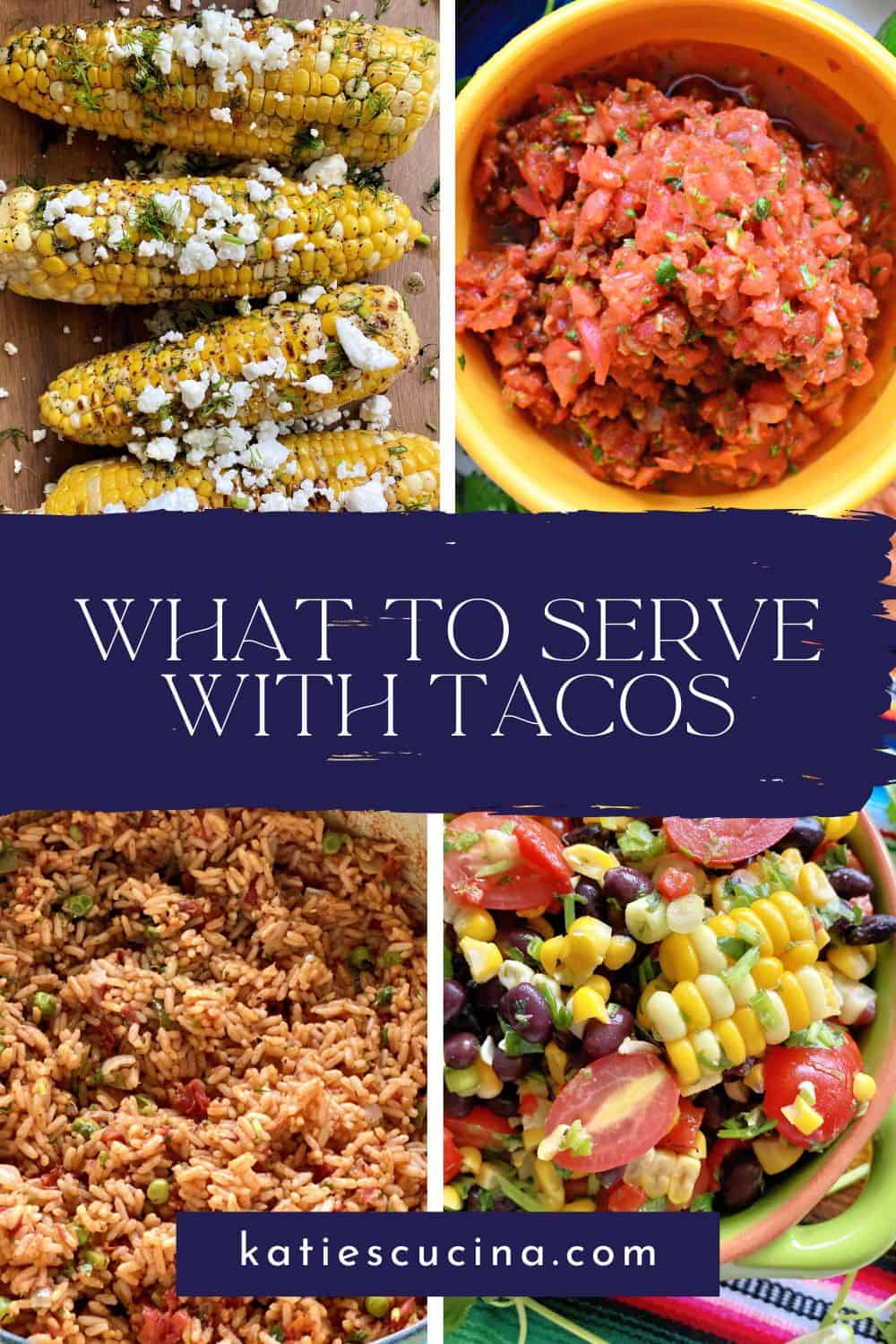 If there is one food I love it's a good taco. Since we love Mexican food in my home, and specifically tacos, I figured I would share some of my favorite sides for tacos.
Tacos are a beloved dish that originated in Mexico but has since spread throughout the world. They are made with a variety of fillings, from grilled chicken, ground beef, to sautéed vegetables to seafood tacos like mahi mahi tacos. Tacos are typically served in soft flour tortillas, homemade corn tortillas or hard tortillas. The toppings range of garnishes, such as salsa, guacamole, cheese, and sour cream.
If you're planning a taco night with friends or family, you might be wondering what to serve alongside these delicious little parcels. In this blog post, we'll explore some great options to complement your tacos and make your meal complete.
Jump to:
FAQs about Sides for Tacos
What are the traditional sides to serve with tacos?
Traditional sides to serve with tacos include rice, refried beans, and chips and salsa.
Are there any healthy sides that go well with tacos?
Yes, there are plenty of healthy sides that go well with tacos, such as grilled vegetables, a side salad, or a fresh fruit salsa.
Can I serve dips with my tacos?
Absolutely! Dips like guacamole, queso, and salsa are great options to serve alongside your tacos.
What are some creative sides to serve with tacos?
Some creative sides to serve with tacos include grilled street corn, black bean and corn salad, or cilantro lime rice.
What sides go well with specific types of tacos, such as fish tacos or chicken tacos?
For fish tacos, sides like pineapple salsa, mango slaw, or a citrus salad are great options. For chicken tacos, sides like Spanish rice, pico de gallo, or avocado crema are delicious complements.
Chips and Dip Recipes
Mexican chips and dip recipes are a delicious and flavorful addition to any party or gathering. Popular Mexican dips include guacamole, salsa roja, salsa verde, and queso dip. Tortilla chips are the perfect dipping option for these dips and can be served alongside other Mexican-inspired appetizers like taquitos, tamales, or mini tacos. Below you will find some of my favorite recipes.
If you're searching for a snack that's both crunchy and flavorful without any guilt attached, then air fryer tortilla chips are the perfect solution! Plus, the best part is you can get creative with your toppings and dips to suit your taste buds. So why stick with boring old potato chips when you can have a fun and tasty fiesta in your mouth?
If you're a fan of fresh, zesty flavors, then homemade salsa with cilantro is the perfect condiment to spice up any meal. With just a few simple ingredients and a touch of culinary magic, you can create a taste explosion that will have your taste buds doing the salsa! So why settle for store-bought when you can show off your culinary skills and impress your friends with your very own homemade salsa?
If you're looking for a cheesy and zesty dip that's easy to make and impossible to resist, then Velveeta cheese dip with Rotel is the perfect crowd-pleaser! With its velvety texture and bold flavor, this dip is sure to be a hit at any party or gathering. I know my friends and family can't get enough of this cheese dip. Take your dip game up a notch with this deliciously addictive Velveeta cheese dip?
If you're searching for a healthy and flavorful snack that the whole family will love, then homemade guacamole with cilantro is the way to go! Packed with healthy fats and fresh ingredients, this dip is perfect for dipping veggies or spreading on toast. Plus, making it from scratch is a great way to get kids involved in the kitchen and teach them how to make salsa.
If you're looking for a healthy and delicious dip that's perfect for snacking or as a condiment, then homemade cilantro lime yogurt dip is the answer! Made with wholesome ingredients like Greek yogurt and fresh herbs, this dip is a great source of protein and nutrients. Plus, its tangy and zesty flavor is sure to be a hit with both kids and adults alike.
If you're searching for a refreshing and healthy snack that the whole family will love, then homemade watermelon salsa is the perfect choice! Packed with juicy watermelon, tangy lime, and fresh herbs, this salsa is a delicious way to enjoy the flavors of summer. My kids love making this recipe– it's easy why not get the kids involved in making it. I always find that if my child doesn't like a food I'll have them help me prepare it and most of the time they end up eating it and loving it. Cooking is always a great way to introduce kids to new foods, like yicama.
Rice and Bean Recipes
This black bean corn tomato salad pairs perfectly with grilled chicken tacos. It's my go-to summer time meal with optimal freshness.
Mexican Vegetable Side Dish
If you're looking for a Mexican vegetable side dish to pair with tacos, consider options such as Mexican street corn and avocado fries. Grilled or roasted vegetables like zucchini, peppers, and onions also make great accompaniments to any taco dish.
If you're a fan of bold and complex flavors, then homemade Mexican street corn salad is a must-try recipe! With its combination of smoky grilled corn, tangy lime, and spicy chili powder, this salad is a celebration of traditional Mexican cuisine. Not only is it delicious, but making it from scratch allows you to control the quality and source of ingredients, making it a healthy and sustainable option. I've been making Mexican Street Corn Salad for over a decade. It's a staple in my house. I always pair it with my baked beef tacos.
I grew up eating at ChiChi's Mexican Restaurant. My favorite part of eating there was the corn cakes. Years later I created a recipe that rivals the childhood classic Mexican chain restaurant.
These roasted Mexican sweet potatoes would pair perfectly with grilled skirt steak with chimichurri sauce.
Taco Recipes
Choosing the perfect sides to accompany your tacos is a matter of personal preference and creativity. While traditional options like rice and beans or chips and salsa are always a crowd-pleaser, there are endless possibilities when it comes to crafting the ultimate taco spread. From homemade guacamole to zesty cilantro lime yogurt dip, adding unique and flavorful sides is a great way to elevate your taco game and impress your guests. So don't be afraid to experiment and have fun with your taco creations!
If you loved this recipe round-up and looking for more… here are a few more of my favorite recipe round-ups and comprehensive recipe guides.
Don't forget to FOLLOW ME on Facebook, Pinterest, and Instagram, and subscribe to my email list!