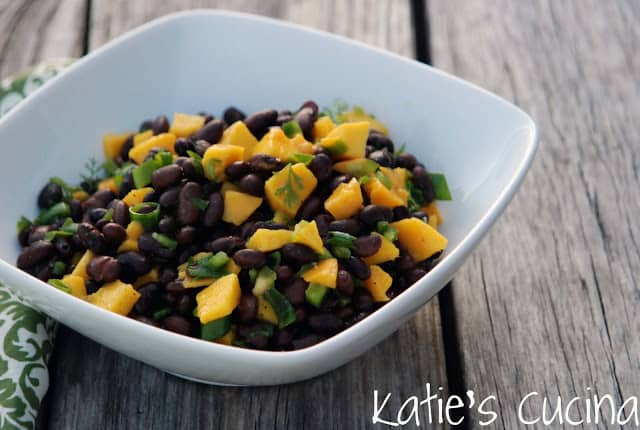 I'm back to blog about
Marie Simmons, Fresh & Fast Vegetarian cookbook published by
Houghton Mifflin Harcourt Trade. I said it before and I'll say it again this cookbook
offers over 150 recipes that can quickly be assembled. Exactly like this recipe. This recipe caught my eye and I knew I instantly needed to make it. I never was a fan of mango's until 3 years ago when my husband and I honeymooned in St. Lucia. Upon arriving to our hotel we were greeted with a plate of fresh fruit. I had one bite of the mango and I was sold; however, the mango's in St. Lucia blow the socks off of the ones here in the United States (sorry but in my opinion its true). It took me almost a year before I could eat the mango's in the United States, but now I'm back in full swing!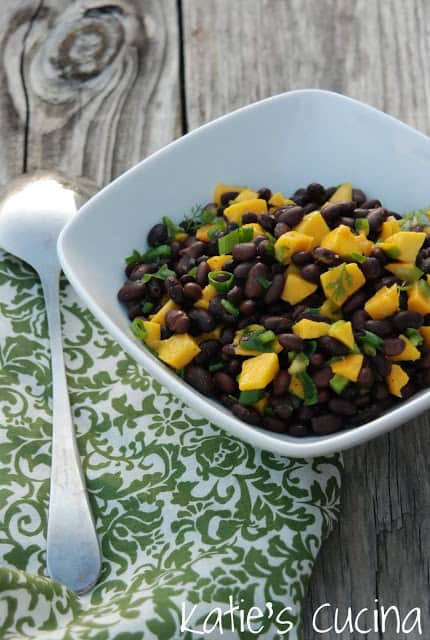 When I read this recipe and saw how quick and easy it was I knew I wanted to give it a try. Since making this recipe for the first time (two months ago) I've made it over a handful of times (and it's actually on my menu for this week)! It's great to eat on it's own or for the carnivore's in your life you can serve a piece of grilled chicken or grilled shrimp skewers with it. Or you can mix it into hot rice. This salad is so versatile and beyond delicious! I honestly can not rave enough about this recipe!
Source: Fresh + Fast Vegetarian
Prep: 10 minutes
Serves: 4
Ingredients:
2 tbsp extra virgin olive oil
1 tsp jalapeno, seeded and finely chopped
1. Rinse and drain one can of black beans and toss with mango, scallions, cilantro, and jalapeno. Add extra virgin olive oil, lime juice, salt and pepper. Mix well and serve!