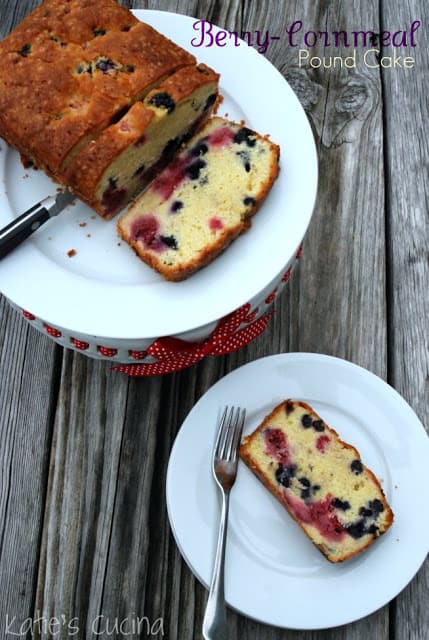 I love pound cakes! I'm not sure if its because of the thick dense sweet bread or the fact that they are typically loaded with butter and sugar. In any event. They are delightful. They can be eaten as a dessert or simply as a breakfast "bread". In this case I ate it as both. I paired it with a scoop of vanilla bean ice cream for an after dinner treat, and then brought in the remaining cake to work the next day for breakfast.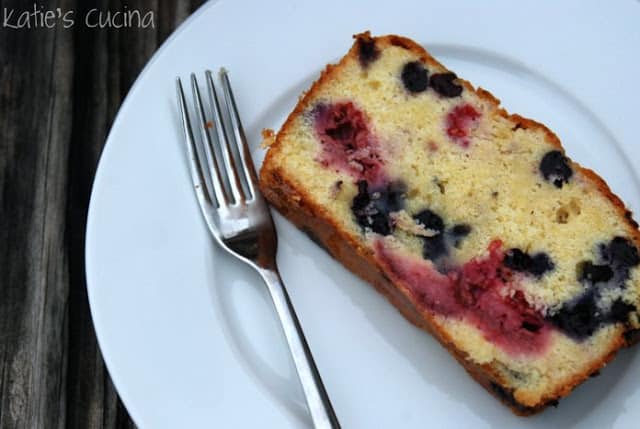 What might be shocking to some is that although I have this love for pound cake I've never made one from scratch before. I've always bought them or eaten them at bakeries and restaurants! Early in the summer I found a recipe for basic pound cake in the Everyday Food Magazine followed by four variations. I knew I needed to make at least one. Since berries were (and still are in most states) in season I figured I would tackle this pound cake first. Don't worry. This will not be my last pound cake I make. It was super simple and tasted just as good if not better than the versions I purchase in bakeries.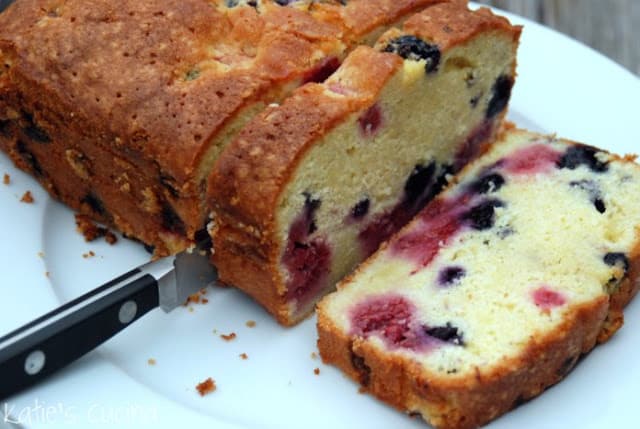 Source: Martha Stewart
| | | |
| --- | --- | --- |
| Berry-Cornmeal Pound Cake | | |
Author:
Cook time:
1 hour 15 mins
Total time:
1 hour 25 mins
Ingredients
2 sticks unsalted butter, room temperature (+ additional butter for pan)
1-1/4 cups plus 1 tbsp all-purpose flour, sifted (+ additional flour for pan)
1/2 cup fine-ground yellow cornmeal
1 cup granulated sugar
1 tsp vanilla extract
5 large eggs, room temperature, lightly beaten
1/2 tsp coarse salt
2 cups blueberries and raspberries
Instructions
Preheat oven to 350 degrees. Lightly butter and flour the loaf pan.
In a large bowl using a stand mixer beat butter and sugar on medium-high until fluffy (about 7 minutes). Scrape down the bowl and beat for 1 additional minute more. Add the vanilla then gradually add eggs one at a time; beating well and scraping down bowl as needed. Put your mixer on low then add salt, flour and cornmeal. Once again beating well to combine and scraping down the bowl as needed. Gently toss berries with remaining 1 tablespoon flour and fold into a batter.
Transfer the batter to butter/floured pan and bake until a toothpick inserted in center of cake comes out with a few moist crumbs attached, about 65 minutes. Let cool in pan on a wire rack, 1 hour. Remove cake from pan and let cool completely on rack before slicing.
Notes
Store in the refrigerator for up to 3 days.