Spicy Baked Corn Chips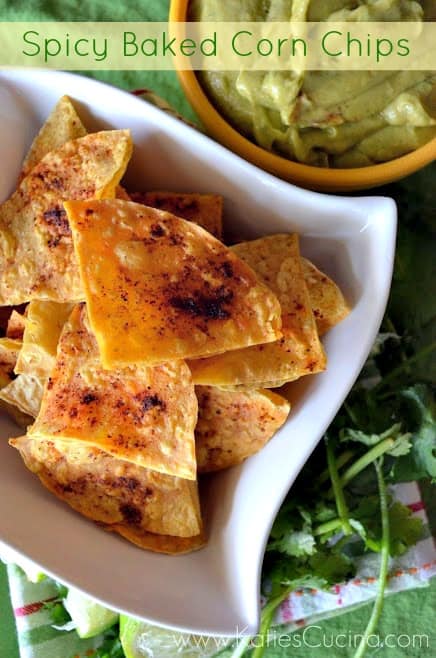 Have you ever made your own baked corn chips? They are super easy to make and best of all you get to control the seasoning on them! This go-around I made a blend of Mexican spices to spice up these chips. The day I made these baked corned chips was the same day that my husband had his "brew crew" over to brew up a few batch of home brew (beer). I made them a huge Mexican spread. I served them these chips and they all thought they were fried chips. I ensured them that they were baked in the oven for just 10 minutes. I think I impressed them two-fold. One, I made my own chips. Two, they were baked chips that tasted fried! Making baked corned chips is the best way to use up excess corn tortillas. Later this week, you'll see a super simple and yet authentic enchilada recipe using corn tortillas. After I made the guys the enchiladas I knew I didn't want to have extra corn tortillas laying around so I decided to use up the rest of the tortillas to make my own chips. This is such a simple thing to make and yet everyone forgets to make their own!
I also love that these are a gluten free snack.  I have a few friends and family members that have a gluten allergy and I'm always looking for new things to make them… these spicy baked corn chips, my friend, are it! Whether you just want a snack for yourself or entertaining a crowd these spicy baked corned chips are sure to be a crowd pleaser!
Check out these dips to complete the Spicy Baked Corn Chips: Classic Roasted Tomato Salsa, Classic Guacamole (pictured above), Homemade Salsa, and  Avocado & Feta Dip.
Katie Original Recipe
Ingredients
6 corn tortillas
1 tbsp chili powder
1/2 tsp cumin powder
1/4 tsp onion powder
1/4 tsp cayenne peper
1/2 tsp salt
1 tbsp olive oil
Directions
Preheat the oven to 400 degrees Fahrenheit.
Cut the corn tortillas in quarters. Lay them out flat on a baking sheet.
In a bowl mix the chili powder, cumin powder, onion powder, cayenne pepper, and salt together. Using a brush lightly coat the corn wedges. Then sprinkle the seasoning on to the corn tortilla wedges.
Bake for 10 minutes at 400 degrees.
Remove from oven and serve with your favorite salsa or guacamole.
https://www.katiescucina.com/spicy-baked-corn-chips/
This recipe is brought to you by Katie Jasiewicz of Katies Cucina
Warning
: Use of undefined constant rand - assumed 'rand' (this will throw an Error in a future version of PHP) in
/home/kjasiewicz21/webapps/katiescucina/wp-content/themes/katiescucina/single.php
on line
74
13 Responses to "Spicy Baked Corn Chips"
Trackbacks/Pingbacks

Leave a Comment