Grilled chicken fajitas are the ideal no-mess very little clean-up meal. Perfect for a quick weeknight meal all contained on the grill or even better for tailgating at a football game!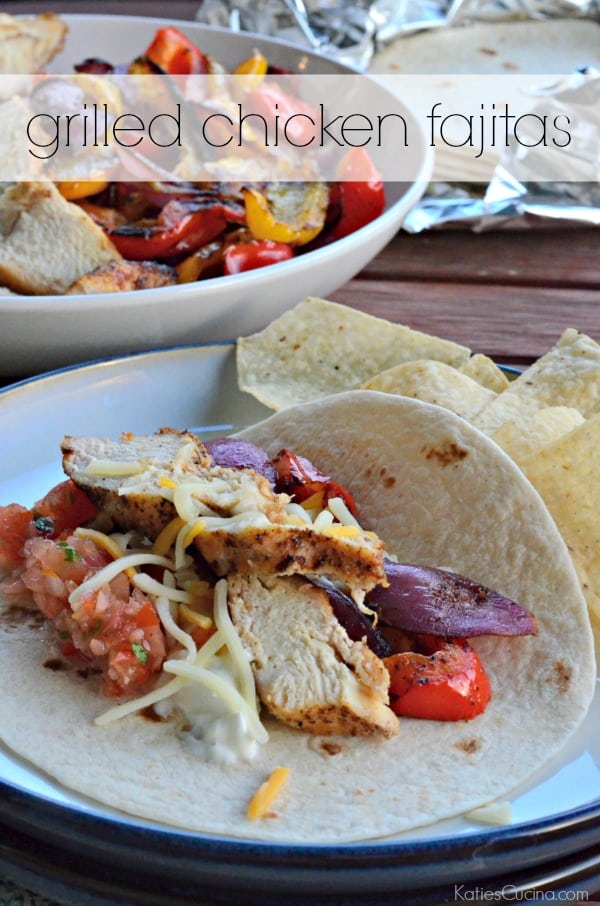 I've recently came to the realization that I don't share enough of my everyday recipes with my readers. Recipes I make in my kitchen day in and day out. Today, I'm sharing with you a tried and true favorite of ours; grilled chicken fajitas. I even did a demonstration on how to make this recipe at the Food & Wine Conference earlier this summer with
STōK grills
.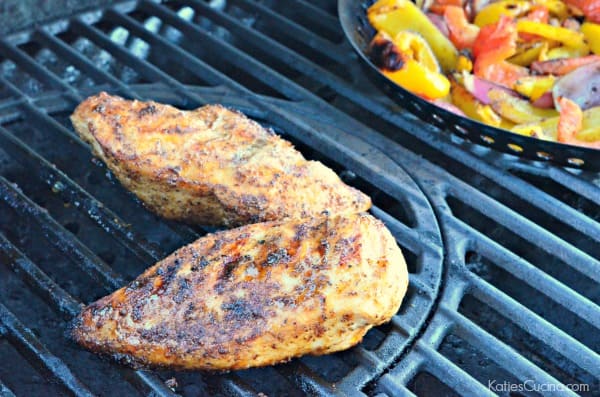 I've blogged about
grilled chicken fajita kabobs
before which are fun but not practical for a quick dinner! I've been making grilled chicken fajitas on the grill for the past year and since making them on the grill I can honestly say I can't remember the last time I made chicken fajitas on the stove top. True story. You see my grilled chicken fajitas can be prepared 100% on the grill. Grill the chicken, place the onions and peppers in a veggie basket and wrap the tortillas in aluminum foil to place on the grill just before serving. I marinate the chicken in
fajita seasoning
and grapeseed oil in a plastic bag.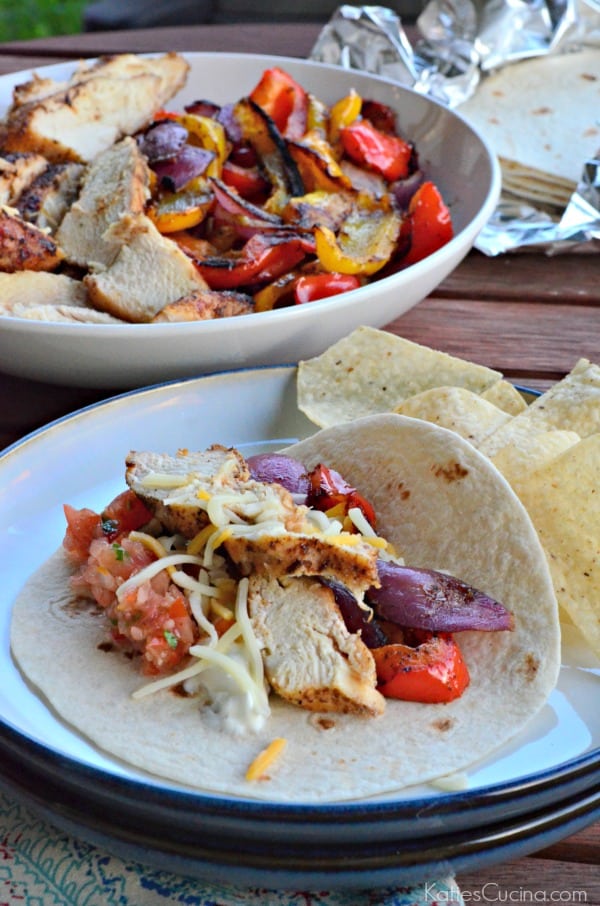 This can be prepared right before you go to grill or the night before for maximum flavor. Same goes with the onions and peppers. Slice them up and place them in a plastic bag with more fajita seasoning and grape seed oil. I cook them with grapeseed oil because grape seed oil has a high smoke point so my food is less likely to burn. I cook everything on low on the grill and with 15-20 minutes time frame dinner is served! Grilling chicken fajitas is that easy.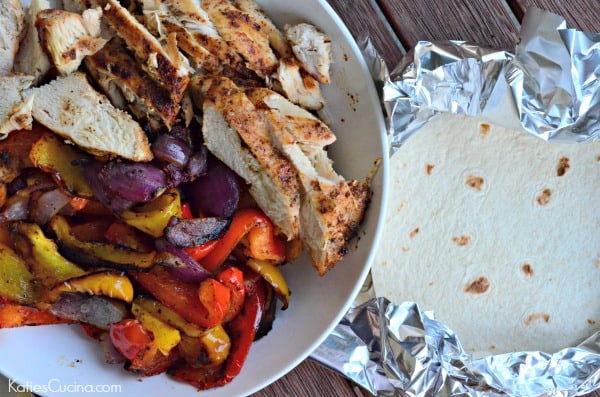 While the fajitas are cooking I whip up a batch of my fresh homemade salsa. Most of the time I'll make a box of Spanish rice to go with our fajitas. That's it… Dinner is served. I make this frequently when entertaining. I also make this at least twice a month as it's always a hit. And I always have leftovers for lunch. Over the next few weeks I'll share with you how I repurpose my grilled chicken fajita leftovers and make them into something amazing!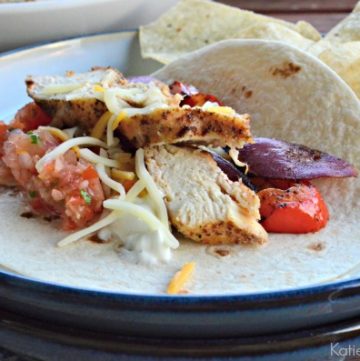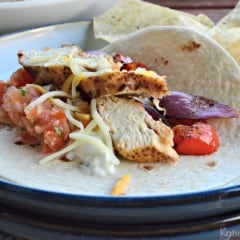 Grilled Chicken Fajitas
Grilled chicken fajitas are the ideal no-mess very little clean-up meal. Perfect for a quick weeknight meal all contained on the grill.
Print
Pin
Rate
Ingredients
2

boneless skinless chicken breast

2

tbsp

grapeseed oil

divided

2

tbsp

fajita seasoning

divided

1

of each; red

yellow, orange, and green bell peppers, thinly sliced

1

red onion

sliced in quarters

10

flour tortillas

use corn tortillas to make these Gluten Free

Sour cream and shredded cheese optional
Instructions
Wash chicken and pat dry with paper towel. Trim any excess fat you might not want. Then place in a ziplock gallon-size bag. Place one tablespoon grapeseed oil in the bag coating the chicken as well as one tablespoon fajita seasoning. Seal bag and mix with hands to ensure the seasoning is coated all over chicken. Place in refrigerator until ready to cook.

Place sliced bell peppers and red onion in another ziplock gallon-size bag. Place the remaining one tablespoon grapeseed oil and fajita seasoning in the bag. Seal and mix well.

Preheat the grill to medium heat. Clean grill. Once the grill reaches 350 degrees place the vegetables in vegetable basked and reduce heat to low. Then place the chicken on the other side of the grill and lower the heat to low. Cook for 10 minutes then flip chicken. Make sure you stir veggies every 5 minutes to ensure they cook evenly and do not burn. Cook chicken additional 10 minutes. Use an instant read thermometer to check chicken. Chicken should read 165 degrees Fahrenheit.

During the last two minutes of cooking place tortillas in aluminum foil and place on the top rack of the grill with lid closed. Remove chicken from grill. Let rest 2-4 minutes. Then slice, place on a platter or in a large bowl with vegetables. Remove tortillas off grill and serve dinner.
Nutrition
Calories:
375
kcal
|
Carbohydrates:
43
g
|
Protein:
19
g
|
Fat:
14
g
|
Saturated Fat:
2
g
|
Cholesterol:
36
mg
|
Sodium:
683
mg
|
Potassium:
427
mg
|
Fiber:
3
g
|
Sugar:
6
g
|
Vitamin A:
1066
IU
|
Vitamin C:
41
mg
|
Calcium:
89
mg
|
Iron:
3
mg