Watermelon Salsa
Watermelon salsa is the perfect mix of sweet and spicy. It's the perfect salsa to entertain with  during the hot summer months. This salsa is easy to make and requires all fresh ingredients that are currently in season!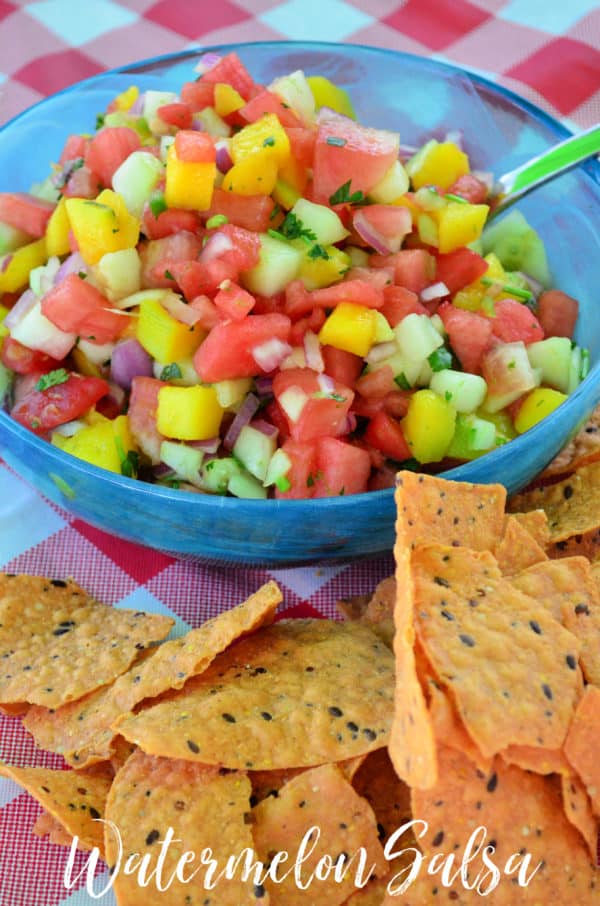 Watermelon season has arrived! My family and I could not be happier! We absolutely love watermelon. We typically only eat it and it's traditional form, but I always love to try to create other ways for us to enjoy it. That's where this sweet and savory watermelon salsa came into play. It has just enough crunch and packs a little heat that makes you craving those watermelon salsa over and over again. I find myself entertaining a lot over the summer months, since we own a pool. I'm always trying to have snacks prepped before friends and family come over to swim. There is salsa is perfect for poolside entertaining.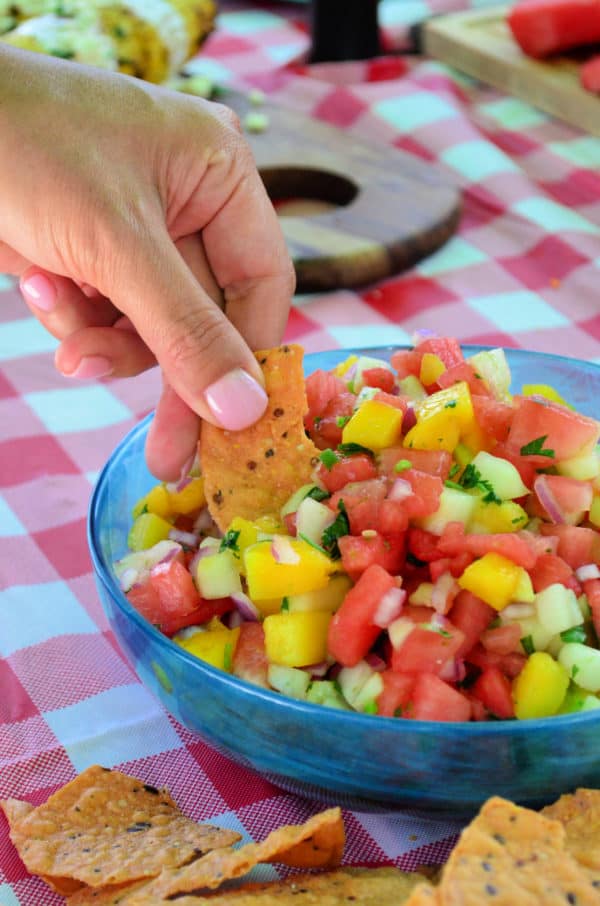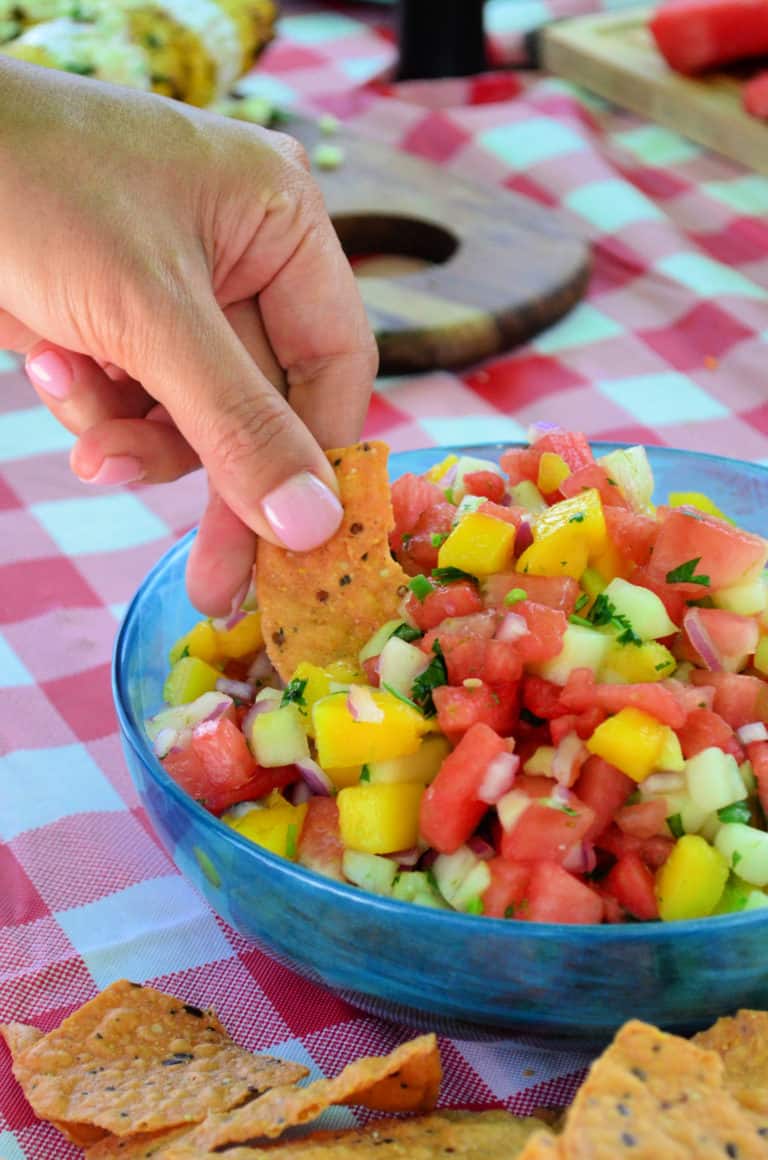 Do you need a food processor to make watermelon salsa?
Get your knife sharpened, your cutting board out, and get ready to chop! For this recipe I opted to dice and mince all the ingredients oppose to using a
food processor
or even blender. I wanted chunky bite-size pieces of fruits and veggies so I opted to chop verse some of the more traditional methods where you would just throw all the ingredients in the food processor. It will turn out the same but a little finer in texture and not with consistent bite-size pieces.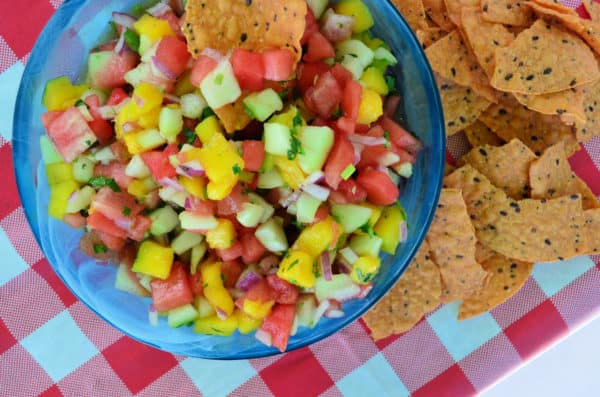 What do you put in Watermelon Salsa?
The sky is really the limit when your making a fruit salsa. For this watermelon salsa I stuck to most of heh basics; however, I'll share with you a variety of ingredients you can put in watermelon salsa.
Watermelon
Cucumber
Mango
Tomato
Bell Pepper
Jalapeno
Poblano Pepper
Red Onion
Chives
Green Onions
Cilantro
Basil
Mint
Lime
Honey
Sugar
Salt
Garlic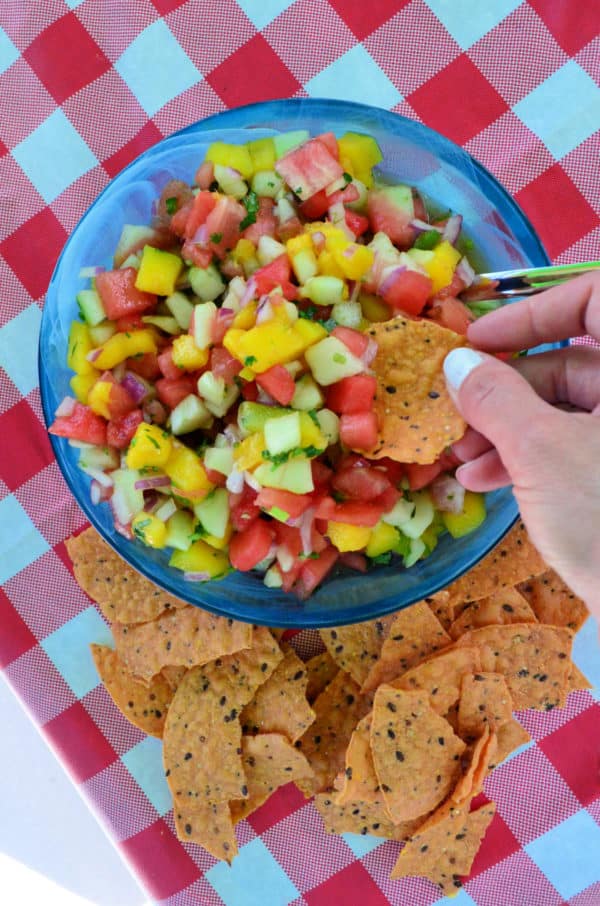 How do you make watermelon salsa?
This salsa takes about 15 minutes from start to finish to make. It also requires all fresh ingredients. First, you want to finely dice the watermelon. Then, peel, slice in half and remove the seeds from the cucumber. Next, it's time to dice. Try to keep it about the same size pieces as the watermelon if not a little smaller. Next, I peeled and diced a mango. It adds an additional sweetness to the salsa. Next, add in the onion and jalapeno. You will want to make sure you mince both of these pungent ingredients.
I love to use cilantro in my watermelon salsa. However, if you don't like cilantro you can use basil or mint or a combo of both. Lastly, I zest a lime and juice it once I'm done with
micro-planing
the skin. The final step before stirring is adding in a touch of honey to balance out the spicy jalapeno. Then mix it together and place plastic wrap over the large bowl. Let it chill in the refrigerator for at least 30 minutes before serving.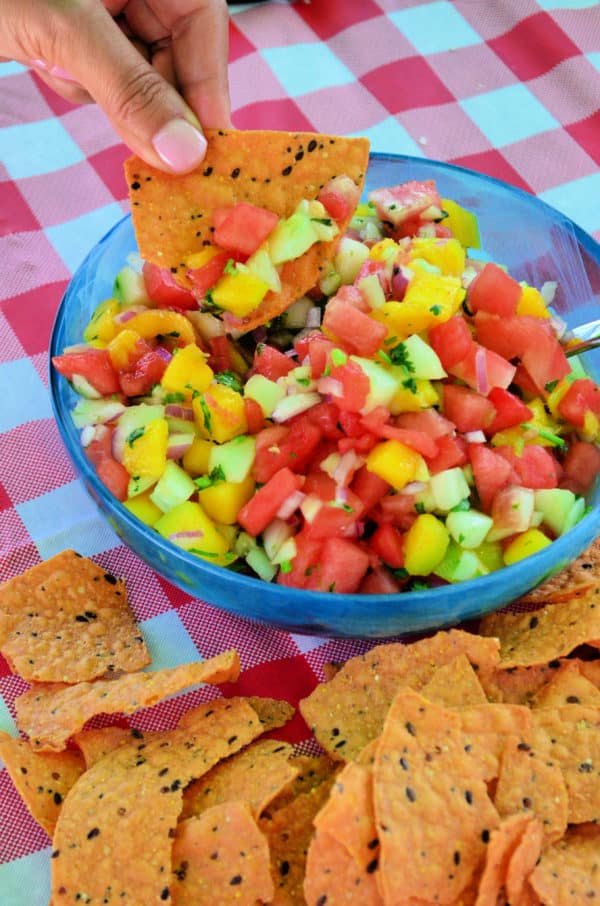 What do you serve with Watermelon Salsa?
I love to serve the watermelon salsa with a chia flaxseed tortilla chip I recently discovered at my local Costco. They are so good–and have the perfect balance of flavor with lower fat and calories then the traditional tortilla chip. You can also serve watermelon salsa with plain pita chips or the cinnamon sugar pita chips.
Another option–you can serve on top of your favorite piece of grilled or roasted fish. Trust me–it's so good!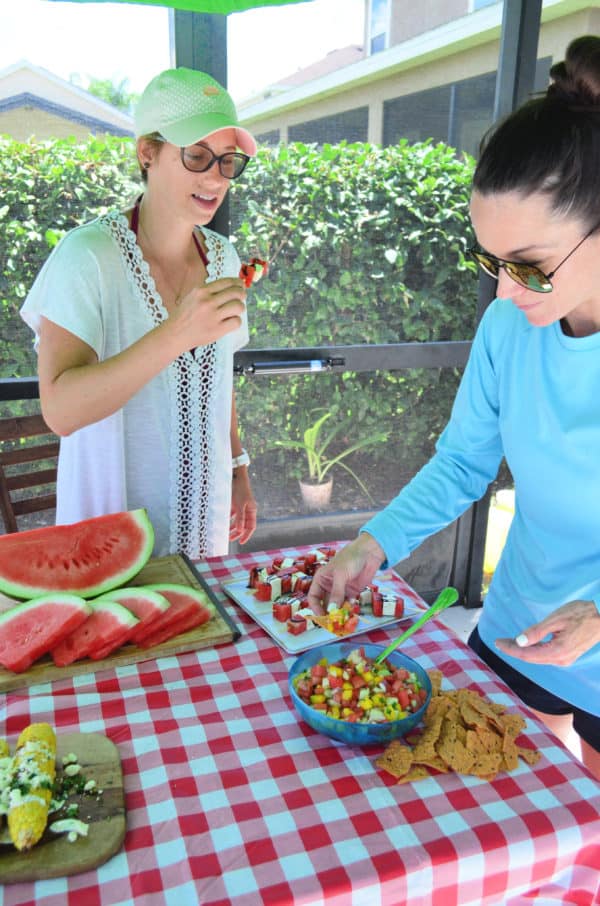 Looking for more summertime recipes?
Here are a few of my favorite summertime recipes that you'll find me cooking all summer long.
If your entertaining friends and family or just looking to use up some produce you have on hand I think you should definitely give this easy recipe for watermelon salsa a try!

Watermelon Salsa
Yield: 5 cups - 20 1/4 cup servings
Prep Time: 15 minutes + 30 minutes chill
Total Time: 45 mimnutes
Ingredients:
4

cups

seeded watermelon, diced small


1

cucumber

peeled, seeded and diced

1

mango,

peeled and diced

1/2

jalapeno pepper,

seeded and minced

1/4 cup

red onion,

finely diced

1/4 cup fresh cilantro

1/2

teaspoon

 

salt

1 lime, zested and juiced
1 tablespoon orange blossom honey
Directions:
In a large bowl, placed diced watermelon, cucumber, and mango in the bowl. Then add in the half minced jalapeno, red onion, fresh cilantro, salt, lime zest and juice, and orange blossom honey.
Mix well until combined, cover with a lid and refrigerate for at least 30 minutes before serving. Serve with tortilla chips, bake pita chips, or cinnamon sugar pita chips. Enjoy.
Warning
: Use of undefined constant rand - assumed 'rand' (this will throw an Error in a future version of PHP) in
/home/kjasiewicz21/webapps/katiescucina/wp-content/themes/katiescucina/single.php
on line
74
Leave a Comment