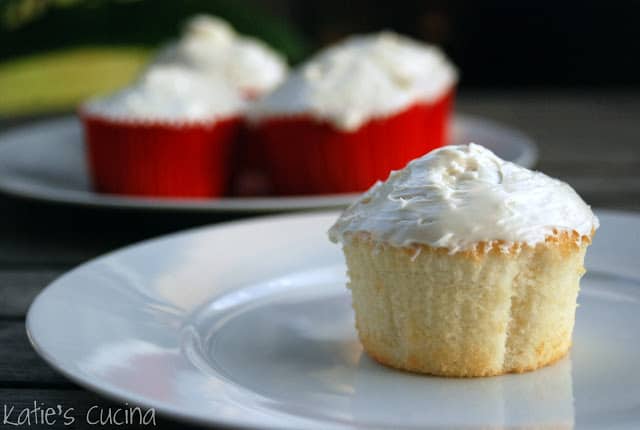 This year I've been trying to find more basic, go-to cupcake recipes. While searching the internet for a white cupcake recipe I found this recipe on the Beantown Baker's blog. I've made a few recipes from her and she never seems to fail me, so I figured I would give this one a try. I'm not going to lie–my hopes were set high on this one, and because of that I was nervous that I would be let down… not so much.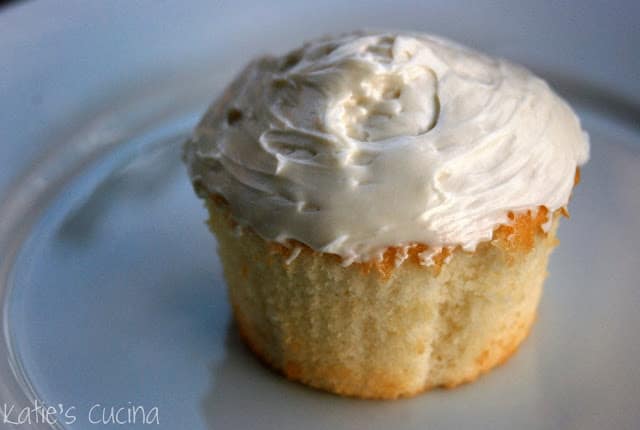 These cupcakes are amazing, and just as Beantown Baker proclaimed that this is her new go-to recipe this is now my go-to white cupcake recipe as well! They are light, fluffy, and moist. Three key characteristics I look for when I'm baking a cupcake. The only downfall to these cupcakes is that you need 6 egg whites. If you want to be "thrifty" bake a recipe right after separating your yolks from your whites, and you'll have no waste in the process. I attempted to do that (both time) I made these cupcakes, and failed. So essentially I wasted a dozen yolks. I guess there's worse things in life I could have done. When your planning you're baking for this holiday season do not count these cupcakes out. They are amazing, and your neighbors and family members will be begging for more!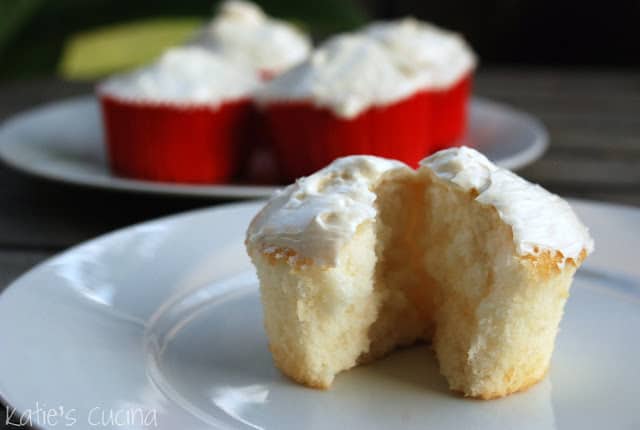 Source: Beantown Baker via The Way the Cookie Crumbles
Prep Time: 15 minutes
Cook Time: 15-17 minutes
Servings: 24


Ingredients:
2- ¼ cups cake flour
1 cup + 2 tablespoons whole milk, at room temperature
6 large egg whites (¾ cup), at room temperature
2 teaspoon almond extract
1 teaspoon vanilla extract
1 ½ cups + 2 tablespoons granulated sugar
4 teaspoon baking powder
1 teaspoon table salt
12 tablespoon unsalted butter, softened but still cool
Directions:
1. Set oven rack to the middle of your oven. Pre-heat oven to 350 degrees.
2. Pour milk, egg whites, and extracts into 2-cup glass measure, and mix with fork until blended.
3. Next, using your electric mixer at low speed; mix cake flour, sugar, baking powder, and salt. Add butter; continue beating at slow speed until mixture resembles moist crumbs, (with no powdery streaks remaining).
4. Add all but ½ cup of milk mixture to crumbs and beat at medium speed for 1½ minutes. Add remaining ½ cup of milk mixture and beat 30 seconds more. Stop mixer and scrape sides of bowl. Return mixer to medium speed and beat 20 seconds longer.
5. Divide batter evenly into prepared pans. Bake until thin skewer or toothpick inserted in the center comes out clean, 15-17 minutes.
6. Always cool completely prior to frosting. *I used my vanilla buttercream frosting recipe to top cupcakes. Any frosting recipe can be used!