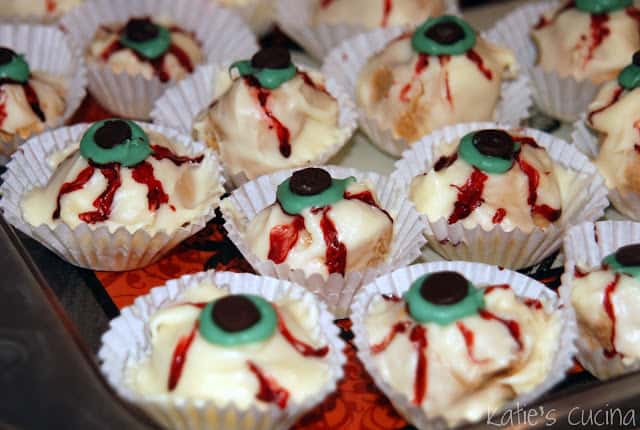 Last year I made these creepy cool peanut butter eyeball truffles for a friend's Halloween party. They were a huge hit and everyone enjoyed munching on eyeball truffles. I mean, who wouldn't? Peanut buttery goodness dipped in white chocolate and adorned with red food coloring. It's the only time of the year that you can eat "morphed" food and feel ok about it! These are easy to make a day or two ahead of time, and can be brought out right before you leave for a party and/or host a party!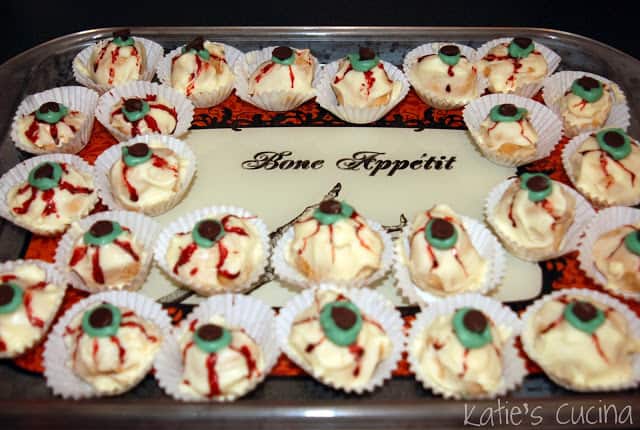 Source: Everybody Loves Raymond… and Kat
Prep Time: 1 hour 3o minutes
Servings: 24
I

ngredients:




1 ½ cups creamy peanut butter




½ cup butter, softened




2 ½ cups confectioners' sugar, sifted




1 tablespoon vanilla extract




12 ounces white chocolate, chopped




2 tablespoons shortening




2 drops blue food coloring




½ cup miniature semisweet chocolate chips




red food coloring
1.
Beat the peanut butter and butter with an electric mixer in a large bowl until smooth. Beat in the sugar and vanilla. Cover and refrigerate for 30 minutes. Roll chilled dough into small, eyeball-sized balls and place on 2 baking sheets lined with wax paper. Refrigerate for another 30 minutes.
2.
Melt the white chocolate and shortening in a microwave-safe glass or ceramic bowl in 30-second intervals, stirring after each melting, for 1 to 3 minutes (depending on your microwave). Do not overheat or chocolate will scorch. Dip each eyeball into the white chocolate and transfer to the waxed paper until the chocolate has set. You can chill them in the refrigerator.
3.
Melt blue candy melts (bought at a craft store, in the baking section). Fill an icing bag with the blue and pipe on a blob…which will form the "iris" of the eye. Press a mini chocolate chip in the center for a "pupil."
4.
For the bloodshot eyeball look take a toothpick dipped in red food coloring and make squiggly lines on the eye. Place them on a decorative Halloween platter and enjoy!