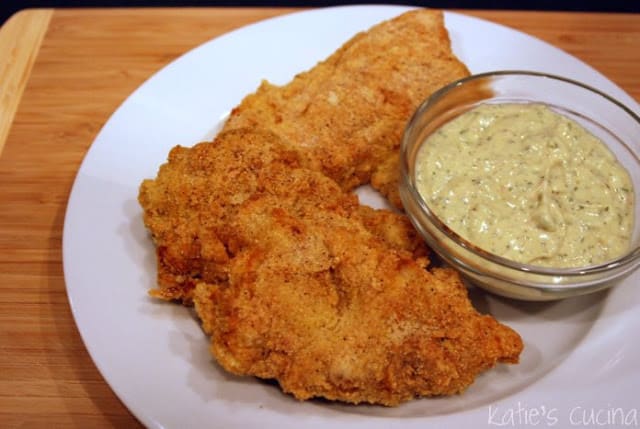 My brother in-law has started spear fishing on a weekly basis. The upside to this is that I'm getting free fresh fish on pretty much a weekly basis! I've been searching for fish recipes a lot lately. Trying to switch things up a bit. I found this recipe and pretty was a bit skeptical since I didn't think my husband would like the cornmeal aspect of this. I was so wrong, and I'm so thankful I followed my intuition and cooked this recipe. This is now my new go-to fish recipe. The cornmeal crust is unexplainably delicious, and the tartar sauce has a wonderful variety of flavors in it and yet perfect for dipping this battered fish in. I've never been one to like tartar sauce, but I made it anyways and am a new believer in tartar sauce!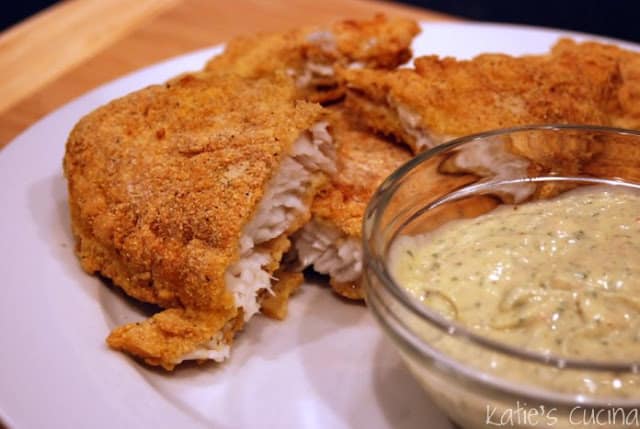 Look at the flaky fish in the inside and the crunchy breading on the outside. My mouth is salivating just thinking about this recipe. The next time you plan to cook fish I hope you'll give this recipe a try. I promise you won't be disappointed.


Source: Epicurious
Prep Time: 15 minutes
Cook Time: 15 minutes
Servings: 4


Ingredients:
For tartar sauce
1 cup mayonnaise

2 tablespoon chopped fresh parsley

1 tablespoon finely chopped shallot

1 tablespoon sweet relish

2 teaspoon fresh lemon juice

1 teaspoon whole-grain or coarse-grain mustard

¼ teaspoon salt

¼ teaspoon black pepper

For fish
1 cup yellow cornmeal (not coarse)

¾ teaspoon salt

½ teaspoon black pepper

½ teaspoon cayenne

¾ cup all-purpose flour

2 large eggs

¼ cup milk

4 (5-oz) flounder fillets

¾ cup vegetable oil


Directions:

1. First you will want to make the tartar sauce. Using a food processor p
ulse all sauce ingredients together until parsley is finely chopped. Place in the refrigerator to chill until your fish is ready to be served.

2. Stir together cornmeal, ¼ teaspoon salt, ¼ teaspoon pepper, and ¼ teaspoon cayenne in a shallow bowl. Stir together flour, ¼ teaspoon salt, and remaining ¼ teaspoon pepper and ¼ teaspoon cayenne in another shallow bowl. Lightly beat together eggs, milk, and remaining ¼ teaspoon salt in a third shallow bowl.
Pat fish dry and dip fillets, 1 at a time, in flour, shaking off excess, then dip in egg mixture, letting excess drip off, and dredge in cornmeal until evenly coated. Arrange fish in 1 layer on a sheet of wax paper.
3. Heat oil in a 12-inch nonstick skillet over moderately high heat until hot but not smoking, then fry fillets, 2 at a time, turning over once, until golden and just cooked through, 3 to 4 minutes per batch. Transfer to a paper-towel-lined plate to drain. Serve fish with sauce.