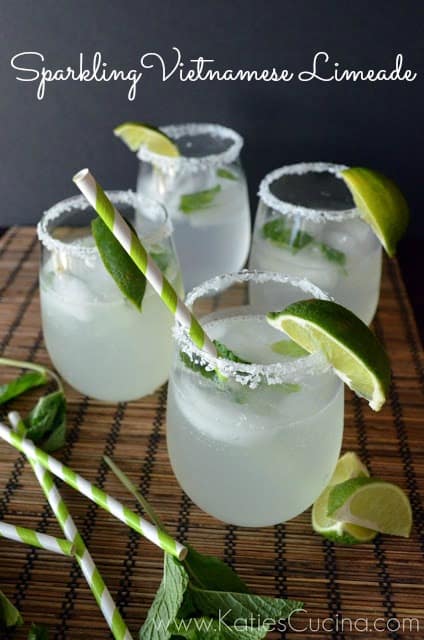 Since, last week I bombarded you with fondue I'm hear to share Sparkling Vietnamese Limeade to wash down all that ooey-gooeyness from last week! This recipe is compliments of Steamy Kitchen! Yep, that's right, its from Jaden Hair's latest cookbook: Steamy Kitchen's Healthy Asian Favorites.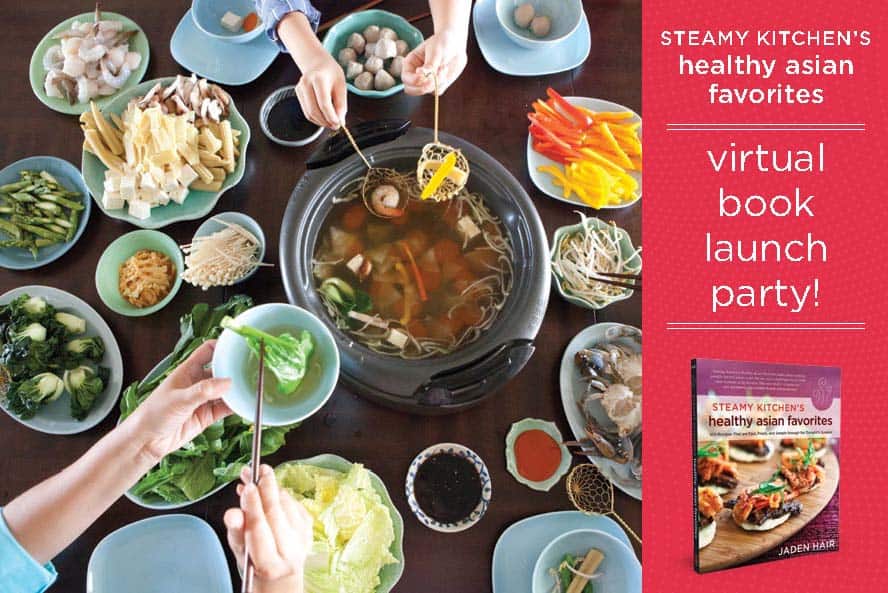 Last month, I received a copy of Jaden Hair's latest cookbook: Steamy Kitchen's Healthy Asian Favorites. From the minute I got it I couldn't put this book down. The beautiful forward written by Ree Drummond aka The Pioneer Woman and then Jaden's personal touches. Giving you a glimpse into her family. Then of course there are the recipes. Yes, the glorious healthy Asian recipes! I will definitely admit that there are quite a few recipes I would have never tackled on my own until reading this book and learning how easy they really are to make. Steamy Kitchen's Healthy Asian Favorites is now a new cookbook favorite of mine! And I'm not just saying that because I received a copy. I love to cook Asian food and am always trying to broaden my cooking skills and knowledge. This book is a great resource for Asian cooking.
Last week I cooked the Kung Pao Chicken, and it was awesome. I love making "home takeout" and this is exactly what this book will teach you to do! Since I'm wrapping up the party I wanted to end it on a sweet note. And make a "toast"… a toast to Jaden for yet another amazing cookbook! For being such an amazing role model–for teaching fellow bloggers more about blogging each and every year through Food Blog Forum.
I figured a party is not complete without a beverage. Granted this is a "mocktail" meaning that there is no alcohol in it–it doesn't mean you can't add it. I added a little tequila for good measure and my husband added rum to his glass. Per the book, Jaden suggests gin! So whatever tickles your fancy–thats what you add. Or keep it as is and enjoy this light and refreshing Sparkling Vietnamese Limeade.
You might be wondering why I chose to put paper straws in a drink that has salt on the rim. Well, I will be the first to admit that I've fallen victim to the cliche paper straw frenzy. But to be honest. I prefer to drink just about everything through a straw. Even when I have salt on the rim–I'd much rather drink it through the straw and then lick a little salt off the glass every now and then. It's just how I am. I'm also a slight germaphobe so drinking from a straw feels cleaner to me (although that contradicts the whole lick salt off the rim of the glass theory–but when I've had a little liquid courage I don't freak out as much).
So on that note… if you missed out on the Virtual Book Launch Party over the past week make sure you check out all the other wonderful bloggers who participated in the party!
Tuesday, February 5: Jeanette's Healthy Living –
Dan Dan Mien
Thursday, February 7: Gluten-Free Girl and the Chef – Miso Soup/ Dashi Broth
Make sure you stop by tomorrow because one lucky reader will have the chance to win Jaden's new book!
Reprinted with permission from Steamy Kitchen's Healthy Asian Favorites, by Jaden Hair, copyright © 2013. Published by Ten Speed Press, a division of Random House, Inc.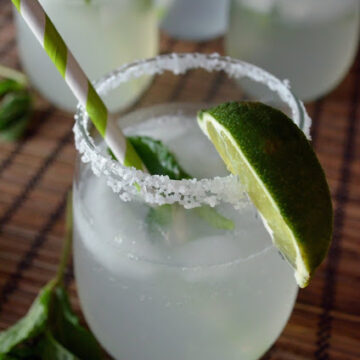 Sparkling Vietnamese Limeade
This Sparkling Vietnamese Limeade is a light-citrus bubbly beverage perfect for sipping on a warm summers day. If you want to kick it up notch add tequila or rum to taste or drink as Jaden suggests with a little gin!
Print
Pin
Rate
Ingredients
2

tablespoons

granulated sugar

½

cup

very hot water

1

handful of fresh mint

8

limes

Sea salt or kosher salt

Sparkling water
Instructions
In a small bowl, whisk together the sugar and the hot water until the sugar dissolves. Place a few mint leaves at the bottom of a pitcher and crush with a muddler or large wooden spoon. Juice the limes into the pitcher, add the sugarwater. Fill 4 glasses with ice and rim with salt. Pour in the limeade and top with sparkling water.
Notes
Reprinted with permission from The Steamy Kitchen's Healthy Asian Favorites, by Jaden Hair, copyright
© 2013. Published by Ten Speed Press, a division of Random House, Inc.
Disclosure: I received a copy of Steamy Kitchen's Healthy Asian Favorites from Ten Speed Press. There are affiliates links in this post. As always all opinions are my own.